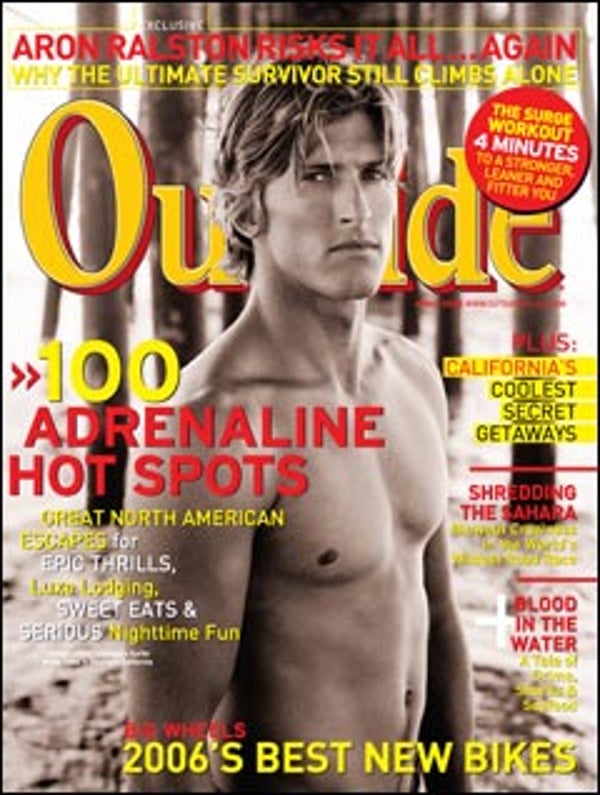 Outside Magazine, Apr 2006
---
F E A T U R E S
ADVENTURE MECCAS 2006
ADRENALINE NATION
Summer fast approaches: Time to tune up that garageful of gear (we don't mean lawn chairs) and devote your next outing to full-throttle fun. To that end, we present a dozen North American hot spots from West Virginia to Vancouver to the shores and mountains of California where action awaits in all directions and you can climb, bike, hike, paddle, and fish to your heart's content. PLUS: Jack Turner on blazing the last stretches of the Continental Divide Trail.
MY SUMMIT PROBLEM
Nobody would've blamed Aron Ralston if he'd stayed home. But ten months after amputating his arm to survive a Utah canyoneering accident, he resumed his seven-year mission to summit all 59 of Colorado's 14,000-foot peaks solo, in the dead of winter. Would he make it back to the top? BY ARON RALSTON
GENTLEMEN, DESTROY YOUR ENGINES!
Strap in for the craziest road trip you'll ever take. A new generation of wrench-wise, adventure-hungry Brits are heading off on the Plymouth Dakar Challenge, a 4,500-mile mad dash from the green shores of England to the white-hot sands of the Sahara. BY JASON DALEY
REVIEW SPECIAL: THE BIKE REPORT
ROLLING WONDERS
The pavement is warming, the singletrack is rough and ready. To put you in the saddle, we've assembled the ultimate lineup of rigs from dream machines to wallet-friendly workhorses dialed to your two-wheel fantasies. BY AARON GULLEY
D E P A R T M E N T S
DISPATCHES
» THE GO LIST: Jackson Hole says adios to the country's longest ski lift; BADASS BIKE SHOES; fly-fishing in the Florida Keys; a scuba diver's view of Greek history; and more.
» REFUGEE ROCKERS: Three Tibetan siblings are all the rage in India, where their band, JJI Exile Brothers, strikes radical chords.
» The sleep-aid market is booming, but pills aren't the only way to BEAT JET LAG. Our expert road warriors share four ways to stay revved while hopping time zones. PLUS: How Jamie Pierre's ski jump off a 245-foot Wyoming cliff made HUCKING HISTORY, inverted landing and all.
» Thanks to its reputation as a libido booster, GINSENG is a billion-dollar commodity. We've got the dirt.
» At the swank CEYLON TEA TRAILS bungalows, in Sri Lanka's southern highlands, adventure includes four-course meals and a butler.
» Call him a social climber, but IVAN GREENE isn't your average wallrat. When he's not belaying New York's beautiful people, he's hanging out with them at the city's hottest nightclubs or going to town to promote his streetwise clothing line for rockhounds.
» Eric Blehm's THE LAST SEASON unravels the mystery of a legendary Kings Canyon ranger who vanished in the backcountry; Michael D'Orso's Eagle Blue chronicles the struggles of an Alaska high school basketball team; and THE EXPLORER KING, by Robert Wilson, profiles one of history's daring and forgotten scientists. PLUS: We cozy up with mountaineer GERG MORTENSON to discuss his new memoir, Three Cups of Tea; the JON KRAKAUER bestseller Into the Wild heads for the silver screen.
STYLE
SOLAR SHIELDS: Eight pairs of new mountain-, beach-, and city-worthy sunglasses from Smith, Oakley, Bollé, Quiksilver, Specialized, and others.
BODYWORK
Tap your very own fountain of youth with ultra-high-intensity sprint workouts, which stimulate the production of HUMAN GROWTH HORMONE. We clue you in on how to get your natural HGH fix, free and on the run.
OUT THERE
Each spring, Northern California's ABALONE season sparks a frenzy of poaching, shark attacks, and widespread aquatic chaos along the coast all in the name of good eatin'. H. THAYER WALKER takes the plunge to find out why divers are risking their lives for a big snail.