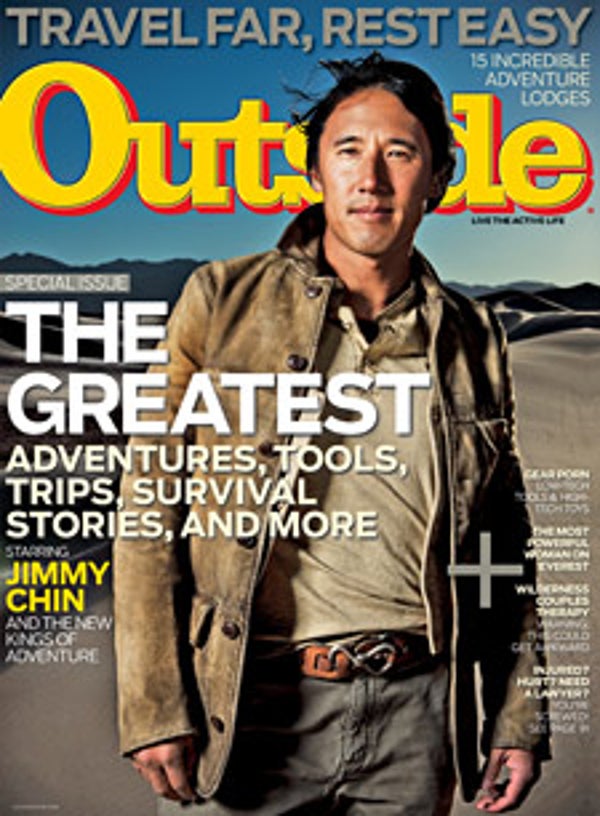 Outside Magazine, Apr 2011
---
departments
DISPATCHES
Adventurers of the Year: The spirit of discovery is very much alive in Outside's inaugural collection of the year's most audacious and ambitious expeditions.
DESTINATIONS
North America's Best Adventure Lodges: What makes these ten launchpads stand out is access—to terrain and peaks that no one else can reach. Home-cooked meals and five-star service don't hurt, either.
OUT OF BOUNDS
The world's best climbers flock to Nepal to tackle new routes on remote peaks. But their feats don't count until a little old lady from New York says so. By Eric Hansen
exposure special
THE THINGS THEY CARRIED
The annals of adventure are filled with people who didn't come back alive. Here, those closest to six departed luminaries share their memories and the keepsakes that have helped them move forward.
FIELD NOTES
Lion attack in Zimbabwe? Pulmonary edema in the Himalayas? Global Rescue's team of doctors, fixers, and former Navy SEALs is the best in the business at getting you home. And that's just one of the reasons it inspires so much resentment in the crisis-response industry. By Devon O'Neil
THE RAINMAKER
It's no longer enough to mount an expedition to remote eastern Chad and claw your way up a series of virgin spires. Now you need to upload all the sweet footage in real time, too. Mark Synnott called in the pros: Jimmy Chin and his Camp 4 Collective. Plus: An exclusive trailer and excerpt of Camp 4 Collective's film from the trip, and a behind-the-scenes video of our cover shoot with Chin.
YOU DON'T BRING ME CLIF BARS ANYMORE
After 11 years of marriage, two kids, and an everdwindling supply of energy for shared outdoor pursuits, Tracy Ross decided it was time for wilderness couples therapy. Warning: this could get awkward.
JUST WAIVE GOODBYE
The fine print is only getting finer on outfitters' liability forms. But what exactly are you agreeing to with that signature? Our crack team of lawyers translates the legalese. By Michael Behar
MEET THE NEIGHBORS
The Amazon, the Andes, Patagonia, and the Galápagos: What doesn't South America offer in the way of big adventure? From road-tripping Argentina to beach-hopping Brazil, here are the ten best ways to drop in on our amigos down south. Plus: the region's best lodges.
THE OTHER SIDE OF THE MOUNTAIN
A war-weary group of wounded U.S. soldiers heads to the 20,075-foot Nepalese peak Lobuche to confront their toughest mission yet: adjusting to peace. By Brian Mockenhaupt Plus: The author talks about his experience, and the trailer of Michael Brown's film of the climb, Soldiers to the Summit.
THE ESSENTIALS
Covet: A portable kayak that's (finally!) both inexpensive and a cinch to put together.
Knives: The perfect combinations of blades, tools, and utility to fend off whatever life throws at you.
GPS: Three top-shelf units get the head-to-head treatment.
plus
LETTERS
BETWEEN THE LINES
PARTING SHOT