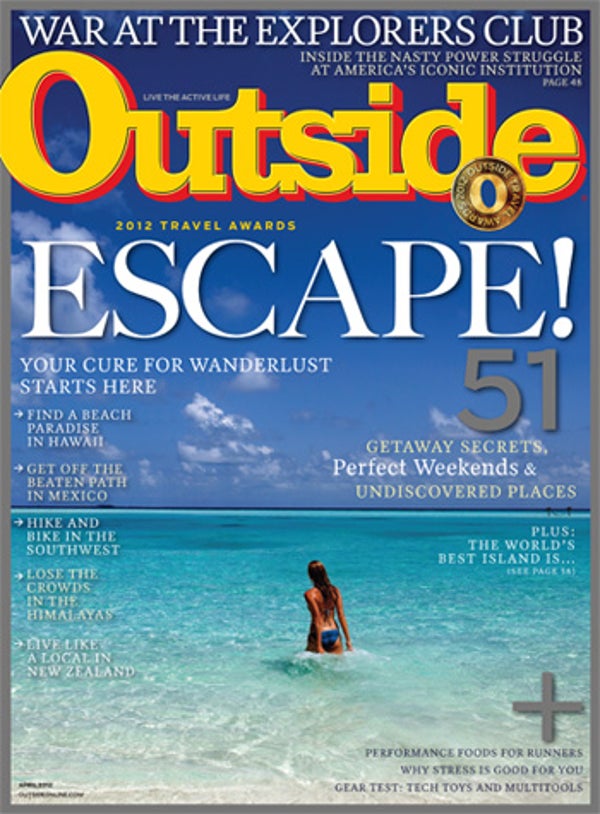 Outside Magazine, Apr 2012
---
ESCAPE!
THE WANDER LIST
Globe-trotters: we've got you covered. Our 2012 Travel Awards honor the best destinations on seven continents—everything from idyllic beach escapes to camping safaris in Kenya to a mountain-bike expedition in Tibet. Plus: Outside-endorsed outfitters, adventurer insurance, and more. By Stephanie Pearson and Kate Siber
INSANE IN THE MEMBRANE
For more than 30 years, Gore-Tex was the only name in town when it came to foul-weather protection. No more. A wave of proprietary materials have flooded the market, and some say Gore isn't playing nice with the competition. Mike Kessler reports on the increasingly ugly battle over high-tech outerwear.
THE GUMBO CHRONICLES
When Deepwater Horizon erupted in 2010, we sent Rowan Jacobsen to investigate. Now the literary gourmand returns to the bayou to assess the region's recovery the way a good foodie should: by sourcing ingredients for Louisiana's signature dish. Pity tar balls and black sludge aren't on the menu.
SPEED FREAK
Swiss climber Ueli Steck shot to fame by soloing 5.13 rock without ropes and sprinting up ice-shrouded Alps in record time. Unsatisfied, he hired an Olympic trainer. Now the über-fit Steck is heading back to Nepal to leave his mark on the Himalayan giants that have turned even the toughest mountaineers away. By Tim Neville
departments
DISPATCHES
First Look: Surfer Mark Visser tasted fame after his night-riding footage went viral. Now the adrenaline junkie wants to parlay his success into a cable series about his insane stunts.
News from the Field: Red Bull channels Tolkien, a Pacific swim for the record books, and Major League Baseball's off-season adventurers.
Medicine: Is the threat of lawsuits driving volunteer doctors away from amateur sporting events?
XX Factor: Kayaker Caroline Queen opens up about being an Olympic medal contender.
Feuds: Kelly Slater goes toe-to-toe with an Australian engineer to create the world's first barreling artificial wave.
Media: Celebrity nature-doc narrators get graded, and a Q&A with former Maldives president Mohamed Nasheed on his incredibly shrinking country.
Books: E. O. Wilson's latest tome theorizes that fire and meat led humans to world domination.
Plus: The search for self on society's fringes.
THE ESSENTIALS
Covet: A surprisingly versatile pop-up trailer.
Backcountry Tech: Eight gadgets for adventure travelers, from a smartphone that trumps Apple's (gasp!) to three pocket-friendly cameras that out-punch their weight.
Spectrum: Multitools for every endeavor.
STYLE
Wardrobe picks for ramblers, and wisdom from a cyclist mugged—politely—in the cane fields of India.
BODYWORK
In the Lead: Scientific proof that stress is good for you.
Plus: Smart ways to speed recovery.
Pulse: Weather's role at the Boston Marathon, a gym machine for surfers, and an interview with running legend and author Alberto Salazar.
Fuel: A recipe for the best energy bar ever. (Mmm, bacon.)
columns
FIELD NOTES
A bitter power struggle has divided Manhattan's once genteel Explorers Club. Damon Tabor investigates and discovers that the real fight may be for the organization's relevance.
plus
EXPOSURE
PARTING SHOT Sarah Burke, 1982–2012