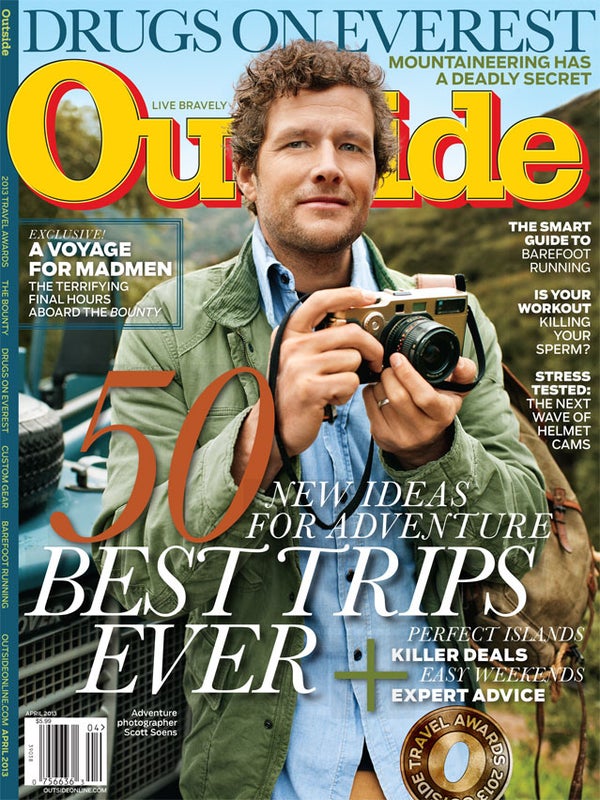 Outside Magazine, Apr 2013
---
Sunk
What was the Bounty, a square-rigged wooden tall ship, doing in the middle of Hurricane Sandy? That's the question everyone was asking after it sailed directly into the teeth of the storm—and went down off the North Carolina coast. Kathryn Miles reveals the incredible truth.
You Don't Know How to Run
The barefoot-running craze has flooded the market with an overwhelming array of technical footwear. Are you a midfoot striker or a heel striker? Want thin soles or none at all? With so many options, it's no wonder people are jogging in circles. By Andrew Tilin
the main event
Boston Marathon
Why the oldest distance race in America is still a can't-miss sports spectacle. By Gordy Megroz
Climbing's Little Helper
More and more alpinists are turning to the powerful steroid dexamethasone to get them up the world's highest peaks—and risking deadly consequences. Devon O'Neil investigates mountaineering's dark side.
roam
Don't Mess With Perfect
She thought she was only biding time in Laos, waiting to get a visa for her fiancé. But once Elizabeth Gilbert fell in love with Luang Prabang's monks, its oxen, and one astonishingly fiery soup, she knew that going back would only break the spell.
departments
DISPATCHES
First Look: Sebastian Junger's powerful requiem for slain war photographer Tim Hetherington.
Mashups: The love children of brands like Tumi and Ducati.
Rising Star: Mountain-biking phenom Keegan Swirbul.
Tech: Why nano insulation is the hottest thing since down.
Media: Tasty eco-solutions from environmental titans Michael Pollan and William McDonough.
Epic: Can Sir Ranulph Fiennes cross Antarctica in winter?
Feuds: Don't cut off Greg Long on a 50-foot wave. Especially if you're riding a jet-powered surfboard.
DESTINATIONS
Outside's 2013 Travel Awards: Our annual celebration of the best trips and emerging frontiers (East Timor, here we come!) in the world. Plus, the luggage, tech, and strategies to get you there.
BODYWORK
Breeding: Why skimping on workout nutrition can sap your energy and zap your sperm count.
My Body: San Jose Earthquakes striker Chris Wondolowski shares his secrets.
Tools: Your best 'buds (and 'phones) by sport.
ESSENTIALS
Ode: The streamlined joys of an old-school pack.
Custom Gear: Made-to-order bikes, boots—and chocolate bars.
Stress-Tested: The best helmet cams for sweet footage.
Style: Tough, low-profile watches.
plus
EXPOSURE
BETWEEN THE LINES
PARTING SHOT