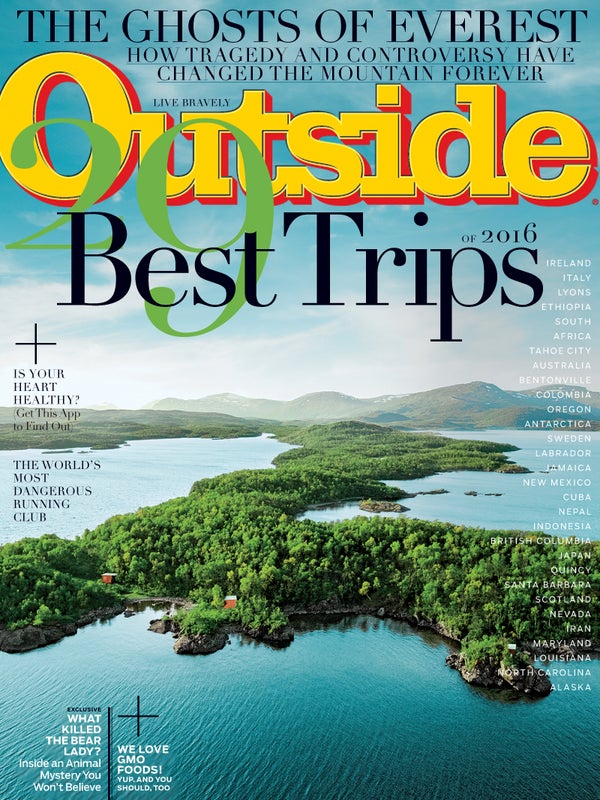 Outside Magazine, April 2016
Stories
This month, Exposure celebrates the release of 'Sharks: Face-to-Face with the Ocean's Endangered Predator,' a 334-page project by longtime Outside contributor Michael Muller.
---
For Those About to Rock
In the far northwest of Ireland, there's a green land o' plenty, filled with 500-foot sea stacks, fields of heather, and curling waves. County Donegal is the end of the rainbow for bikers, climbers, and surfers. And you'll have it all to yourself. By Stephanie Pearson
Goodbye?
Dave Morton is pushing pause on Everest. After the avalanches, earthquakes, and growing tension between climbers and Sherpas, the veteran guide is hanging up commercial trips in favor of helping the Sherpa people. But can anyone walk away from the biggest business in climbing? By Abe Streep
​Nowhere to Run
Following 12 years of civil war in Burundi, jogging clubs helped knit the country back together, with thousands of Hutus and Tutsis pounding the pavement en masse. But when the president banned group jogs, running became a dangerous political act. By Peter Frick-Wright
What Killed the Bear Lady?
Kay Grayson loved her ursine friends. She fed them outside her home in North Carolina's northeastern forests. She went on walks with them. They slept in her trailer. And when poachers decimated Tyrrell County's black bear population, she fought for their lives. Then, mysteriously, she lost hers. By Brandon Sneed
​DISPATCHES
First Look: With gym rats taking over the crags, will rock climbing lose its soul?
Big Idea: Don't demonize GMOs quite yet—we may need them to feed a growing planet.
Media: A brave documentary examines labor issues on Mount Everest.
Outsider: NBA great Reggie Miller's singletrack habit.
Drink: Tequila supplies are about to plummet—better drown your sorrows in mezcal and sotol.
Style: The fine art of bike commuting.
DESTINATIONS
The 28 Places to Go in 2016: Pull up a barstool at Havana's Riviera Hotel, pack-raft Alaska's Wrangell–St. Elias National Park, fat-bike across Antarctica, kick back on the north shore (of Louisiana's Lake Pontchartrain), and so much more.
ESSENTIALS
Wanted: An elegant, cycling-inspired flask.
Stress Tested: Technical shells to keep you dry and happy in all kinds of conditions.
Lowdown: Outfitting your smartphone.
Upgrade: Spring training.
BODYWORK
In the Lead: How athletes can use mindfulness to push past their performance limits.
Training: The key to recovery? Get a heart-rate app.
Active Cities: Going beyond the concrete in Houston.
Plus
Exposure
Parting Shot