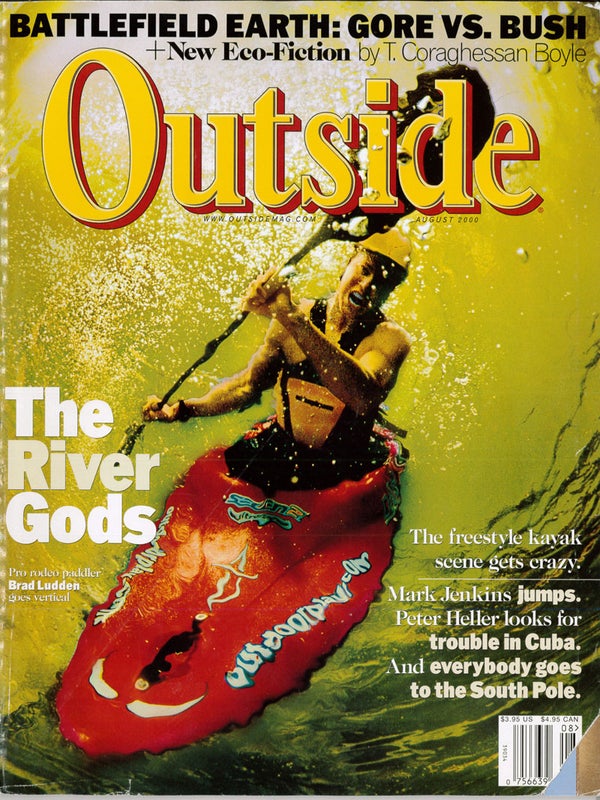 Outside Magazine, Aug 2000
---
F E A T U R E S
Throwing Down a Killer Hole
Take two hotdoggers, hand them the keys to a brand-new Subaru, stock it with free boats and enough cash for après-huck beverages, and send the lucky bastards off with two words: Find water. Wouldn't you want to be a rodeo kayaker?
By Cristina Opdahl
Cuba: A Dry Run
The dream: To ply the crystal waters and pristine cays of Cuba in a Hemingwayesque reverie of mojitos and Montecristo smoke. The reality: First you'll have to sneak past pesky informants, shrugging socialist bureaucrats, and jumpy sentries in the Guarda Frontera. Sorry to detain you, yanqui. By Peter Heller
Technical Fashion: Maximum Exposure
Hey, rock rats! Is it possible to stay cool and look sexy while executing a drop-knee on an astonishingly hairy 5.14 route? You bet—just don't forget the chalk. Photographs by Gerald Bybee
C A M P A I G N 2 0 0 0
Presidential Timber: It isn't easy being green, and Al Gore knows it. On the stump and in private, he's comfortable waving his big brain around for all to see. But what the people really want is heart. Can Gore turn his passion for the environment into a rallying cry without turning his campaign into a series of lectures on rising CO2 levels? An exclusive interview with the man who would be the Great Green Hope. By Ned Martel

Gore's Green Corps: Who's likely to land the leading environmental roles in a Gore West Wing. By Nate Hoogeveen
All Bulworth, No Rhythm Q: Could a dark horse named Nader upset Gore's green applecart? A: Well, at least he thinks so. By Jay Heinrichs
Assume the Positions: Where Gore and Bush stand (and fall) on everything from Kyoto to clean water.

Dubya, Meet Earth! Earth, Dubya!: Raised in dry, flat, dusty, oil-rich West Texas, George W. Bush learned many valuable things, not least of which was that a man stands by his word. Now, if only he knew what to say (and do) about the environment. As it turns out, he's learning. By Bill Minutaglio

Big Man on Campus: At George Dubya U, the teacher-student ratio is rather high. By Angus Cameron
Summer Eco-Fiction: Down from the Trees
The year is 2025, and Tyrone Tierwater—ex-bobo, failed monkeywrencher, private zookeeper, and father of the famous tree-sitting enviro-goddess Sierra—is madder than his pet hyena. An exclusive excerpt from the forthcoming biospheric satire A Friend of the Earth.
By T. Coraghessan Boyle
D E P A R T M E N T S
Dispatches
So cool it's hot: Antarctica's frosty outback has suddenly become the hippest adventure destination on the planet. Which begs the question, why? Deconstructing the final frontier. Also: A bonus Antarctica pullout map—our comprehensive guide to the expedition and climbing cold rush in the far south.

The Wild File
Can a lightning bolt knock out your fillings? How do paragliders read thermals? Where does air pollution go? What's the most aggressive animal in the world? By Stephanie Gregory

The Hard Way
The four Jenkins brothers were raised on heaping helpings of horseplay and competition. But at a recent skydiving reunion, one brother's jump into jeopardy forces the stoic fraternity to reveal its soft side. By Mark Jenkins

Destinations
Untapped Rockies: Looking for a hiddenbackcountry fix far from the madding crowd? With 13,000-foot peaks, miles of alpine tundra, and a summer's worth of vacant trails, Wyoming's Bighorn Mountains are all about solitude.
Plus: Brave the claustrophobic Grim Crawl of Death or scale the Tongue River Canyon—just two of our picks for the Bighorn region's wildest side trips.


Bodywork
All-Around Power: Tendons were once the overlooked, undertrained workhorses of an athlete's body. Now, cutting-edge research reveals that strengthening these collagen fibers might just be the key to riding, climbing, and running tough. Our can't-miss regimen for improving performance and avoiding injury in whatever sport you choose.

Review
Tough Treads: Trail running has hit the mainstream, and now there are shoes designed for every type of terrain: rock, dirt, mud, and scree. We field-test five sturdy sneaks—from Adidas, Merrell, Five Ten, Montrail, and New Balance—all guaranteed to tackle the rough stuff.


CD-ROMs that let you download, customize, and e-mail your favorite topo maps.
A distinctly French multitool: elegantly simple, with a name that's impossible to pronounce.
Removable climbing bolts for keeping your favorite slabs clean.
Foiling pickpockets with Pacsafe's ingenious backpack security system.
PLUS: Jumping Fire, by Murry A. Taylor; Driving Mr. Albert, by Michael Paterniti; Volcano Cowboys, by Dick Thompson; and Precious Heritage, from the Nature Conservancy and Oxford University Press.
Cover photograph by Gerald Bybee/SF