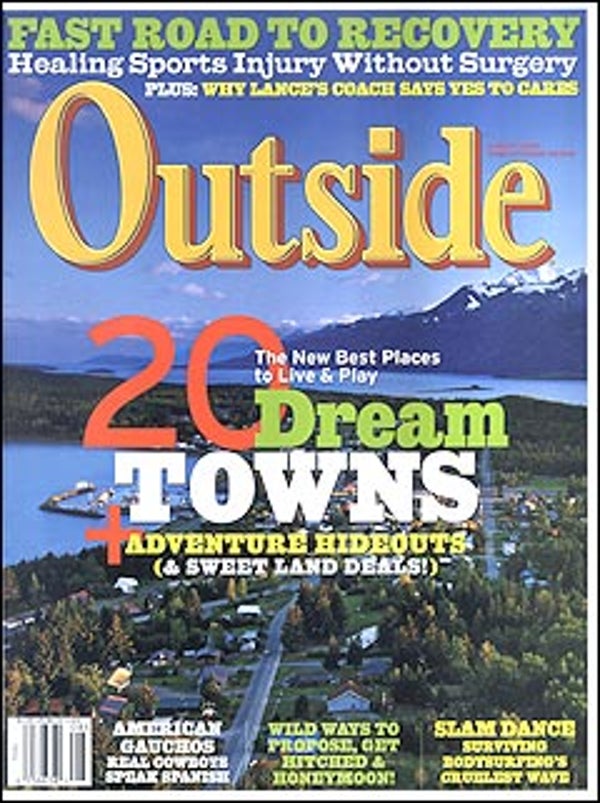 Outside Magazine, Aug 2004
---
F E A T U R E S
THE LIP COMES DOWN
At SoCal's Newport Wedge, the rad boys of big-wave bodysurfing endure crushed vertebrae, torn shoulders, and rinse-cycle wipeouts to ride one of the world's gnarliest breaks.
By Daniel Duane
CODE ORANGE
Novelist Carl Hiaasen has an ax to grind—and not because he had a bad day on the bonefishing flats. Join two hilarious and pissed-off writers as they cruise the Keys, bash the government, damn the developers, and dream of dunking the yahoos who've turned South Florida into "paradise screwed."
By Bob Shacochis
EL ÚLTIMO VAQUERO HABLA ESPAÑOL (THE LAST COWBOY SPEAKS SPANISH)
When two South American gauchos head to Idaho with Marlboro dreams, their range-riding fantasies crash into meth labs, misery, and an open frontier that can chew up men hoping for a second chance.
By Nick Reding
BEST TOWNS 2004
100-PROOF AMERICANA
Seeking an underpopulated—and undiscovered—slice of paradise? Drop in to any of our 20 adventure towns, from burly Haines, Alaska, to serene Cedar Key, Florida, where you'll find cush, affordable base camps for spontaneous long weekends or a lifetime of wild fun.
By Mike Grudowski.
PLUS: If you're moving to that rustic retreat, you'd better mind your manners—author and small-town guy Michael Perry shares his secrets for fitting in; our troubleshooting guide to home buying in dreamland; living on the edge in America's best border towns; and more.
D E P A R T M E N T S
DISPATCHES
Athletes Amanda Beard and Ian Thorpe head for Athens in swimming's HOT NEW BODYSUITS ; wundercoach Chris Carmichael preaches the POWER OF CARBS ; SOUTHERN INDIA emerges as a hip adrenaline destination; living large in British Columbia's posh WILDERNESS LODGES ; THE WILD FILE explores the horse latitudes, elephant mating, and feral vegetables; PLUS: DRINK INSIDE THE BOX , a guide to vino that's packed and primed for the outdoors, and a look at the world's earth-friendliest roadster in ECO-PIMP MY RV .
THE HARD WAY
France's Antoine de Saint-Exupéry lived a series of daring near misses—until his mysterious disappearance in 1944. Now that his fate is known, it's time to remember the lost pilot's undying achievement.
By Mark Jenkins
REVIEW
We've sorted through the latest storm of high-traction trail runners for the coolest innovations in TOUGH-SHOE TECHNOLOGY from Nike, The North Face, and others. PLUS: PRIMO PORTABLE GRILLS for the beach and backcountry.
BODYWORK
The most promising breakthrough in sports-injury recovery is not about the knife. Learn how NATURAL REHAB can get you back in the game, stitch-free. PLUS: WHO'S THE FITTEST? Three Olympians vie for the Outside title.