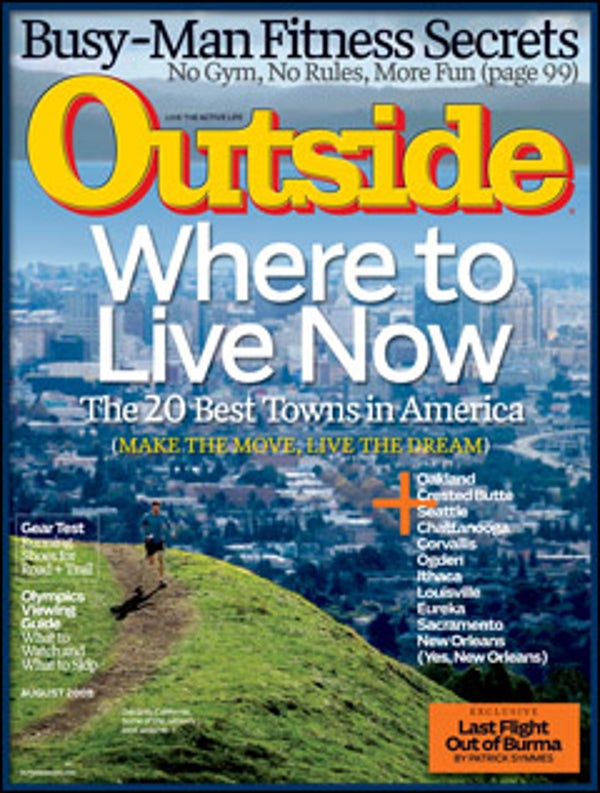 Outside Magazine, Aug 2008
---
The Guide
THE PEOPLE'S GAMES
Love 'em or hate 'em, the Beijing Olympics will be the most talked-about Games in decades. You're going to watch. Here's how.
Features
LAST NIGHT I DREAMED I HAD LEGS
Jeff Lowe made alpinism what it is today, but multiple sclerosis has ended his climbing career and threatens even more. Pete Takeda ropes up with the legend as he tries
to manage the fall.
PROGRESSIVE CANDIDATES
The best places to live now: 20 great American towns that have withstood hard times and reinvented themselves as havens of the good life. Why not make a move?
THE GENERALS IN THEIR LABYRINTH

Killer tropical storms followed by bureaucratic bungling: See a theme developing? Patrick Symmes barely escapes Burma before the cyclone sweeps in.
THE WORLD'S TOUGHEST BIKE RACE IS NOT IN FRANCE
It's down the spine of the Great Divide, from Canada to Mexico, and no tainted burritos or bivouacking aliens will keep our intrepid billy goat from reaching the border.
By Jon Billman
IS THAT ALL YOU GOT?
Meteor "shower"? "Drip" is more like it. Mary Roach goes in search of an astronomical event that lives up to the name.
Departments
DISPATCHES
» First Look: Ewan McGregor rides again
» News from the Field: Kayaker Tao Berman's excellent run for state office
» The Drawing Board: How to freedive through a 170-foot-deep tunnel
» Action Figure: Outlaw skateboarding legend Jay Adams prepares for his new role as ex-con skateboarding legend
» Books and Media: David Maraniss on the greatest Olympics ever; Seth Kantner recalls an Arctic childhood; a sitdown with eco-converts Tommy Lee and Ludacris
DESTINATIONS
» Spot On: Climb easy in the Tetons on Jackson's cable-assisted via ferrata routes
(LINK CURRENTLY UNAVAILABLE)
» Get Lost: Our man in China picks the misunderstood country's top adventures
» The Weekend Plan: Maximize fun in Vermont's forgotten (and better) season
STYLE Hit your appointments with the summer's top timekeepers
THE ESSENTIALS
» Covet: A gold-medal flatscreen
» Running Shoes: From city to trail
» Upgrade: What's lurking in your bottle?
BODYWORK
The Master Plan: Triathlon Think you're not tough enough? Wait till you see our slacker-friendly, surprisingly fun (we swear!) beginner's guide.
Columns
OUT OF BOUNDS
How I went to Grenada and started smuggling gourmet chocolate by sailboat
By Eric Hansen
CODE GREEN
Do solar-powered backpacks work? Can pee power a headlamp? A green-gadget field test.
By Elizabeth Hightower
THE LAB RAT
Why our government's anemic fitness plans (coupled with Wii fever) equal a national gut of Falstaffian proportions
By Nick Heil