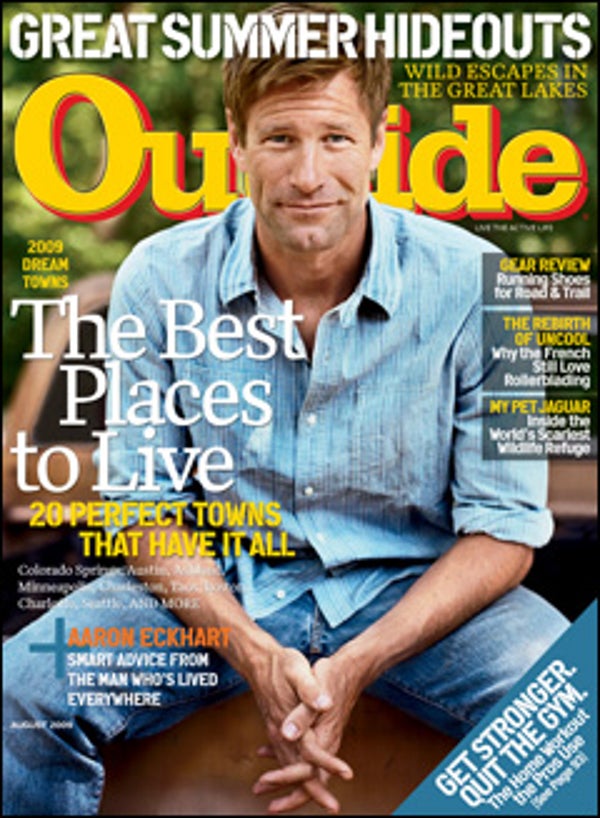 Outside Magazine, Aug 2009
---
BEST TOWNS: AMERICA'S HEALTHIEST CITIES
In our most scientific where-to-live survey yet, we put America's 100 largest cities under the microscope to present you with the ten healthiest—physically, mentally, and economically. PLUS: Ten idyllic small towns near the big boys; Relocation advice from wandering man Aaron Eckhart.
ONLINE EXCLUSIVE: An interactive map containing all of our archived Best Towns.
THE MEGA THEORY OF EVOLUTION
For Bob Burnquist, the world's greatest skateboarder, the formula for success demands a colossal ramp, deadly risks, and many, many pairs of hemp shoes. JOSH DEAN gets airborne with one of the most creative and daring athletes alive.
HELLO KITTY
Caring for an orphaned fawn is one thing. But a full-grown, 260-pound jaguar? You'd have to be a little nuts, and you'd have to go to the world's unlikeliest animal sanctuary. THAYER WALKER heads to the Bolivian jungle with a not-long-enough leash.
PLUS: An exclusive video and photo gallery from the park.
DON'T WIN IF YOU DON'T WANT THE TATTOO
That's the caveat for anyone who dares enter the screwball comedy that is the Single Speed World Championships. Into this breach we sent the anonymous BIKE SNOB NYC , the world's greatest (and funniest) cycling blogger.
FROST FREE
As its ice cap recedes, Greenland rises. For locals, global warming has an upside, revealing vast, untapped mineraland oil wealth and a long-dormant independent streak. By McKenzie Funk
Departments
DISPATCHES
» First Look: Hucking 100-foot waterfalls is suddenly the big thing in kayaking—which means the sport is in big trouble
» News from the Field: Animal Planet's Dave Salmoni sleeps with lions; the Leadville ER prepares for bonking bikers
» The Drawing Board: How a covert documentary team captured a secret Japanese dolphin slaughter on camera for The Cove
» XX Factor: American swimmer Laurin Weisenthal aims for the English Channel speed record.
PLUS: A gallery from photographer Andy Batt
DESTINATIONS
» Spot On: Sunny Manzanita, Oregon's (thankfully) forgotten coast
» Get Lost: The Great Lakes region is big, flat, and sometimes cheesy—and full of cheap, wild adventures. We pick the Lakes seven best trips.
STYLE
This summer's best watches do more—way more—than just tell time.
THE ESSENTIALS
» Covet: A custom-made, hand-built (by you) wooden kayak
» Running Shoes: The best new road and trail kicks to keep you moving
» Outfitted: All the fly-fishing gear you need for a summer on the water
» Deconstructed: There's more going on inside an MTB cleat than meets the eye
BODYWORK
The third in our four-part Pillars of Fitness special: building power, not bulk
Columns
OUT THERE
Muskies: They're called the fish of 10,000 casts. Why? Because it's worth that many just to catch just one.
By Michael Perry
OUT OF BOUNDS
Rollerblading, that neon, spandex-clad fad of the eighties and nineties, is alive and well-in France, of course
By Eric Hansen