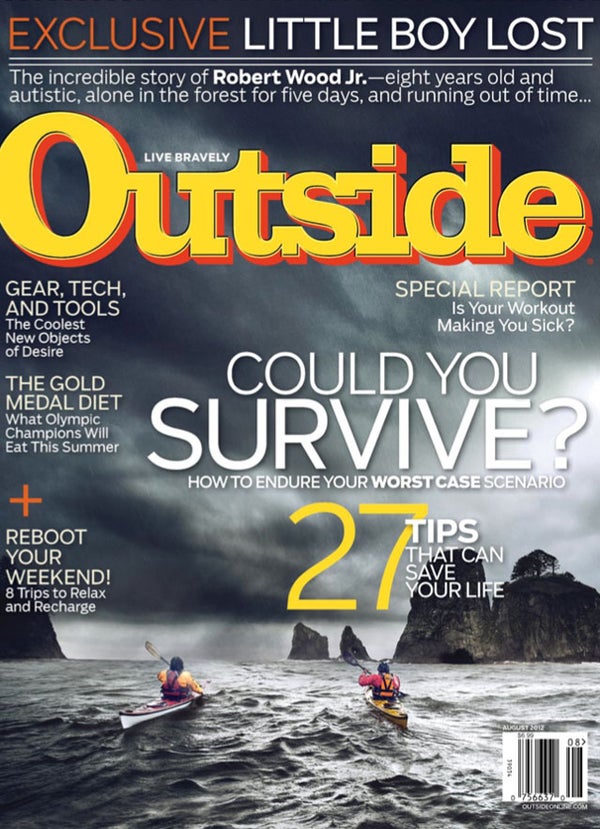 Outside Magazine, Aug 2012
---
DRILL, BABY, DRILL
In war-torn Valsura, a natural disaster has stranded thousands without food or electricity. American citizens are missing. It's a humanitarian crisis without precedent, except that it's entirely make-believe. Brian Mockenhaupt embeds with Angel Thunder, the world's largest disaster-training exercise.
REVERSAL OF FORTUNE
For Australian BASE jumper Lucky Chance, walking away from a 590-foot fall only served to affirm his invincibility. Not so his next calamity, which saw him blown into a cliff face during a thousand-foot leap. Elizabeth Weil reports on his slow recovery and second (or is that third?) shot at life.
BOOM TIMES
Economic collapse. Global jihad. Nukes in North Korea. The apocalypse is coming! Or so say the preppers, a movement of food-storing, gun-toting, totally self-sufficient survivalists who intend to be ready when it all goes to hell. By Emily Matchar
CATCH ME IF YOU CAN
With the staggering increase in autism diagnosis among children has come a new challenge for search-and-rescue teams: far more of them lost in the woods. Dean King recounts the massive five-day search for eight-year-old Robert Wood Jr. in Virginia's North Anna Battlefield Park—and the 11th-hour miracle that brought him home.
design + technology special
WEIRD SCIENCE
A camp stove that can charge your cell phone, a peacoat that's perfect for biking, and an adventure-ready airplane that would make James Bond swoon. These 23 products all have one thing in common: they might just change the way we play.
departments
2012 OLYMPICS PREVIEW
Outside's guide to the heroes, hype, and gear at this summer's Games. Here's what to watch for, from the U.S. marathoner who could redline her way to gold to the fastest mountain bike ever created. Plus: Charting the medal hopes of the biggest names in London, and why top athletes are training with video games.
DESTINATIONS
New England Escapes: Whitewater on Maine's Kennebec River, lonely peaks in New Hampshire's White Mountains, singletrack in Vermont—these are the Northeast's best-kept adventure secrets.
Journeys: Motorcycle excursions on four continents.
BODYWORK
In the Lead: Don't let bad air quality keep you from taking your training to the streets.
Tools: Three new gadgets to track your performance in real time.
Fuel: Thai chicken noodle soup will be powering the U.S. Olympic team in London. Here's how to make it.

columns
FIELD NOTES
Kenyans have long dominated the marathon, thanks to a lucky mix of genetics, diet, and a low-key Irish priest named Brother Colm O'Connell. Ed Caesar goes to the Great Rift Valley to meet the coach who sparked the country's running revolution.