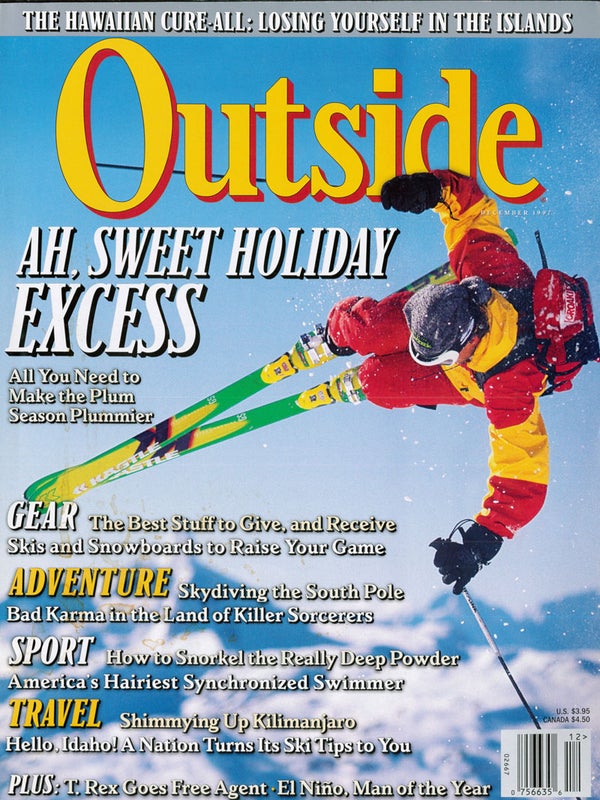 Outside Magazine, Dec 1997
Stories
Heed those rusty hinges now, and they'll work more smoothly when it really counts
---
December 1997
Features
Hello, I Must Be Going
"There's always more fish in the sea," goes the clichë. Of course, that was coined before the cod population collapsed, before miles of reef died from being "fished" with cyanide, before the worldwide catch began to decline. But if the oceans' bounty is in peril, why is there still so much seafood?
By Bill McKibben
El Ni˜o Has a Headache
You'd think it would be fabulous to monopolize the chitchat around every water cooler, to have whole populations scrambling to accommodate your whims. But as our exclusive visit with the meteorological superstar reveals, fame can be a jealous mistress.
By David Rakoff
The Downhill Report: Hot Hot Hot!
Like the man said, we can't define it, but we sure as hell know it when we see it. So we honed in on the most bodacious new skis and snowboards, the cushiest job on snow, the sweetest runs around, and 14 other info-packed ways to test your vocabulary of on-slope superlatives to the limit.
Mourning in the Land of Magic
In the Sumatran village of Aman Damai, as in the rest of Indonesia, the mystical belief in unseen powers is everywhere, and people often turn to sorcerers for guidance and good fortune. But when one after another of the town's young women vanished without a trace, the locals began to see their trusted adviser in an altogether different light.
By Mark Levine
Solo Faces
Whether a black man is skiing or fly-fishing or just wandering God's green earth, the question turns uneasily in his mind: Why is so much of the outside world so peculiarly white?
By Eddy L. Harris
My Name Is Bill. I'm an Aquamaid.
An unlikely teen phenom makes waves — graceful, shimmering, nicely choreographed waves — in the synchronized-swimming matriarchy.
By Mike Grudowski
Humbly Goes the Mountain Man
The Masai call it the House of God, Joan Didion called it Hemingway's mountain, just about everyone else calls it Kilimanjaro. But those who attempt to scale it often come up with a few other choice names.
By Chip Brown
Departments
Adventure: To the Pole…the One-Brick-Short-of-a-Load Way
A self-described "renegade bunch" of skydivers — not, mind you, the label we'd choose — yells "Geronimo!" above the South Pole.
By Susan Enfield
Power Plays: Hold It Right There, Officer
It's cop-versus-cop as embittered westerners look to further tweak the feds
By Tristram Korten
Philanthropy: Do-Gooders Rule!
In this age of mounting apathy, an unlikely subculture steps up to the plate
By Paul Kvinta
Enterprise: Eureka?
Above the din of doubters, a prospector swears a filthy Canadian river will make him filthy rich
By Trevor Curwin
Travel: Footloose and Cholesterol-Free
In the midst of its epic ride, a chat with history's nuttiest cycling tandem
By John Galvin
Genetics: We're Looking for a Few Good Unmentionables
Hoping to bring back the woolly mammoth, Japanese researchers seek out some unusual treasures
By Paul Kvinta
Sport: From Tabula Rasa to Pipeline Masters
Shaping a few winning boards with the North Shore's humble Picasso-of-the-planer
By William Finnegan
Field Notes: Boneheads
The musty realm of paleontology hit the big time at Sotheby's recently with the $8.36 million sale of a T. rex. Now that the chase for hot properties is on, no dino hunters are more in demand than the serendipitous Sacrison Twins of South Dakota. A wry dig into the world of the boneheads.
By John Tayman
Out There: Taking the Red-Eye
In his last column, our man says adios to swarming airports, nine-hour layovers, and itineraries gone to swill. But not before hoisting a mug — or five — to all the fine folks who made eight years of antipodal travel the best gig in the business.
By Randy Wayne White
The Wild File
Is kissing under mistletoe sacrilegious? Do giraffes have antennae? And will the real Indy Jones stand up?

Captain Cook Never Sailed Here
Beyond the Mai Tai Curtain: Far from the sheen of Waikiki and the floral-print crowds lies Hawaii's truer self, a place of primeval rainforests, empty beaches (honest!), breathtaking highlands, and steaming lava fields. Plus: guides to divining local Hawaiian superstition and getting there on the cheap.
By Rick Carroll
Smart Traveler: www.getmeoutofhere.com
Or how I went geek-friendly on the Web before my trip, saved cash, and avoided crisis
By Everett Potter
Roam for the Holidays
Easy ways to assuage that seasonal wanderlust
By Cristina Opdahl
Bodywork: Juice Up Your Joints
Because you're only as strong as your weakest links: Paying a little attention now to your ankles, knees, and other joints will boost your performance in the months ahead. Five quick routines to keep your hinges working smoothly.
By Matthew Segal
The Knee Farm
Get your fresh-grown cartilage
By Katie Arnold
Standards
The Tuck Jump
By Daryn Eller
Routines
Taking Up That Slopeside Slack Time
By Brenda DeKoker Goodman
Prescriptions
A Positive Impact
By Claire Martin
Review: The Holiday Gift Guide
From $2 to $2,450, the best gifts this side of Santa's workshop, for everyone on your list. Including binoculars tailored for 007 himself, the indestructible Kevlar boot, a multimedia tour of Colorado's Fourteeners, woolen wear that'll keep your conscience clean, a kayak designed expressly for the swirliest zones, an ingenious snowboard tote, the ultimate electronic travel companion, and a whole lot more.
By Bob Howells
Books: Coffee-table books that get beyond the picturesque, including Frans Lanting's Eye to Eye, R. Valentine Atkinson's Distant Waters: The Greatest Fly-Fishing Worldwide, Galen Rowell's Bay Area Wild, and more.
Photographs by Scott Markewitz, Craig Cameron Olsen; illustrations by John Hersey, Mike Lee, James Yang