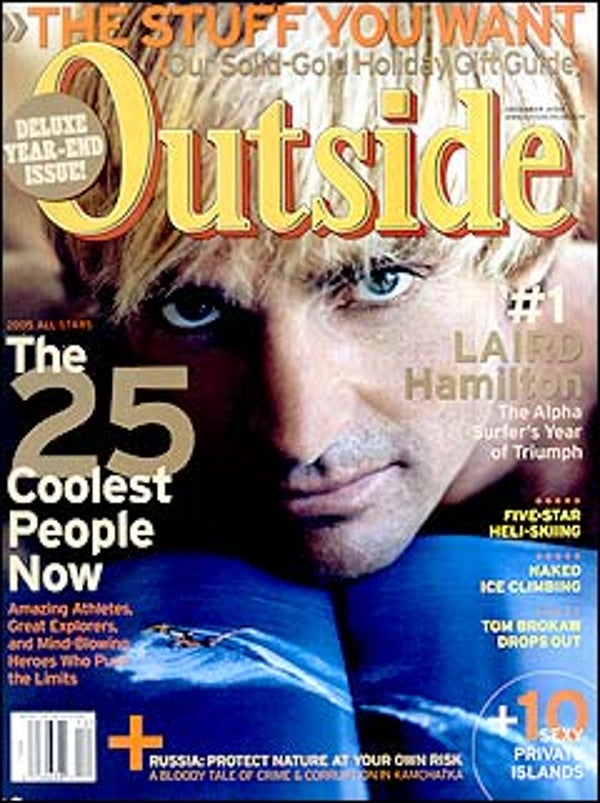 Outside Magazine, Dec 2004
---
F E A T U R E S
2005 All-Stars
ACES WILD
Plenty of people rocked our world this year—like resilient shark-attack survivor BETHANY HAMILTON , Olympic supa-swimma MICHAEL PHELPS , valiant Iraq war photographer CHRIS ANDERSON , and (of course) LANCE , with his butt-whompingest Tour win yet. Meet the top 25 picks in our roundup of adventure heroes who stand a cut above.
SPLENDID ISOLATION
If bone-white beaches, sprawling seaside villas, and daily spa treatments on your own private island fill you with giddy desire, get thee to the Seychelles, where Crusoe fantasy meets five-star reality.
By Michael Behar
PLUS: Nine more blissfully CROWD-FREE ISLANDS where you can plot a scenic escape
The Holiday Gift Guide to Gear & Style
THE NEW RIGHT STUFF
We bring tidings of great swag! Whether you've got a fetish for natural materials like wool, wood, and leather, or are drawn to cutting-edge hardware in steel, titanium, and carbon fiber, we've got the goods for a beautiful relationship. Feeling the chemistry yet?
A MESSAGE IN BLOOD
Canadian bear researcher Charlie Russell knew it was dangerous to set up shop in Kamchatka—a frontier of lawless poachers, ruthless kingpins, and 10,000 wild grizzlies. But when up to 20 of his animals were mysteriously slaughtered, he discovered that much more than his own life was on the line.
By Andrew Meier
D E P A R T M E N T S
DISPATCHES
TOM BROKAW talks about lighting out for Patagonia, life after NBC's Nightly News, and how adventure kept him sane throughout a pressure-cooker career
The newest trend in second homes is raising the roof—literally. Build your very own SWANK TREE HOUSE .
EAT MORE FISH! How seafood serves up a high-protein boost. PLUS: safe and sustainable sushi recipes from New York's Nobu restaurant.
HELI-SKI WITH THE BEST and boldest outfitters in North America, like Bella Coola Helisports. PLUS: Essential gear for your powdery prowess.
Norse mixology: DRINK LIKE A VIKING with our aquavit primer
THE WILD FILE finds out whether frozen trees really explode, IDs the oldest man-made object in space, and gets the rumbling lowdown on what earthquakes do to sea life
Get a jump on the SEASON'S GIVING with our big book roundup, including Éric Valli's Himalaya—capturing 20 years of candid Nepal. PLUS: The 2004 Tour de France DVD is the perfect stocking stuffer for spokeheads; and more.
THE HARD WAY
Our man hits Iceland to try a radical pursuit: CAVING DEEP INSIDE MOVING, MELTING GLACIERS . It's a blast, but watch out for the poisonous CO2 and naked spelunkers named Karl.
By Mark Jenkins
OUT THERE
When 770 students from Oxford and Cambridge descend on a small Austrian ski town to GO NUTS IN THE SNOW , there's only one thing to say: "Behave, baby!" Inside the Brits' wildest ski thrash.
By Tim Sohn
BODYWORK
SHARPEN YOUR EDGE . Fine-tune your winter-sports skills by training the smart way off the slopes.