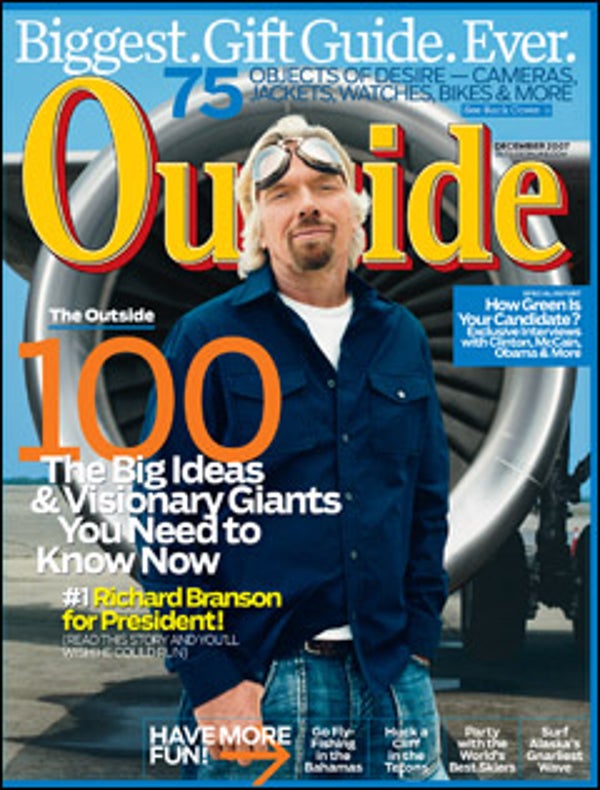 Outside Magazine, Dec 2007
Stories
Welcome to the new Bolivia, where former coca grower Evo Morales has made the leaf a symbol of his two-year-old government. Now everybody's growing it, everybody's chewing it, and the war on drugs has taken a very strange turn.
---
THE OUTSIDE 100


(VIDEO LINK CURRENTLY UNAVAILABLE)
(PODCAST LINK CURRENTLY UNAVAILABLE)
Celebrating revolutionary airliners, antigravity training, better (and cheaper!) surfboards, two funny dudes from New Zealand, and 95 more reasons 2007 was a great year. PLUS: HAMPTON SIDES on swashbuckling billionaire adventurer Richard Branson's plans to save the planet and visit outer space (just as soon as he recovers from this hangover).
STRANGE BIRD

(PODCAST LINK CURRENTLY UNAVAILABLE)
Getting in and out of Africa's most chaotic locales has always required the services of a madman. Enter Tim Roman. If you've got the cash, he'll fly you right into the heart of darkness.
CARK HOFFMAN copilots.
HUSTLE AND FLOE

The story of two men, two kayaks, three pounds of coffee, ten avocados, one ice-choked fjord in Chilean Patagonia, and the will to survive a well-planned gentlemen's adventure. It's harder than it sounds.
BY GRAYSON SHAFFER
[Code Green Special Report]
PRIMARY COLOR
Can we get a little green in our red, white, and blue? As the 2008 presidential campaign revs up, we partner with Grist.org and quiz the top candidates on their environmental records, campaign platforms, and more. One of them is your next commander in chief, so listen up.
BY AMANDA GRISCOM LITTLE
COCA IS IT!

(PODCAST LINK CURRENTLY UNAVAILABLE)
So say a whole lotta folks down in Bolivia, where a former coca farmer is president and the countryside is full of new plantations and very, very happy people. But with the U.S. funding narc squads to kill the buzz, can it all last? JOSHUA HAMMER investigates.
[Holiday Gift Guide]
WHAT EVERY MAN WANTS THIS YEAR
An obsessed-over, drooled-over, pored-over selection of killer gear and apparel for the jet-setter, adrenaline junkie, techno-geek, aquaphile, cold warrior, Luddite, and lady on your list. Flip the magazine over to start browsing.
THE O ZONE
» FIRST LOOK: He launched the Honda Ski Tour last year, then he promptly bought up the competition. Now Kipp Nelson's high-octane Jeep King of the Mountain festival is reinventing adventure-sports culture.
DISPATCHES
» THE DRAWING BOARD: Two Hawaiian surfers head to Alaska to ride 40-foot swells spawned by a calving glacier. Beware of flying salmon!
» RISING STAR How Las Vegas teenager Aaron Fotheringham has spent his life in a wheelchair carving up the local skate park.
» THE BIG IDEA: Could hunting the gray wolf be the best way to save it?
» PLUS: The golden age of bottle-opening gear is now; Wall Street adventurer Alison Levine treks to the bottom of the world; parolee fashion.
DESTINATIONS
From Antigua's smooth sailing to Puerto Rico's world-class surfing to the most extreme kind of leisure in St. Bart's, we pick the Caribbean's best antidotes to winter, one sport at a time.
MEDIA
» FILM: The surf-gang documentary Bra Boys takes us to the mean streets of . . . Sydney?
» BOOKS: A decade after Jacques Cousteau's death, he returns in his last, manifesto-like work to remind us that the oceans need help fast.
» PLUS: New works from Elizabeth L. Gilbert, Will Gadd, and Borat. Is nice!
BODYWORK
» THE MOVE: How to ride a snow shovel at high speeds.
» WORKOUT: From trainer Jon Hinds, of the Monkey Bar Gym, who's junked the mirrors and machines in favor of real, functional, full-body fitness.
» The PULSE: The endurance gene; shed more fat through rest; and train at altitude anywhere.
OUT OF BOUNDS
For decades, we've been subsidizing timber sales in Alaska's Tongass National Forest. Which means lots of barren slopes. Which gives taxpayer ERIC HANSEN the chance to invent an entirely new sport . . . The stump skier cometh! (And busteth his heinie.)