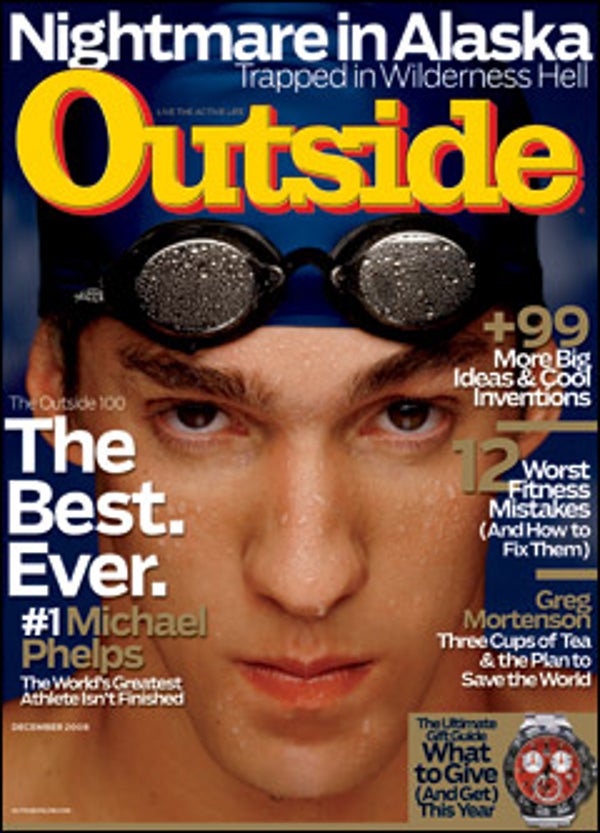 Outside Magazine, Dec 2008
Stories
Tommy Caldwell needed a challenge, so he decided to hoist his clanking gear rack and free-climb one of Yosemite's hardest routes—a punishing 5.14 called Magic Mushroom—in 24 hours or less. Matt Samet was there from start to finish to watch the planning, training, and performance of a superhuman athlete at the top of his game.
Ah, Mexico. Land of hot sand, cheap beer, and a foolproof cure for seasonal affective disorder: endless adventure.
Out on the far edge of the Alaska frontier, a man can hide his sins. Robert Allen Hale—a.k.a. Papa Pilgrim—bought a homestead outside the remote town of McCarthy where he imprisoned his family and conned the world with tales of a simpler life. But for the 15 children living the nightmare, the only choice was escape.
---
NO BACHCHEH LEFT BEHIND

(VIDEO LINK CURRENTLY UNAVAILABLE)
Greg Mortenson mountaineer, founder of the Central Asia Institute, and author of the bestseller Three Cups of Tea wants to save the world one school at a time. So far, so good. Kevin Fedarko heads to Afghanistan with a modern-day saint.
THE OUTSIDE 100
What's to love about 2008? How about a Manhattan without cars, flying to 16,000 feet in a lawn chair, the (further) ascent of bicycling, and our own staffers hitting the world stage. And that's just for starters. PLUS: The crazy dominance of Olympian Michael Phelps.
THE PSYCHEDELIC FIRST
Tommy Caldwell, with double free climbs of Yosemite's El Capitan under his harness, turns to an unprecedented 24-hour climb up that same wall's dreaded 5.14 Magic Mushroom. Safe on the ground, Matt Samet gets an inside look at how a real rock star works.
THE DARKEST PLACE
Six years ago, a man named Pilgrim took his wife and 15 children to a homestead deep in the backwoods of Alaska. But as the residents of nearby McCarthy would learn, he was anything but the good Christian he professed to be.
By Mark Kirby
THE GUIDE
YOU CAN'T WRAP ADVENTURE
This holiday season, we not only show you what to "gift" like the coolest new swag for skiing/boarding, traveling, training, trekking, timekeeping, shooting/filming, and rocking out. We also tell you how to bestow intelligently when the circumstances are baffling like with your mother-in-law or your enemy (or is that the same thing?).
DEPARTMENTS
DISPATCHES
» First Look: To bring home the America's Cup, Larry Ellison built a controversial, $10 million sailboat. We climbed aboard.
(LINK CURRENTLY UNAVAILABLE)
» News from the Field: A brief history of urban adventure; oilman T. Boone Pickens's plan to break our petro-habit
» The Drawing Board: How a not-so-sane freeskier plans to huck a 300-foot cliff
» Books: A look at the new works of literary giants Laird Hamilton and Kelly Slater; Steven Rinella and his rifle go a long way in search of big animals
DESTINATIONS
» Spot On: So a volcano blew. Chile's Futa­leufú River is running stronger than ever.
» Get Lost: Winter blues setting in? Time to head south. Presenting Mexico's freshest adventures, from Sayulita to Chiapas.
» The Weekend Plan: Heli- and cat-ski trips that get you all of the powder with none of the hiking; sleeping in (finally) at Monument Valley
BODYWORK
» Fitness Mistakes: The performance-sapping miscues you don't realize you're making and how to fix them
COLUMNS
THE BIG IDEA
If you're traveling overseas, beware of bugs, big animals, political unrest and the popular malaria drug your doctor might prescribe you.
By Jordan Campbell
OUT THERE
At the U.S. Pond Hockey Championships, in Minneapolis, teams from all over the northern states compete in an ice-hot sport "the way nature intended it."
By Bryant Urstadt
THE LAB RAT

(VIDEO LINK CURRENTLY UNAVAILABLE)
How little time can you spend exercising and still stay in game shape? Our man dives into the high-intensity world offitness cheating.
By Nick Heil