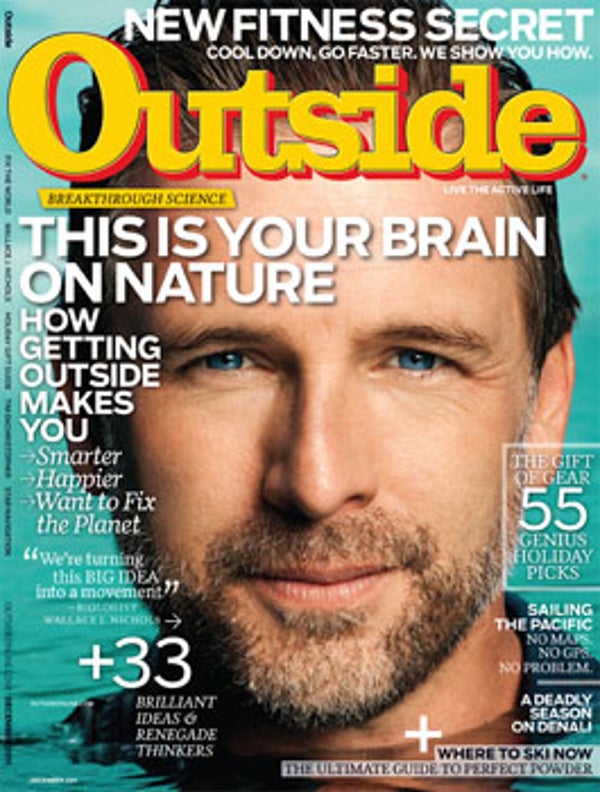 Outside Magazine, Dec 2011
---
How to fix the world
THE TOUCHY-FEELY (BUT TOTALLY SCIENTIFIC!) METHODS OF WALLACE J. NICHOLS
The sea turtle biologist wants to save the oceans—not by feeding people reams of alarming data, but by discovering how the brain's emotional center is lit up by open water. By Michael Roberts
THE YEAR OF GIVING ADVENTUROUSLY
Citizen philanthropy is on the rise—and so are the nonprofits. Here are the 30 organizations and innovators truly making a difference, delivering health care in rural Asia, distributing bikes in Africa, and championing preservation in your backyard. Plus: Carbon-eating superplants, why the solar-powered car is MIA, and more.
SOURCE TO SEE
Meet Outside's 2012 Readers of the Year. With their high-tech Riverview Project, SoCal surf rats Jared Criscuolo and Kristian Gustavson are working to protect and restore our nation's waterways.
STAR POWER
Were early Polynesian explorers capable of deliberate ocean voyages with nothing but the night skies to guide them? James Campbell finds out firsthand when he sets sail in the Caroline Islands with a group of mariners intent on keeping the dying art of astral navigation alive.
THE TRIALS OF BIDDER 70
Tim DeChristopher hoped to energize climate protest with the nonviolent tactics of the civil rights era—including going to jail for monkey-wrenching oil- and gas-lease auctions in Utah. Has he opened the floodgates of direct action, or is he just the latest martyr to an increasingly desperate cause? By Abe Streep
Departments
DISPATCHES
First Look: Are bespoke skis the next big thing on the mountain? Former NFL quarterback Drew Bledsoe is banking on it.
News from the Field: Tom Cruise free-soloing Dubai's 2,717-foot Burj Khalifa? His Mission:Impossible climbing coach tells all. Plus: A camera that focuses after you shoot and a 25,000-person tribute to 1911's great polar race.
Epic: Kayakers Jon Turk and Erik Boomer narrowly avoided polar bears, an aggro walrus, and kidney failure to complete a human-powered navigation of Canada's Ellesmere Island.
XX Factor: In July, 18-year-old Carissa Moore became the youngest-ever winner of the ASP women's title. Now she's taking on the guys.
Drawing Board: Six climbing deaths and one heart-stopping rescue—a look at why 2011 was such a grisly year on Alaska's 20,320-foot Mount McKinley.
DESTINATIONS
La Niña's back. From the Green Mountains in Vermont to California's Sierra Nevada, our month-by-month guide will have you skiing killer snow all winter long.
BODYWORK
In the Lead: How chugging slushies and strapping ice packs to your chest before a race can help you go harder longer.
Workouts: A CrossFit-inspired circuit that will supercharge your skiing.
Pulse: A new P90X video, exercise equipment that powers the grid, and rebuilding muscle tissue with whey protein.
GIFT GUIDE
Your holiday-shopping headaches end here. We assembled 13 pages packed with gear and gadgets for every adventure lush on your list. Plus: Custom trips, handmade gifts, and other fresh ideas that benefit the causes they care about.
Columns
NATURAL INTELLIGENCE
David Roberts investigates how solar technology is transforming the Marine Corps's wartime energy supply chain—and saving soldiers' lives.
plus
EXPOSURE
BETWEEN THE LINES
FEEDBACK
PARTING SHOT