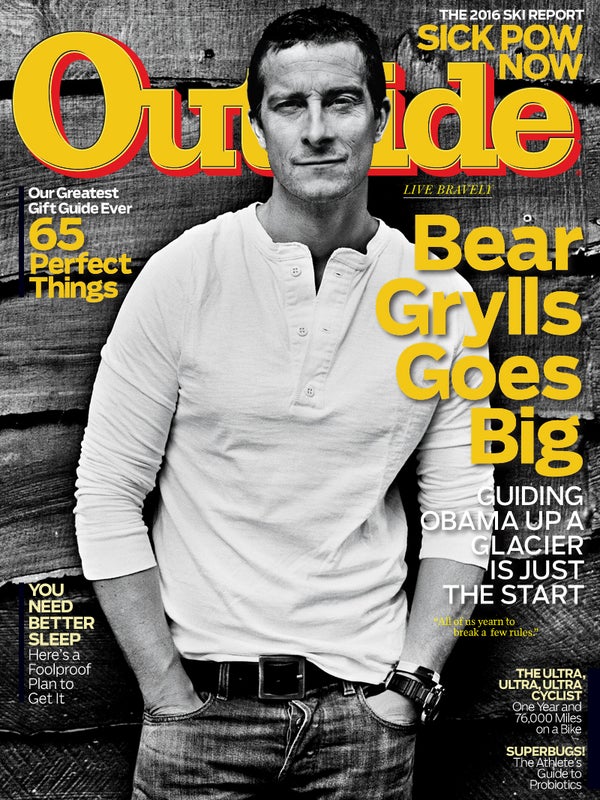 Outside Magazine, December 2015
2016 Preview and Our Greatest Gift Guide Ever
---
Life Coach
With a bevy of new shows extending his reach from the U.S. to Europe to China, Bear Grylls has established himself as a global voice for the rewards of wild places and risk. No wonder A-list celebrities, including President Obama, are lining up to share the thrill. By Michael Roberts
Stand Up and Ride
A paddleboard can be the ticket to adventure freedom, a vehicle for quietly reaching life-list dream spots. Our team tests that proposition with a glorious SUP expedition to Islas de Todos Santos, where they find no-crowds, surfing bliss that seems like a throwback to a different time. By Joe Carberry
Hello, I Must Be Going
To capture the record for the greatest distance covered in one year on a bike, Kurt Searvogel must ride more than 200 miles a day, every day, weather and morale be damned. How? Willpower is essential, along with performance boosts from Little Debbie. By Tom Vanderbilt
Overroo'd!
Australia's most iconic critter has a PR problem: there are roughly 60 million of them, which means environmental damage, roadkill pileups, and a national appetite for violent culling and kangaroo steaks. Some Aussies are horrified, prompting the world's strangest war over a problem species. By Paul Kvinta
Up Is the New Down
If you think you're in great condition, your first skimo race may change your mind. Nick Heil turned early failures into a full-on crusade to get in the shape of his life, climb faster, and ski better. What he experienced could redefine your notion of winter fun.
DISPATCHES SPECIAL
What's Next: From new sports (bikepacking!) to epic expeditions (high school twins will make first descents in Antarctica!), we're laying down 22 bold predictions about the people, trends, and gear that will shape our world in 2016.
DESTINATIONS
Ski Resorts: Forecasters are calling for big snow in the American West—gracias, El Niño—which means deep days at classic spots like Vail, Taos, and Park City. Whether you're looking for a backcountry bro-down or the perfect plan for mellow family fun, we've got your trip mapped out. Plus: Avalanche school and the best season passes.
BODYWORK
In the Lead: Trillions of bacteria living in and on your body could make you a better athlete.
Do It Better: The quest for a perfect night's sleep.
Moves: Want to prevent injuries? Strengthen your feet.
Fuel: Caffeine—our favorite PED.
ESSENTIALS SPECIAL
Gift Guide: We did the shopping for you, putting together a prize list of everything from bikes to skis to backcountry bartending tools. Let the joyous unwrapping begin.
Plus
Exposure
Parting Shot