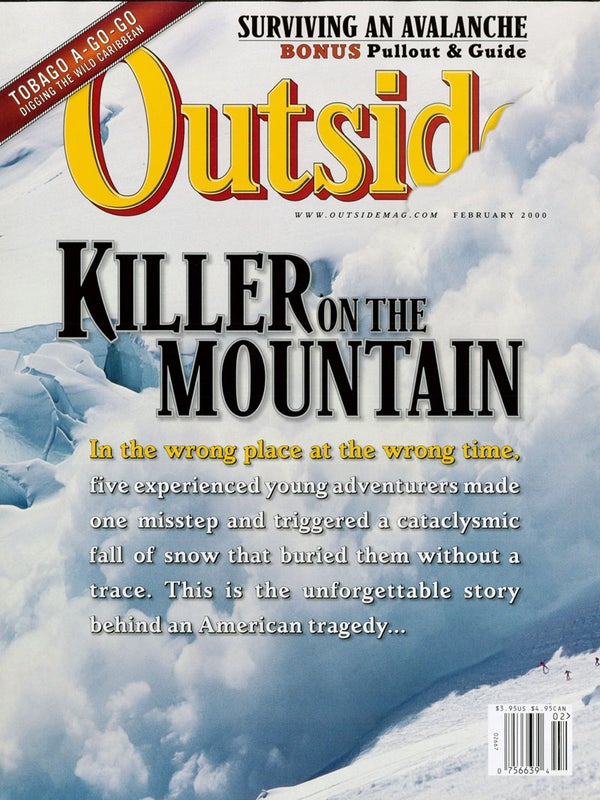 Outside Magazine, Feb 2000
---
F E A T U R E S
And None Came Back
In the winter of 1969, five of the country's best young climbers set out to scale a wall of rock so storm-blasted it had become, in the local parlance, an "escalator of moving snow." What happened to the Mount Cleveland five darkened the course of American mountaineering. But even more chilling is the fact that it will happen again.
By McKay Jenkins
Anatomy of a Slide
What causes millions of tons of ice and powder to thunder down a mountain at 80 miles an hour? A clip-and-save illustrated guide to how avalanches form and flow—the better alternative to being there.
By James Glave
Don't Be Darwin's Fool
There's no way to eliminate risk on avalanche-prone terrain, but you can improve your odds. An introductory course in snow safety, complete with all of the tools and schools to help you travel smart.
By Marc Peruzzi
When the Mountain Falls
The bad news: Last year saw more avalanches—and avalanche fatalities—in the United States than any year in recent history. Even worse news: The best avalanche technology in the world can't stop the killing.
By David Goodman
The Voices of Bones
When the Ice Age skeleton of a young child was unearthed on a Montana ranch, no one realized it was a major, perhaps critical, find–one that could shatter what we've long believed about the first people to inhabit the Americas. Decades later, the author goes digging for clues that could solve an 11,000-year-old mystery.
By Doug Peacock
A Screaming Comes Across The Ice
They are the few, the proud, the cryogenically gifted. Among the neoprene-swaddled, chattering-toothed elite at the Iceboating World Championships, speed (or beer, when the ice is no good) rules the day. A report from the sporting fringe.
By Steve Kemper
D E P A R T M E N T S
Dispatches
On Yosemite's granite expanses, an elite clan of fleet-footed climbers is acing the big walls in record time.

Drug-resistant strains of malaria make an alarming comeback in Asia, Africa, and South America.
Split fins, two-way snorkels, and newfangled masks leave the scuba world breathless.
The latest class on the health-club scene: Karaoke Spinning. What's next, open mike night in the weight room?
A new snowcat ambulance could be your ticket to first aid on the slopes. Too bad the resorts aren't buying.
Snowboarding used to be the closest thing to surfing on powder—that is, until a crazy new toy called the SnoDad came along.

The Wild File
Do snakes have hipbones? Why does frost look like lace? How can you tell which way is north on an overcast day? What causes that achy-chest feeling when you exercise in the cold?
By Jim Collins

The Hard Way
Ditched by his climbing partner on the eve of a mountaineering trip to Bolivia, our writer gamely chooses to go it alone. But what starts out as gutsy quickly turns foolhardy, and only after a blizzard-wracked summit bid does the lone alpinist understand the difference between heroic survival and dumb luck.
By Mark Jenkins

Destinations
Wild Caribbean Yonder: Tobago is the place to go for exclusive access to slivers of yellow-sand paradise, world-class dive sites, paddle-perfect shorelines, and forest trails teeming with raucous chachalaca birds. Not to mention one of the most swinging steel-drum party scenes in the islands.

PLUS:

Beta to get you in the know about Tobago.

Bodywork
Fad Busters: The high-protein, low-carb bandwagon isn't slowing down, but it won't make you any faster on the trails and slopes. A low-maintenance nutrition guide for outdoor athletes.

Review
Beyond point-and-shoot: When you want maximum photographic control with a minimum of fuss, it's time to upgrade to an SLR. We field-tested the best, including models from Canon, Minolta, Nikon, Olympus, Pentax, and Yashica.

Nordic skiing goes high-tech—really!—with Salomon's new skate-ski gear.
A wave-proof surf watch that tracks your local tides.
Substance and style come to snowboarding gloves with a hidden wrist-guard.
An all-purpose pocketknife that's perfect for picnicking (fork included).
Still mucking after all these years: the classic L.L. Bean Boot.
PLUS:When Mountains Walked, by Kate Wheeler; Bruce Chatwin, by Nicholas Shakespeare; Chasing Che, by Patrick Symmes; and Getting Back, by William Dietrich.
On the cover: Skiers just miss being swept away in an avalanche, Chamonix, France, April 1995. Photograph by Mark Gallup
©2000, Outside magazine