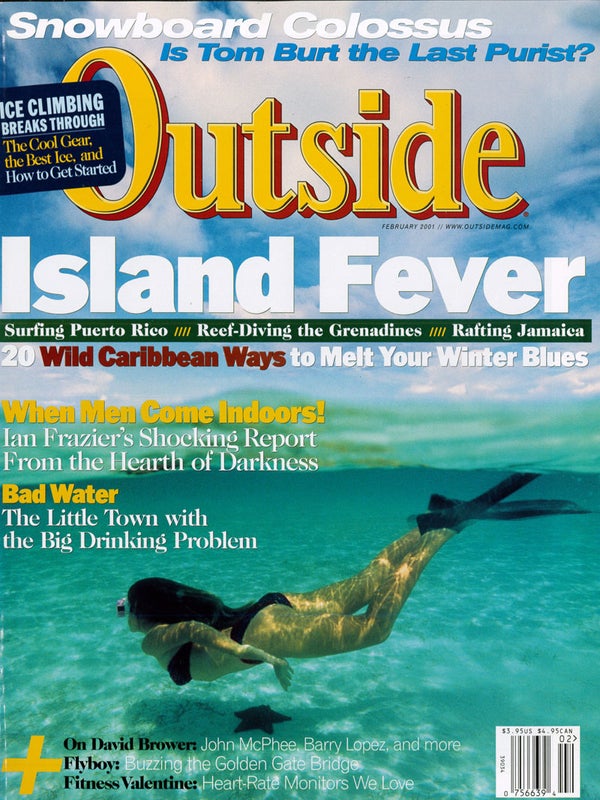 Outside Magazine, Feb 2001
---
F E A T U R E S
Legend of the Fall Line
He's the best backcountry snowboarder in the solar system. And with his amazing speed, smooth form, and mind-blowing first descents, 36-year-old Tom Burt could have become the Tom Cruise of Tahoe's "Squawllywood." But he didn't—and that's just fine with him. By Rob Story

America's Little (Well…) Actually Kind of Serious (Um…) Maybe It's Worse than We Thought (Hmmm…) Pretty Damn Big (Gulp!) Arsenic Problem)
Fallon, Nevada, has a drinking problem: The town's water supply contains the highest concentration of arsenic in the country. But Fallonites—many of whom feel just fine—don't like the feds tellin' them what to do about it. A report from the dyspeptic front lines of eco-backlash. By Bill Donahue

Our Son of a Bitch
Remembering the life and accomplishments of the late David Brower, climbing legend, environmental titan, and unbending gadfly. With tributes from John McPhee, Doug Peacock, Barry Lopez, Dave Foreman, Stewart Udall, Julia "Butterfly" Hill, Don Kegley, and Roderick Nash. By Bruce Barcott

The Great Indoors
Your friends are appalled. The womenfolk are considering an intervention. The kids are wondering what you've been smoking. But what, you ask, is so wrong about a little climbing equipment strewn across the living room floor, a few auto parts in the kitchen sink? By Ian Frazier

WILD CARIBBEAN 2001
Life Is Way, Way More than a Beach
If successive days doing nada on some incredibly remote and unbearably beautiful Caribbean beach leave you rested but restless, you've come to the right place. Here are our lovingly researched, adrenaline-and rum-spiked reasons to love the horse latitudes.

D E P A R T M E N T S
Dispatches
You can take a running leap off Mount Tam, buzz the Golden Gate Bridge, and shark-watch from a hundred feet up. No wonder the disco-era sport of hang gliding is getting a second wind in the skies above San Francisco Bay.

Montrail's R&D team introduces the ultimate extreme clog. Thank God they're not serious.
With his sights on the Seven Summits, mountaineer Elliot Boston is an outdoor hero for young African-Americans.
Chevron spills $300,000 to rebuild a legendary surf break in Southern California.
Crash and burn: Why the Lake Placid luge track has Olympic hopefuls begging for mercy.
PLUS: An epic bike tour bites the dust; a Russian doctor uses a nasty hypodermic to combat hypothermia; and brilliant insights from

boardercross's reigning badass.

The Wild File
Can a tree live forever? Do the Inuit really have 20 different words for snow? What do dogs smell when they sniff each other? Why are parts of my body cold to the touch when I don't actually feel cold in those places?
By Stephanie Gregory

The Hard Way
"You call yourself an ice climber? Why, when I was your age we only used one ax, and the pick was dull, and…" On a foray to Scotland's Ben Nevis, Mark Jenkins gets an earful from ice climbing's old school.
By Mark Jenkins

Bodywork
Just Beat It: Stalled out on a performance plateau? Reprogram your fitness with a lightweight, option-packed heart-rate monitor and you won't just train harder, you'll train smarter. We break down the science so you can cycle, ski, and run at the next level.


Welcome to the age of digital fitness! Five more sci-fi gizmos to hardwire your workouts, including the do-all Vivonic Fitness Planner.
PLUS: From no-brainer to complex digital powerhouse, we test six of the best new heart-rate monitors.

Review
Ice Capades: Once just a fringe pursuit for burly Scotsmen, ice climbing has caught on with rock hounds and rank beginners looking for a fix when the weather turns frigid. This month, alpinist Mark Synnott tests the sharpest new ice axes, crampons, ice screws, leashes, and screamers. PLUS: Climbing festivals in Colorado, Quebec, and six other cold spots will help you break the ice.


Base-layer lowdown: why knowing the difference between Dri-F.I.T.
Equipment ER: seven specialists who can revive your decrepit, outdated gear.
Books: A River Running West: The Life of John Wesley Powell, by Donald Worster; What You See in Clear Water, by Geoffrey O'Gara; The Ice Master, by Jennifer Niven; and Tinkering with Eden, by Kim Todd
Cover photo of Great Harbor, Bahamas, by Darrell Jones