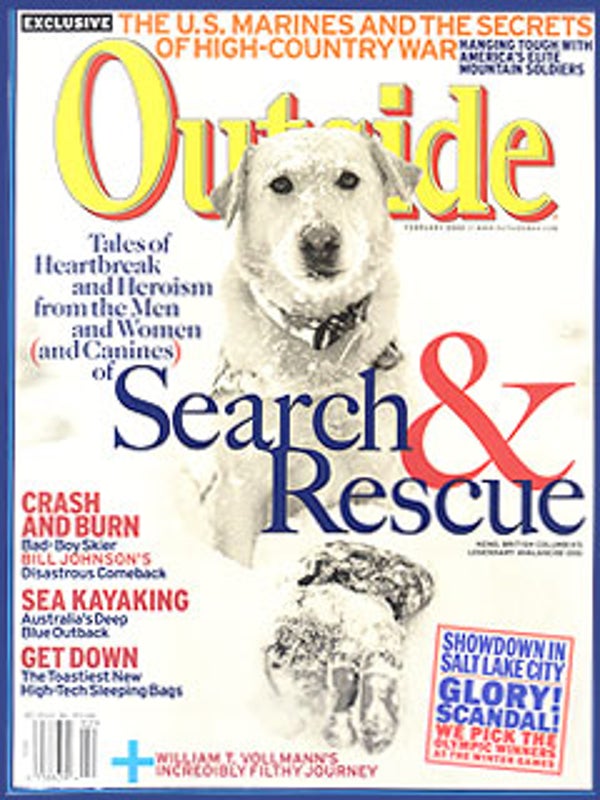 Outside Magazine, Feb 2002
---
F E A T U R E S
THE HEROES OF SEARCH AND RESCUE
Masters of Disaster
Atop stormy mountains, on monster seas, in unmapped caves, wherever adventure goes wrong, a cadre of daring emergency rescuers stands ready to step in and save your butt—even if it means risking their own lives. Strap on your helmet and jump into the knife-edged world of America's elite wilderness rescue squads: the perils they face, the risks they take, and the stories they tell.
The Ranger Rainier's a deadly place, but it's lot safer thanks to Mike Gauthier's dirtbag climbers. By Bruce Barcott
The Caver If you're ever trapped deep underground, you'd better hope that Buddy Lane is on the way. By Hampton Sides
The Tracker As Joel Hardin sees it, being an expert man-tracker is just a matter of reading dirt. By Bill Donahue
The Dog Canada's premier avalanche-rescue specialist: He's six years old, likes kibble, and answers to Keno. By Ki Bassett
The Pilot Flying Coast Guard choppers in Alaska is nasty work, but Melissa Rivera likes it that way. By Natasha Singer
The Volunteer Chuck Demarest and his Boulder neighbors are the busiest volunteer rescuers in the U.S. By Peter Heller
PLUS: Reporter Rob Story's Lost and Found —hair-raising stories from SAR veterans; the logic behind publishing the annual Accidents in North American Mountaineering ; the biggest mistakes lost people make ; and how to volunteer or sign up for a career .
Where the Ghost Bird Sings By the Poison Springs
California's Salton Sea is a beautiful, enigmatic, repulsive mess—a rich fishery, a crucial bird refuge, and (yecch!) a foul lagoon seething with industrial toxins, weird pathogens, and bad juju. In a quest that nobody else should ever attempt, the author inflates a discount dinghy and sets out to explore the dark shores of America's most baffling inland sea. By William T. Vollmann
Winter to the Corps
The hardest, meanest, toughest U.S. Marines hail from the Corps's Mountain Warfare Training Center, where extreme endurance skills are honed to lethal perfection. By Mark Jenkins
End of the Run
Bill Johnson, U.S. skiing's unstoppable wildman, has traveled a rough road since he won the gold in 1984—and then, at 40, he almost died in an ill-starred comeback attempt. A tale of hubris, humility, and the redemptive powers of friendship beyond the Olympics' hot glare. By Bill Donahue
D E P A R T M E N T S
Dispatches
DELUXE WINTER OLYMPICS PREVIEW
Let the games begin: With a jittery public, security at a maximum, and U.S. athletes in pursuit of home-turf glory, Salt Lake gears up to try to deliver the global celebration America needs.
Gold rush: Will the U.S Ski and Snowboard Team make good on its promise to win an unprecedented ten medals in Utah?
Introducing Apolo Ohno, America's first medal threat in short-track speed skating.
Bobsled heats up as women finally get a chance to weigh in.
It's back: After a 54-year Olympic hiatus, skeleton (think headfirst luge) is the hottest ticket in town.
Choice tips on where to eat, drink, climb, paraglide, and ski between Olympic events—compliments of Conrad Anker and other Salt Lake aficionados.
PLUS: Our roundup of cutting edge gear—like carbon-fiber-soled ski boots—making its Olympic debut.
The Wild File
Do lost animals really travel long distances to get home? Why does campfire smoke follow you around? Do giraffes have vocal cords? If the head is the number-one route of heat loss, what's number two? By Brad Wetzler
Field Notes
The tradition-lovin' Boy Scouts are adamant about not granting Eagle Scout badges to lads over 18. That doesn't stop our hard-charging writer, however, from going after his boyhood dream. By Bill Vaughn
Destinations
Ocean Outback: Nearly 1,600 miles from the nearest point of land sits Australia's best-kept secret: The kooky Cocos Islands, home to kayak-friendly seas, perfect surf, white-sand beaches, and an undiscovered South Seas paradise.
Plus: Club Med strips down to lure the young and the feckless, ski resorts get environmentally graded, and surfing Costa Rica for poquito dinero.
Bodywork
Pain Sucks: Our eight-step injury-prevention fitness plan strengthens your core muscles so you can handle life's unexpected bumps—and stay off the sidelines.
Eight essential exercises that will keep you strong and ibuprofen-free.
Review
Sleep Right: Getting good shut-eye is crucial, but not at the expense of a heavy load. Thanks to primo European goose down and innovative near-weightless synthetic bags, now you can sleep warm and travel light. We've found the best new sleeping bags and pads for your next adventure.
Plus: Slipperlike fins, collapsible fishing spears, and other must-have snorkel gear.
Books: The Future of Life, by E. O. Wilson; Servants of the Map, by Andrea Barrett; The Shell Collector, by Anthony Doerr; and The Dressing Station, by Jonathan Kaplan.