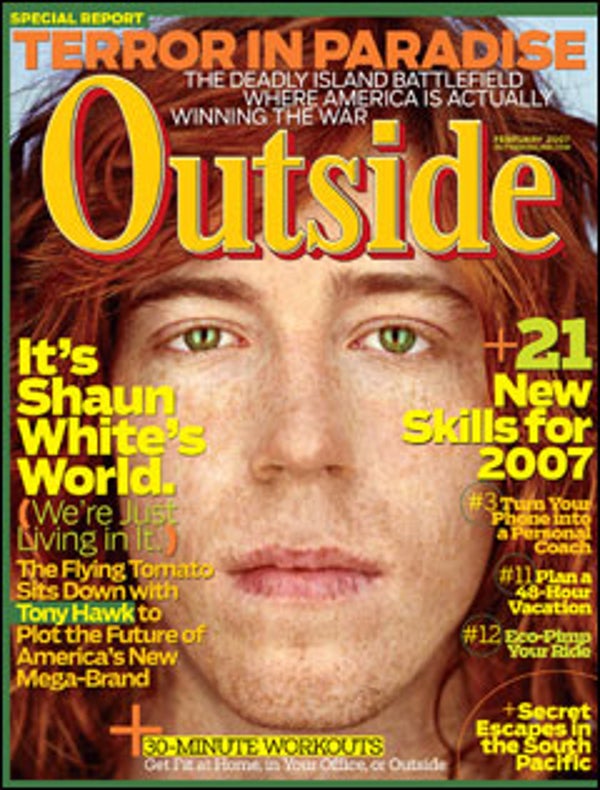 Outside Magazine, Feb 2007
Stories
...to travel smarter, go faster, dress better, eat right, work less, and play more.
How does a goofy-looking snowboarder become America's most coveted corporate pitchman? If you're Shaun White, you win Olympic gold, stick to your guns, and seek career advice from the king of crossover, Tony Hawk.
---
F E A T U R E S
WHAT IT TAKES
Got mad skills? You will when we're done with you, Grasshopper. To help you keep up with these a-changin' times, we've assembled a slew of fast and fresh ideas for riding the waves of a brave new world without ending up with your head in the sand.
WACK MARKET
Step right this way, ladies and gents, and keep those checkbooks handy adventure's coolest artifacts are up for grabs over at Christie's. But watch out: Your competition is almost as obsessive as those dead explorers whose debris you're bidding on.
BY DONOVAN WEBSTER
THIS IS THE WAR ON TERROR. WISH YOU WERE HERE!

(PODCAST LINK CURRENTLY UNAVAILABLE)
On an island Eden, you're bound to find some snakes. In the Philippines, it's mad jihadists plucking tourists out from under coconut trees. But take heart: In a move that'd make Sun Tzu proud, the Special Forces and friends are subduing the enemy without actually fighting.
BY JOHN FALK
A MIGHTY WIND
Tiny Samsø, Denmark, sitting in the sea, is an eco-tech giant. FLORENCE WILLIAMS surveys the carbon-negative wind-powerhouse and comes away embarrassed for America. Turns out it's relatively easy being green, so why are we so far behind the great Danes?.
THE BIRDMAN VS. THE FLYING TOMATO

(PODCAST LINK CURRENTLY UNAVAILABLE)
Skate or die! Or, if you're ascendant boardsports conquistador Shaun White, you might wanna start working on that embryonic empire alittle. But don't sweat it, brah Tony Hawk® has your back. MICHAEL ROBERTS sits in on a pancake session with the pipe-and-park world's biggest brand-name dynamo and his redheaded heir apparent.
T H E O Z O N E
FIRST LOOK: Actor Zach Gilford leads treks in the backcountry when he's not mugging for the silver screen.
DISPATCHES
NEWS FROM THE FIELD: Crystal Skis, the Tour of California, and more.
THE DRAWING BOARD: Hauling ass in the new mobile polar research station.
THE OUTSIDE INTERVIEW: Conrad Anker and Jenni Lowe talk frankly about their new movie and life after Alex.
THE BIG IDEA: Why the supernichification of adventure sports ("I'm a jibber, not a skier!") is good for no one.

(PODCAST LINK CURRENTLY UNAVAILABLE)
ASK DAVE: Office spandex, the manliest snowblower, and how to say "sorry" when you drop your climbing partner.
ALL NATURAL: The old Seven Wonders are history.
THE WILD FILE: Are elite athletes just lucky genetic mutants?
MEDIA
BOOKS: The gloves literally come off in full-contact-fighting memoirs by Matthew Polly and Sam Sheridan.
REQUIRED READING: Dragon Sea & Oil on the Brain.
PLUS: Adventure Web sites; Cormac McCarthy's The Road on the big screen.
CODE GREEN
What does the new political landscape hold for the environment? Amanda Griscom Little surveys the battlefield.
DESTINATIONS
SPOT ON: Thailand's tech-savvy boutique makeover.
SOUTH PACIFIC: Beyond Tahiti French Polynesia's secret outposts.
PLUS: Igloo villages, the Australian outback, and Boeing's dream jet.
REVIEW
COVET: Leica's classic rangefinder camera comes into the Digital Age.
WINTER DAYPACKS: Sweet new snowsports bags.
STYLE: Wearing work shirts has never seemed fashion forward, until now.
PLUS: Upgrade your winter gloves and ski-boot insoles; a slick multitool; a no-frills fitness watch.
BODYWORK
THE MOVE: Catching a wave the right way.
30-MINUTE WORKOUTS: How to get fit in no time at all.
PLUS: Legal performance boosts; marathon advice; a healthy-knee brace.

(PODCAST LINK CURRENTLY UNAVAILABLE)
OUT THERE
A new clothing label plots the future of high-function fashion using soda bottles and corn.
BY ANDREW TILIN