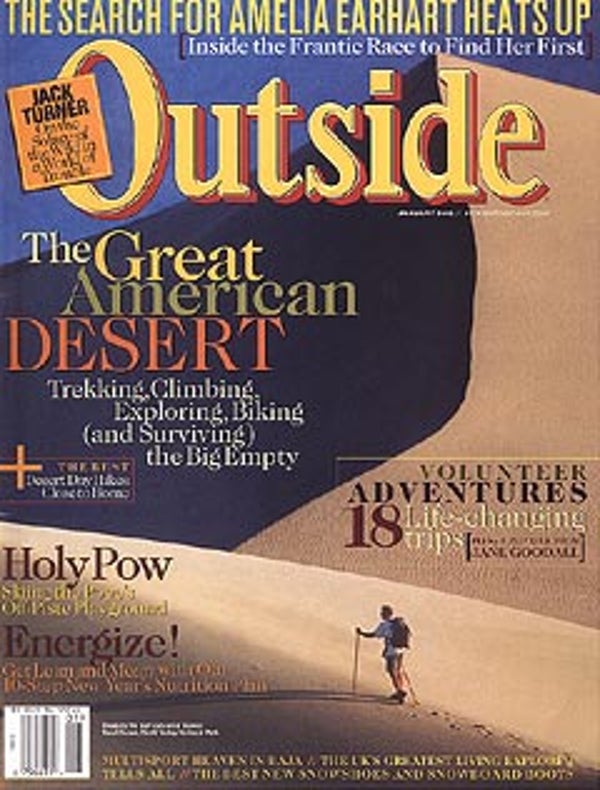 Outside Magazine, Jan 2002
---
F E A T U R E S
THE GREAT AMERICAN DESERT
The Land of Clear Light
Ed Abbey and John the Baptist were both hip to the same truth: Deserts are the place to go when you're ready for a wild detour off the beaten path. Whether you're into camping, hiking, biking, kayaking, or canyoneering, we've got the how-to essentials in our packed guide to the 16 best trips in 500,000 glorious square miles of North American desert.
Water from a Stone An introduction by Craig Childs
The Sonoran Ride fine singletrack in Organ Pipe Cactus National Monument. By Jonathan Hanson Plus: Backpacking in the Superstition Mountains; sea kayaking off Isla del Tiburón.
a The Great Basin Climb and hike the slot canyons of Escalante National Monument. By Rob Story Plus: Exploring Paria Canyon; llama trekking in the San Rafael Swell.
The Mojave Surrender to coyote serenades in Joshua Tree. By Robert Earl Howells Plus: Backpacking the Inyo Mountains Wilderness; climbing Red Rock Canyon.
The Chihuahuan Take spring break on the Mexican side of Big Bend. By Peter Heller Plus: Hiking the Guadalupe Mountains; frolicking in White Sands National Monument.
Also: Other great trips, the best desert gear, city-escape day hikes, the Desert Literary Canon, and much more.
Hypothesis #1: Amelia Earhart Perished on a Lonely Pacific Island. Hypothesis #2: Amelia Earhart Lies at the Bottom of the Ocean. Hypothesis #3: Who Cares? We're Having a Helluva Good Time Not Finding Her!
Ever since the famous pilot vanished in 1937, aviation buffs, treasure hunters, and conspiracy theorists have clamored to find out what really happened. The latest crop of Amelia-heads think they've got the answer—and they're racing to cash in on flying's favorite unsolved mystery. By Stephen Titus
Walking the Line
In a world turned upside down after September 11, a timely meditation on the joys (and limitations) of heading for the hills. By Jack Turner
Nasty Monkey Bites! Sneezing at Tigers! Stiff Upper Lips! (Crikey!)
Between outrageous expeditions, Great Britain's most eclectic old-school explorer tells all. By Marshall Sella
D E P A R T M E N T S
Dispatches
How low can they go? Armed with cartons of cigarettes and sticks of dynamite, an elite corps of Russian and Ukrainian cavers plans to blast its own spelunking world record.
Reid Sabin is the world's most dominant ski racer. Why haven't you heard of him?
Dig this: Grad students unearth the world's second-largest dinosaur skeleton.
A French hydrofoil boat threatens sailing's transatlantic speed record. Plus: Mushing hits the silver screen in Snow Dogs ; a 64-year-old Hershey bar feeds an Antarctic mystery; Bird geeks chase the one that got away; and huckers score their own toy action figure.
The Wild File
How do you name a mountain? Why don't we get thunderstorms in the winter? When you throw chum into the ocean, how quickly does its scent travel to sharks? How much horsepower can a human generate? By Brad Wetzler
Field Notes
Once upon a time, Pope John Paul II played hooky to grab powder turns in the Tatra Mountains. Now, carving His Holiness's home slopes, the writer finds that Poland remains a heavenly place to ski. By Lisa Anne Auerbach
Destinations
A world of good: Travel the globe as an aid worker, advises volunteer diva Jane Goodall; it will change your life and many others. We scoured the planet to find 12 of the world's most altruistic adventures—from building a medical clinic in Kenya to monitoring seabirds in the North Pacific.
With 30 miles of freshly crafted singletrack, the remote Baja surf paradise of Punta San Carlos is now a multisport triple threat.
Plus: World-class climbing crags emerge in Cuba; skier Scot Schmidt's travel company turns your favorite adventure-sport heroes into guides-for-hire; and an Arizona ranch offers discount midwinter horseback riding.
Bodywork
Did holiday bingeing slap you with a five-pound fine? No problem. We've collected ten energizing strategies for revving up your metabolism, breaking bad habits, and restoring your light-and-fast form.
A fitness guru shares a total-body plan that taps your inner chimpanzee.
Review
Walk this way: Whether you want to scale an icy couloir, enter a winter 5k, or trek through four feet of fresh powder, the season's new snowshoes will get you there and back in style.
Strap-on or step-in: Four no-fuss snowboard boot-and-binding systems.
Books
The Birds of Heaven, by Peter Matthiessen; Edward Abbey, by James M. Cahalan; Adventures with Ed, by Jack Loeffler; The Last Cowboys at the End of the World, by Nick Reding; and Loaded, by Robert Sabbag.