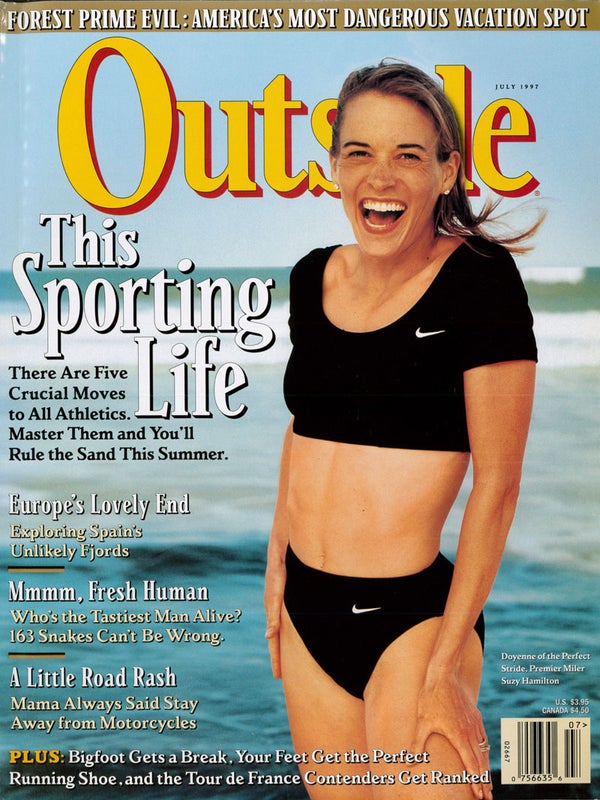 Outside Magazine, Jul 1997
Stories
Routine got you humming along? Shake it up.
All recreational sport is really quite simple: You run. You jump. You throw. What's more, it's pretty easy to get good at these things.
---
Features


Dark Behind It Rose the Forest …
Looking for some wildlife? Like murder, rape, arson, drive-bys, cross burnings, and more? How about an afternoon's idyll in L.A.'s outdoor playground, otherwise known as Angeles National Forest, America's most heavily used and abused park.
By Randall Sullivan

Summer Special: Masters of the Sandlot
What makes a great athlete? When you get right down to it, not much — basically five simple movements that anyone can learn. Just in time for Frisbee, or whatever your game of choice, a toe-to-torso study of the building blocks of sport,
featuring the pros who perform them best.
By Brad Wetzler

The Mild One
A motorcycle, he was convinced, was the one true way to drive the open road. It would put him in close connection with the landscape — and therein lay the rub.
By Nicholas Dawidoff

Bite Me
He's been punctured 163 times — 326 if you count each fang — by everything from rattlers to king cobras. So why is Bill Haast still playing with those mean old snakes?
By Anne Goodwin Sides

I Am Monkey Flower
Ah, the backcountry. So wild, so scenic, so … tasty? It is if you're humping the outback with Janice Schofield, the high priestess of foragers, who can pluck that green thing underfoot, pop it into your mouth, and have you begging for seconds.
By Michael McRae

Departments
Dispatches
A fresh-scrubbed 19-year-old fashion model looks to conquer the macho world of free diving. Hollywood's who's-who rides to the rescue of the Sea Shepherds' imprisoned "captain." Its first mission to the red planet is touching down, but have NASA's scientists figured out how to tool around Mars once they get there? An insider's guide to the top contenders in this year's Tour de France. The man who says he's hot on the trail of the smelly beast that is Bigfoot.
Plus: A notoriously brown senator takes a mysterious green turn, America's top paddlers are shoved out of the Olympic nest, the frumpy National Wildlife Federation gets rowdy, an entrepreneur brings the world's finest bicycle collection to … New Bremen, Ohio? and more.

Destinations
Touring the world's end: With sheltered fjords and a refreshing dearth of high-rise hotels, Spain's western coast seems like farthest edge of the earth. The best places to kayak, climb, fish, and sail by day, and to dine on lobster by night. A guide to the Celtic-infused happenings of Galicia's festival season. Crowd-free paddling on Puget Sound's little-known Cascadia "trail." Airline fees and restrictions on toting your gear — and how to beat them. A jaunt through Patagonia's politically contested ice fields.

Field Notes
For the 3,300 obsessively do-it-yourself members of the Pyrotechnics Guild International, their summer convention is a once-a-year Brigadoon, the only time they have carte blanche to launch their mega-caliber creations. And they do it with, well, quite a bang.
By Mike Steere

Out There
As America looks toward handing over the Panama Canal, our man heads to the Zone to answer a question of utmost diplomatic urgency: Just who made off with Noriega's bar stools, anyway?
By Randy Wayne White

The Wild File
Why is Europe considered a continent? Can a sailboat go faster than the wind? And how does poison ivy wreak its havok?
By Elizabeth Royte

Bodywork
Good groove or bad rut? Training benefits lag as your body settles into the same routines. Here's how to mix things up. Cardiovascular options for swimmers and cyclists. A weight program that'll get you out of the gym faster.
Plus: Fine-tuning your breathing, telling good vitamins from merely overpriced ones, and revisiting the squat-thrust.

Review
All-around running shoes: Between slipperlike racing flats and armored trail-runners exists a shoe for the rest of us. Here are nine of the best, all of them well cushioned, moderately light, and durable enough to handle serious mileage. Heart-rate-monitor watches that do a lot more than just take your pulse. Water filters that won't make you regret lugging the extra weight. A breezy external-frame pack that has the sophisticated suspension of its internal-frame rivals.
Plus: The easiest-to-use chalk bag; a fly rod designed for women, by a woman; Sea Change: Alone Across the Atlantic in a Wooden Boat, by Peter Nichols; To Timbuktu: A Journey Down the Niger, by Mark Jenkins; and more.