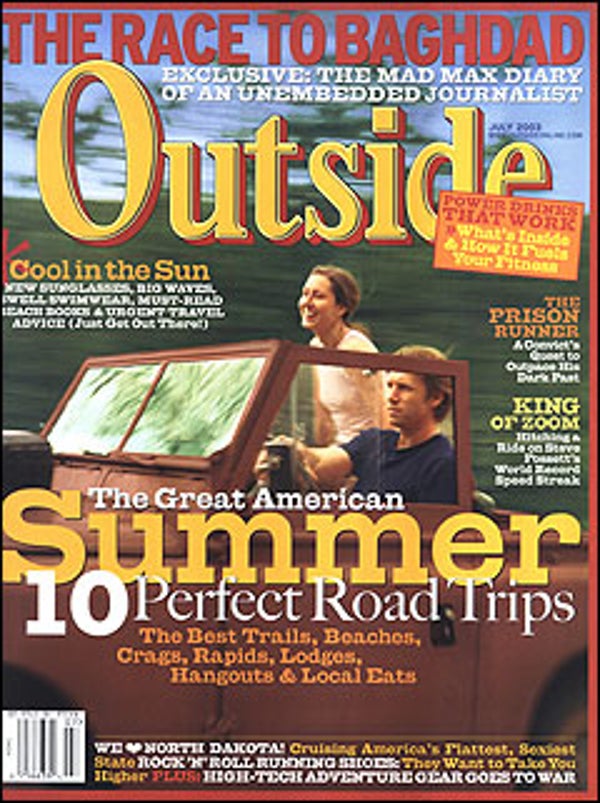 Outside Magazine, Jul 2003
---
F E A T U R E S
THE ROUGH GUIDE TO IRAQ
It was a war, but for the self-embedded journalists who trailed the Marines from Kuwait to Baghdad, it was also a chaotic, absurd, and unforgettable journey.
By Peter Maass
RUN FOR IT
Jon Gill is a convicted felon doing time in Oregon, and he's got a dream: to race in the 1,500 at the 2004 Athens Olympics. He has the legs and heart, and even a world-class coach. What he doesn't have is a plan for getting on with life if his dream falls apart.
By Andrew Tilin
ROAD TRIP 2003
LAND O' THE FREE
Buckle up for your best adventure yet. From Vermont to California, we map ten of the country's wildest summer road trips, dishing directions to luxe campsites, cozy lodges, blue-ribbon trout streams, choice climbing spots, warm beaches, great food, and a lot more.
RAISING NORTH DAKOTA
NoDak is going back to the things that once made it an empty, wide-open frontier: bison, Indians, and prairie grass. And did we mention the excellent deals on ghost towns?
By Bill Vaughn
D E P A R T M E N T S
DISPATCHES
Pick your paranoia: TERRORISM in the shadows, KIDNAPPINGS in North Africa, and SARS in Asia—not to mention a media stuck in fear-mongering overdrive. Can adventure travelers weather the maelstrom? You bet. PLUS: Mon Dieu! A monster 60-foot break off Europe's Atlantic coast may turn SOUTHERN FRANCE into the next big-wave surfing destination.
OUT THERE
An exclusive berth on a speed sail across the Atlantic is the perfect place to find out what drives professional risk manager and world-record hound STEVE FOSSETT . Take our advice: Don't get in his way.
By Tim Zimmerman
THE WILD FILE
Can whales and dolphins breathe through their mouths? Is there really a hole in the Continental Divide? Are new species replacing the ones that are going extinct?
By Brad Wetzler
REVIEW
These days there's a RUNNING SHOE for every kind of strider—from 10K sprinters to ultramarathoners—and all of them are light, breathable, and shockingly fast. PLUS: SPORTS SUNGLASSES cloaked in downtown cool; stylish SUMMER BEACHWEAR .
BODYWORK
Want to know the secret to all those power drinks and energy bars? It's NUTRACEUTICALS —vitamins, minerals, and supplements that can help you train stronger and recover faster. Here's our guide to the ones that work. PLUS: Get outta the gym and into our TRAIL WORKOUT .