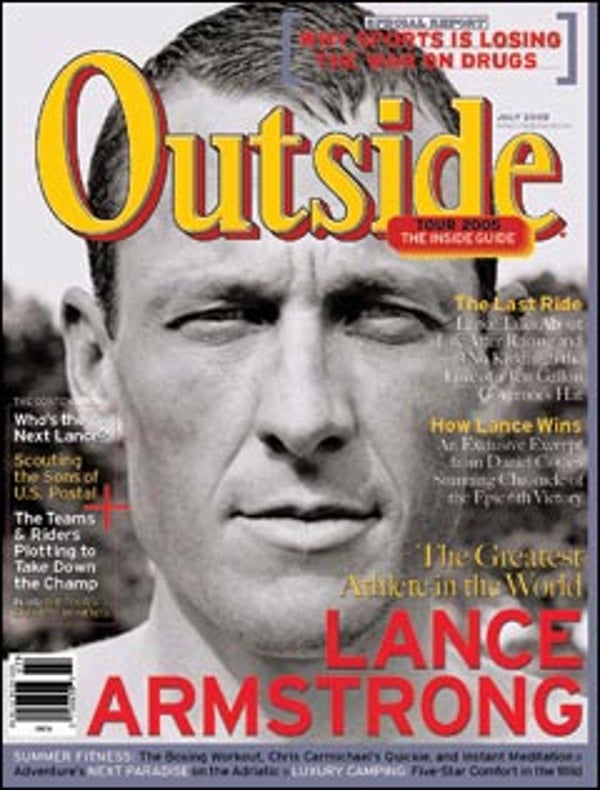 Outside Magazine, Jul 2005
---
F E A T U R E S
TOUR DE FRANCE 2005
EXCLUSIVE:
BREAKING AWAY
Call it Astounding Athletic Greatness 101: In our tribute to, and conversation with, Lance Armstrong, the emphasis is on endurance, commitment, discipline, and the most incredible stretch of dominance in cycling history.
By Hal Espen
STREET FIGHTING MAN
What was it like to be Lance in the 2004 Tour as he flattened foes, got spat on by crowds, turbocharged his way up killer mountain stages—and flashed his "Dead Elvis Grin"? In this excerpt from the riveting new book Lance Armstrong's War, you're placed right in the saddle with the best rider we'll ever see.
By Daniel Coyle
COMING ATTRACTION
Craig Lewis, a 20-year-old dynamo from Spartanburg, South Carolina, has the raw talent and physical gifts to be a Tour champ. All he needs is experience, nonstop coaching, and about seven more years of pain.
By Andrew Vontz
PLUS: The inside word on this year's TOUGHEST RIDERS AND TEAMS ; a family tree of U.S. POSTAL ALUMS ; and the all-time MIGHTIEST MOMENTS in the history of the Tour
THE AWFUL TRUTH ABOUT DRUGS IN SPORTS
UCLA's Dr. Don Catlin, a top scientist in the escalating war between drug testers and athletes who cheat, has some jaw-dropping news: The bad guys will always win. Now he's masterminded a revolutionary new anti-doping system. Can he make it fly?
By Brian Alexander
BALKAN SURPRISE
Croatia is the go-to destination of the new Europe, thanks to sun-soaked islands, sailing action, adventure ops, celeb-filled hangouts—and a dawning era of peace eclipsing years of war. You'll be booking a return before you can say "Odlicno!"
By Tim Sohn
D E P A R T M E N T S
DISPATCHES
» After completing his sixth BBC travelogue, Monty Python's MICHAEL PALIN has a telling tea with Outside correspondent David Rakoff
» Shark-suiter: Fabien Cousteau gets chummy with great whites in A SUB SHAPED LIKE JAWS
» Flash fitness: Lance's coach, CHRIS CARMICHAEL , cooks up a race-caliber quickie workout. PLUS: The heart-healthy EIGHT-MINUTE MEDITATION session.
» Row, row, row… and row: France's Maud Fontenoy strokes 4,356 miles ACROSS THE PACIFIC —half of it butt naked
» Diamonds are forever, just like the memory of flying your own plane in a dogfight. We suss four outfitters gunning to give you THE GIFT OF ADVENTURE .
» ELIZABETH ROYTE follows the ripe stench of her own refuse in Garbage Land; disgraced New York Times Magazine journalist Michael Finkel rebounds in True Story: Murder, Memoir, Mea Culpa; and more
» Welcome to the posh rough of LUXURY CAMPING , from South Carolina to SoCal: Think marble- and gold-trimmed latrines, 300-thread-count sheets, post-hike massages, and tentside lobster
» THE WILD FILE on midday stargazing, what makes a hill become a mountain, un-locking the Panama Canal, and more
» We bring you THE ULTIMATE HOME BIKE GARAGE , from shop-worthy tools to a carbon-fiber pump
REVIEW & BODYWORK SPECIAL REPORT
Who doesn't want to be as buff as a boxer? We bring you THE SWEET SCIENCE of fitness—a ten-part workout to help you put the pugilist's pop into the rest of your sporting arsenal—and KILLER GEAR to keep you swinging: bags, gloves, medicine balls, jump ropes, and workout wear. You may sting like a butterfly, but you'll look pretty doing it.
THE HARD WAY
In the wilds we travel, few things are more deadly than a falling coconut. So why are mountain lions, pirates, and being swept from the summit the stuff of nightmares? Our stalwart skeptic debunks the IRRATIONAL FEARS of playing outside.
By Mark Jenkins