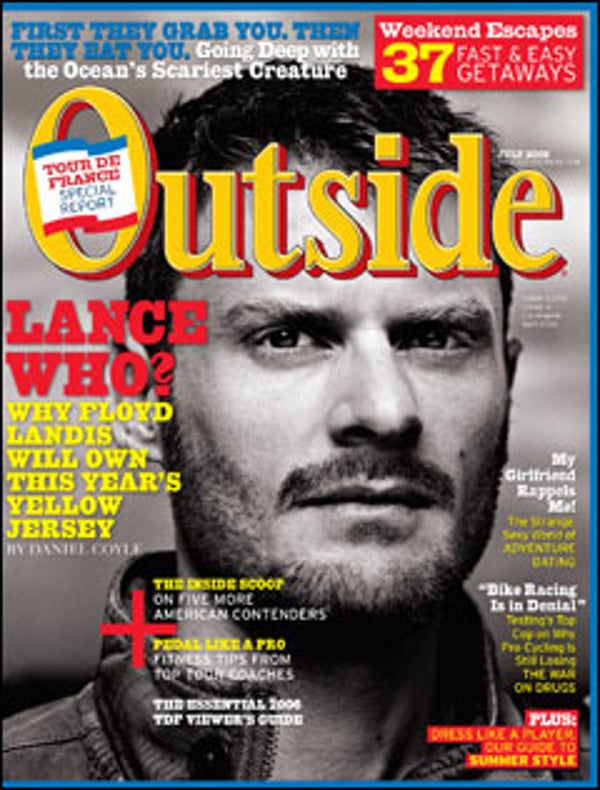 Outside Magazine, Jul 2006
---
F E A T U R E S
TOUR DE FRANCE 2006
THE NEW AMERICAN IN PARIS
He's the quirkiest guy in bike racing, but with his cold logic, brutal training habits, and headline-grabbing spring victories, Floyd Landis has emerged as a serious threat to take it all this July.
BY DANIEL COYLE
TOUR DE FRANCE 2006
DRUG LORD
Dick Pound, the loud, scrappy chairman of the World Anti-Doping Agency, sits down with BRIAN ALEXANDER to talk about his quest to clean up cycling—and why he thinks he can do it.
ADVENTURE
IT'S HARD OUT HERE FOR A SHRIMP
The strangest, scariest monster in the sea has eight arms, a razor-sharp beak, and a taste for fish, crustaceans, and you. Join us on a dive with the insatiable Humboldt squid as it hunts down its next meal.
BY TIM ZIMMERMANN
GETAWAYS
TRUST US, YOUR LAWN CAN WAIT
It's easier than ever to dial up the perfect weekend. We've nailed down 37 great escapes, from big-action junkets to slow, smooth retreats. PLUS: How to score a last-minute deal, take a one-night journey, and more.
PERSONALS
ADVENTUROUS SWF SEEKING SOUL MATE GETS HOTTIE (AND BOTHERED)
In which a demure, fresh-air-loving Manhattan girl signs up with a Web-based dating service for outdoorsy singles. Then gets wet and dirty with a cast of adrenalized, sweet-talking strangers. Is this any way to find true love?
BY RACHEL LEHMANN-HAUPT
DISPATCHES
» TOUR DE FRANCE 2006
Lance may be a retiree, but that just means Americans have more reasons to watch, among them Floyd Landis, George Hincapie, Levi Leipheimer, David Zabriskie, and the largest contingent of heroic Yanks to storm into France since D-Day. PLUS: Our stage-by-stage viewer's guide (LINK CURRENTLY UNAVAILABLE) and an anatomical study of the top Tour bike.
» THE O ZONE: Stampeding naked through Pamplona; the world's first hydrofoil kayak; Sony's newest digital camera; and more.
» EXPEDITIONS: Kayakers Tyler Bradt and Seth Warren traverse the Americas in a biodiesel fire truck. PLUS: The wild side of the UK.
» MEDIA: Tom McGuane's Gallatin Canyon and T. R. Pearson's Seaworthy. PLUS: Ben Stiller's Big Wave brings a little levity to the surf-flick genre
» THE WILD FILE: What critter kills the most people every year? Does Minnesota really have 10,000 lakes? Why are bananas curved? And more.
STYLE & REVIEW
Sizzling summer fashion from Prana, Patagonia, and others keeps you looking great on the grass. PLUS: Backyard games, from badminton to bocce.
BODYWORK
Master The Time Trial, cycling's ultimate fitness test. Learn Spanish during a smarter-than-average spinning class. PLUS: Chris Carmichael's top hill-training tips.
OUT THERE
The world's largest Skeleton Museum is about to open. Creepy? Sure. But tell us you're not intrigued.