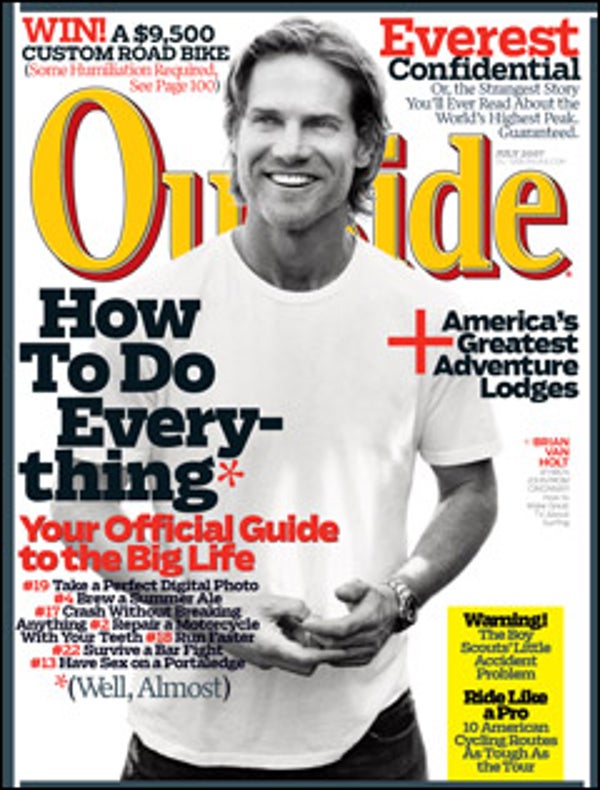 Outside Magazine, Jul 2007
Stories
You consider yourself a gentleman, and so it's important, when you wake up with a stranger in your underpants one remorseful summer morning, that you manage the matter with due delicacy and grace.
Introducing a master's course in adventure, fitness, gear, sports, sex, and so much more. Because it's a big world out there—and you need to be prepared.
You were told that Everest base camp is an insult to the true spirit of mountaineering. (Harrumph.) But why weren't you told about the excellent bars, the butter people, and that friendly Playboy bunny from Poland? The author spends a month at the world's most exclusive party town.
---
HOW TO DO EVERYTHING (WELL, ALMOST)
Learning something new every day just ain't enough, so we rounded up a herd of pros, experts, and autodidacts; interrogated them (gently); and laid down their secrets here. Dig in to our encyclopedic array of do-it-yourself intelligence and discover the right way to climb high, fool fish, brew beer, abandon ship, get frisky in midair, and much, much more.
HOLLYWOOD DROPS IN
HBO's spooky new drama John from Cincinnati is the latest from gritty wordsmith David Milch. But what's got us stoked? The show's depiction of surfing is in a first for Hollywood dead-on. BY JON COHEN
HIGH TIMES

(PODCAST LINK CURRENTLY UNAVAILABLE)
Here's an Everest story unlike any other, complete with a Playboy Playmate, Internet cafés, and countless martinis. Forget the summit KEVIN FEDARKO finds the fun at 17,600 feet.
BUILT TO LUST
Into the annals of supergeekdom roll the gearheads behind badass bike maker Seven Cycles. Join ANDREW TILIN on a grand tour of museum-worthy welds, featherweight frames, and hypermeticulous craftmanship. PLUS: You just might pedal away with a custom road or mountain rig worth almost ten grand.
ME. BY MYSELF. FOR A LONG TIME. (VERY LONG.)


(PODCAST LINK CURRENTLY UNAVAILABLE)
Alas, with no girl Friday and little more than a knife, THAYER WALKER survived three weeks after being unceremoniously and voluntarily dumped on a tiny desert island off Panama. Gather round the mollusk heap and listen to his slimy tale.
» FIRST LOOK: Al Gore's Live Earth concerts rock all seven continents.
DISPATCHES
» 2007 TOUR DE FRANCE: Levi Leipheimer talks about life as America's best cyclist; riders to watch; Tour-tough stages you can ride in the U.S.
» THE BIG IDEA: Can the Boy Scouts be trusted to keep kids safe?
» ASK DAVE: Making smoke signals, not panicking in quicksand, and how to go bald beautifully.
» PLUS: A doomed ocean expedition; wine for climbers; lawn-chair pride.
MEDIA
» FILM: Director Rob Stewart finds the true villains of the sea in Sharkwater.
» BOOKS: Travels with Herodotus, the last work by the great Ryszard Kapu'sci'nski. PLUS: Chasing Kangaroos, by Tim Flannery, and Chris Mooney's Storm World, a look at the 21st-century forecast.
CODE GREEN
Can geoengineers stop climate change with fake trees, space mirrors, and a man-made volcano? It's a reasonable, if dangerous, question.
BY AMANDA GRISCOM LITTLE
DESTINATIONS
» SPOT ON: Taking the plunge into Alaska's deep, frosty snow chasms.
» BOLD FUSION: You'll feel like a true global denizen after visiting these culturally infused hotels.
» ADVENTURE LODGES: From Maine to B.C., five outlying retreats that'll make you never want to go home.
REVIEW
» COVET: The ultimate bamboo fly rod.
» KAYAKS: Four new sit-on-top boats that meet the needs of every paddler. And, British adventure filmmaker JUSTINE CURGENVEN elevates sea kayaking to the realm of action sports.
» WORKBENCH: Fix a flat bike tire
» PLUS: A drop-proof camera and a portable weather station.
STYLE
Get a face-lift with these seventies-inspired sunglasses.
BODYWORK
» THE MOVE: Master the art of cliff diving (and live to brag about it).
» HYDRATION: New rules boost hot-weather performance. PLUS: Our favorite high-octane sports drinks and your own personal hydration plan.
» THE LAB RAT: Testing the biomechanical magic of ChiRunning.
OUT THERE
In the UK, groovy hipsters are suddenly in love with camping. Don't forget to pack the champagne and polka-dot pillows. BY WILL COCKRELL