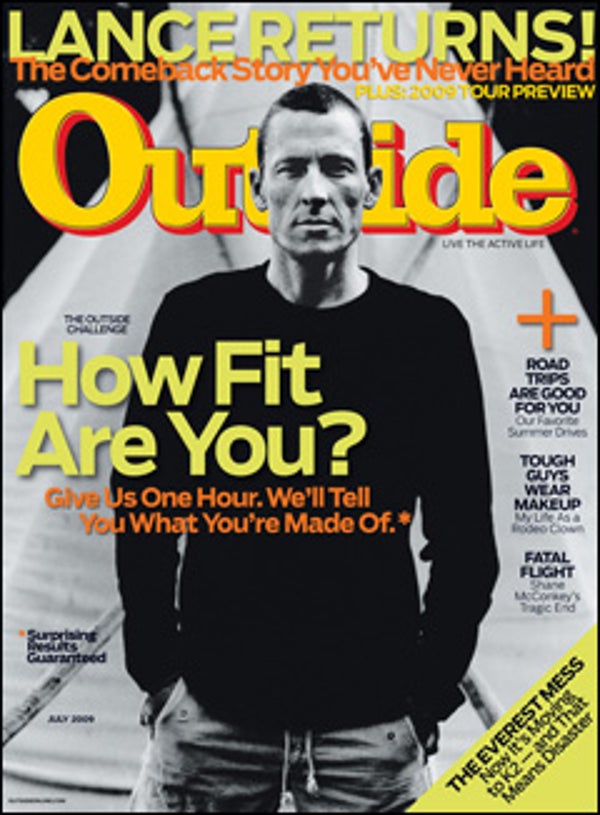 Outside Magazine, Jul 2009
Stories
Identify your fitness flaws and the path to becoming a better athlete will be clear.
The great American road trip is resurgent. Hallelujah.
---
THIS IS A TEST
(LINK CURRENTLY UNAVAILABLE)
Think you're in good shape? Maybe. Great shape? Doubtful. Find out the scary truth with our comprehensive Fitness Challenge, which tests the five most important performance categories. (Warning: Humility required.) PLUS: A foldout guide to your body, pitfalls and all.
THE CREATION STORY
On the tenth anniversary of Lance's first Tour de France victory, his closest friends and advisers look back on the making of a legend. By John Bradley
PLUS: 2009 Tour preview and Lance Armstrong Archives (LINK CURRENTLY UNAVAILABLE)
THE GARDENER OF EDEN
Just five years ago, Mozambique's famed Gorongosa National Park lay ruined and lifeless, a casualty of war. Then telecom bazillionaire Greg Carr stepped in to resuscitate it—not just with a giant check but with a pledge to be on the ground every step of the way.
By Bob Shacochis
WILL WORK FOR BAITFISH
For years now, a friendly mammal called Dolphin 56 has been cruising the Atlantic coast all by his lonesome, charming every human he happens to meet. Donovan Webster rides out from the Jersey shore in hopes of a close encounter.
12 SECONDS
In March, extreme-sports pioneer Shane McConkey attempted a rare wingsuit ski-BASE stunt in the Italian Alps. It would be his last. Drawing on interviews from his inner circle, Tim Sohn traces McConkey's exhilarating life, death, and legacy.
Departments
DISPATCHES
» First Look: Ultramarathoner Jenn Shelton has a taste for self-inflicted pain and the occasional pitcher of beer before a race both of which are reasons to watch her run

» News from the Field: John Huston and Tyler Fish become the first Americans to ski unsupported to the North Pole; what your sandals say about you; July 4th etiquette; the running of the bulls
» The Drawing Board: Brit Shaun Baker's high-tech, mostly sane, jet-powered kayak
» Books: Teddy Roosevelt's historic conservationist agenda gets a new look in an impressive, brick-heavy biography
» Media: Food, Inc.; Everest goes anime; fans get Twittery over Phelps, Flying Tomato, et al.
DESTINATIONS
You may have heard the road trip is dead. Ian Frazier, Walter Kirn, Matthew Power, and Eric Hansen beg to differ. PLUS: Roads less traveled, from Maine to California.
STYLE
Introducing Outside's Fittest (Real) Athletes of 2009. Their common denominators? Zero sponsorship dollars and a refusal to let the madness of modern life keep them off the podium.
THE ESSENTIALS
» Covet: Finally, a travel laptop that stands up to wear, tear, and a toppled cappuccino
» Sunglasses: The summer's best performance shades, to suit your sport

» Spectrum: Our guide to finding the perfect camera to fit your shooting style
Columns
THE BIG IDEA
K2 is quickly becoming the new Everest, which means more death and disaster. And lots of hand-wringing but not by us. PLUS: K2 Archives (LINK CURRENTLY UNAVAILABLE)
By Sam Moulton
OUT OF BOUNDS

Face paint is good for hiding tears of terror, and other lessons learned from my short, scary apprenticeship as a rodeo clown.
By Eric Hansen