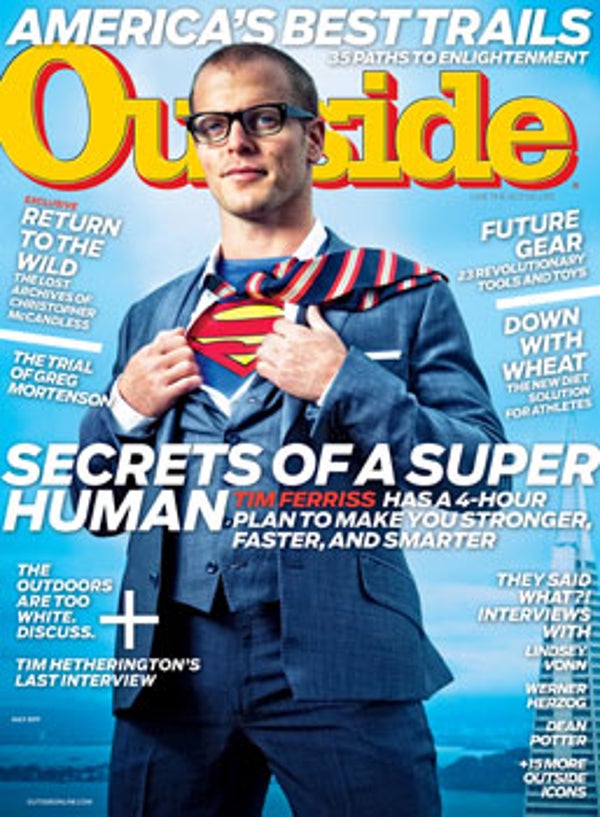 Outside Magazine, Jul 2011
---
Interview Issue
We had questions. They had answers.
LIFE HACKER TIM FERRISS
The 4-Hour Body guru unloads on mega-dosing vitamin C, crowdsourcing clinical trials, and why six-pack abs are a gateway drug to optimal health.
INTERVIEW BY MICHAEL ROBERTS
ORAL HISTORY DEAN POTTER
Friends, family, fellow dirtbags, and the man himself on how he became everbody's favorite wingsuited slacklining speed climber.
INTERVIEWS BY MATT SAMET
ROUNDTABLE WHAT'S RIGHT WITH THIS PICTURE?
Diversity in the outdoors: our panel runs down the challenges, including the unwaveringly white face of adventure media. With Gerard Baker, Jarid Manos, Juan Martinez, Audrey Peterman, and Stephen Lockhart
plus
CLIF BAR CEOs GARY ERICKSON and KIT CRAWFORD
INTERVIEW BY MICHAEL ROBERTS
FILMMAKER WERNER HERZOG
INTERVIEW BY DAVID HOLBROOKE
GOLD MEDALIST LINDSEY VONN
INTERVIEW BY NICK PAUMGARTEN
COLORADO GOVERNOR JOHN HICKENLOOPER
INTERVIEW BY FLORENCE WILLIAMS
JONATHAN GOLDSMITH, THE MOST INTERESTING MAN IN THE WORLD
INTERVIEW BY MARK JENKINS
SCIENTIST DAN KAMMEN
INTERVIEW BY ELIZABETH HIGHTOWER-ALLEN
PRODUCER THOM BEERS
INTERVIEW BY TROY PATTERSON
EXPLORERS CLUB PRESIDENT LORIE KARNATH
INTERVIEW BY ABE STREEP
AUTHOR JAMES SALTER
INTERVIEW BY TIM SOHN
ADVENTURE-TRAVEL PIONEER BRUCE POON TIP
INTERVIEW BY CHRISTOPHER KEYES
IN MEMORIAM TIM HETHERINGTON
REMEMBERANCE AND FINAL INTERVIEW BY ROB HAGGART
departments
DISPATCHES
First Look: Nineteen years after he died, Christopher McCandless's family releases Back to the Wild, a collection of writings and photos from the vagabond himself.
Feuds: A Malibu surf break pits scientists against passionate locals—both of whom are trying to save the iconic wave.
Tour de France Preview: Doping scandals or no doping scandals, we still love the Tour. Here's why you should, too.
MEDIA
Books: The summer's best adventure reads are … genre novels?
Films: A new documentary explores the birth of the eco-terrorist Earth Liberation Front—and its firey downfall. Also: the new crop of exposés.
STYLE
Casual-but-sharp button-downs and lace-ups for the summer season. Plus: Is Keen's signature toe bumper really gone?
DESTINATIONS
Best American Trails: From a ghost path through the Wyoming Range to the Grand Canyon's best-kept secret, here are the nation's 35 essential routes for hikers, kayakers, fishermen, and trail riders.
THE ESSENTIALS
Design + Technology Special: The worlds' most streamlined and innovative new gear, gadgets, tools, and toys—from a motor-propelled surfboard to a bike built for powder to a deconstructed hiking boot—that will change the way you play.
BODYWORK
In the Lead: How gluten is slowing you (and 20 million others) down.
Moves: Six strength-training exercises you can do outside.
Pulse: Performance bedsheets, boosting vitamin D, and the benefits of swearing.
columns
DROPPING IN
An overweight Sam MacDonald drinks beer, pops Vicodin, and tries to run 16 miles through Pennsylvania's badlands. We just hope everything works out.
plus
EXPOSURE
BETWEEN THE LINES
LETTERS
PARTING SHOT