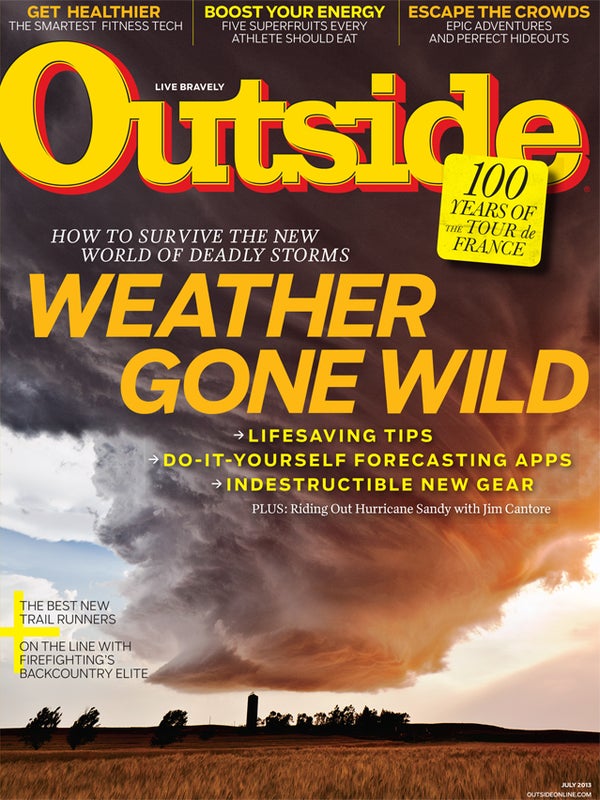 Outside Magazine, Jul 2013
---
The Franchise
How do you become the celebrity face of meteorology? If you're the Weather Channel's Jim Cantore, you head into a hurricane and stand your ground. As Sandy barreled toward land last fall, Nick Heil joined the stormchaser for a crash course in survival broadcasting.
Give Us Your Tired, Your Sore, Your Shriveled Masses
The wind-whipped Irish coast isn't exactly the ideal setting for a summer dip. Unless you're preparing to swim the English Channel. Matt Bondurant attends the world's most punishing open-water training camp.
Prepare For Turbulence
From the science of forecasting to the best apps for your smartphone, here's our guide to navigating the crazy new world of weather. Plus, the East Coast's most ambitious plan for climate-change mitigation. By Joe Spring
Life On the Line
The wilderness firefighters who battle the West's biggest blazes crank out adrenaline-filled, 112-hour workweeks that wreak havoc on their personal lives. Kyle Dickman embeds with the elite Tahoe Hotshots during one of the most destructive wildfire seasons in history.
Snowstradamus
Calling Joel Gratz a snow geek is like calling Lindsey Vonn a decent skier. The obsessed Coloradan's website, OpenSnow.com, logs a million unique visits a year from powder fiends looking for precise, microscale forecasts of the next big dump. By Michael Behar
DISPATCHES
Tour de France 100: Celebrating cycling's most grueling race, from its iconic moments to its most eccentric characters. Plus, this year's must-see stages—with wine pairings, naturellement.
Tech: How 3-D printing is revolutionizing outdoor-gear R&D.
Covet: A pop-up camper inspired by NASA.
Q&A: Author Ben Hewitt on why—and how—he quit money.
Media: A new documentary follows snowboarder Kevin Pearce's recovery from traumatic brain injury.
DESTINATIONS
Summer Vacations: Screw the three-day weekend! Take off for ultimate adventures in Norway, Quebec, Alaska, and New Zealand. Or use our lake-house guide to bliss out without an itinerary.
BODYWORK
Data: Athletes can now track everything from heart-rate variability to cortisone levels. What's worth paying attention to?
Moves: How to breathe smarter, from pro freediver Hanli Prinsloo.
Tools: Breaking down the new generation of sports drinks.
My Body: Two-time CrossFit Games champion Rich Froning.
Fuel: Training on fruit alone.
ESSENTIALS
All-Season Gear: The tools you need to survive global weirding, the first waterproof tablet, and the evolution of how we battle wind, rain, and heat.
plus
EXPOSURE
BETWEEN THE LINES
PARTING SHOT