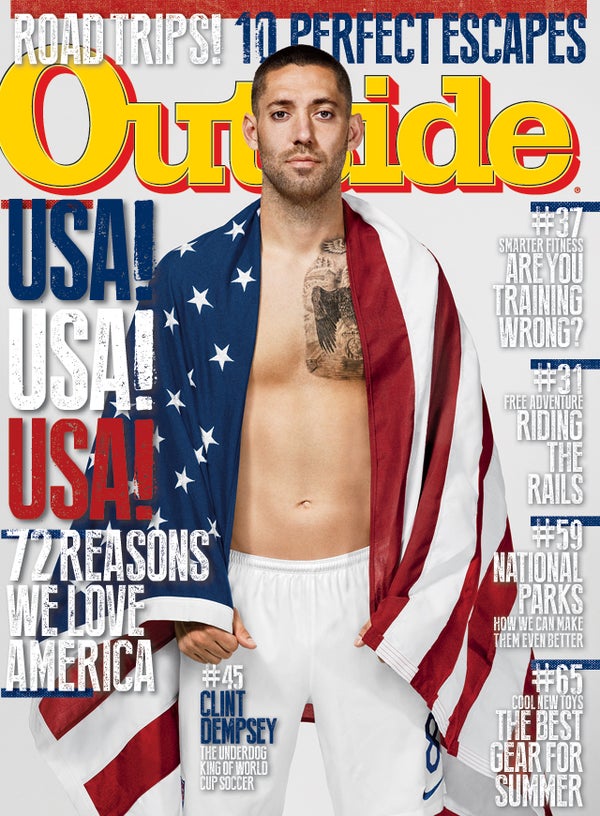 Outside Magazine, Jul 2014
---
Drive, We Said
Outside's guide to the open highway steers you toward the ten best road trips in America, with stops for spare ribs on Lake Superior, fresh peaches in Utah, and Spanish mackerel on the Gulf Coast. We supply the tips on gas-station food, staying fit, CB etiquette, and proper caffeination (a must). You pack the car. PLUS: Skier and fire-fighter Kalen Thorien has the nomadic lifestyle dialed.
Captain Underdog
Team USA doesn't have the easiest World Cup path ahead. But striker Clint Dempsey is the perfect player to shoulder America's dark-horse fantasies. By Matt Skenazy
Grind House
Spartan Race founder Joe De Sena is happy to personally train and board anyone who shows up at his Vermont farm. So long as they submit completely to his insane custom regimen. By Peter Vigneron. PLUS: Five other iconoclasts who are turning fitness on its head.
This is How We Roll
As a young man, Ted Conover wrote a book about hopping freight trains from Colorado to California. So when his 18-year-old son thumbed through it and suggested they team up for a repeat adventure, how could he say no?
Play Stations
If tour buses, why not mountain bikes? If snowmobiles, why not kayaks? America's national parks are our greatest recreational asset, and a new movement aims to open up the gates. By Grayson Schaffer
The Bighorn Sheep Who Was YouTube Famous
He was the last of his tribe, a lone survivor who became a nuisance, an outlaw, and, finally, a celebrity. This is the story of Bam Bam—and his shoddy treatment by the human race. By Michael Kruse
Tailor Made
What's more American than a pair of blue jeans? Plenty, it turns out, since most of them are manufactured overseas. Now, in the old textile hub of North Carolina, a new generation of craftsmen are bringing denim back home. By Jonah Ogles.
The River Was Everywhere and Nowhere
This spring, in a grand experiment, a rare flood of water moved through the Colorado River delta, inching its way toward the sea. Surfing the flow by paddleboard and canoe was a crew of scientists and river rats who'd made the Colorado their lives. By Rowan Jacobsen
ESSENTIALS
Mountain bikes, road runners, and our made-in-the-USA favorites, from longboards to skis to Old Glory itself.
Plus
Exposure
Parting Shot