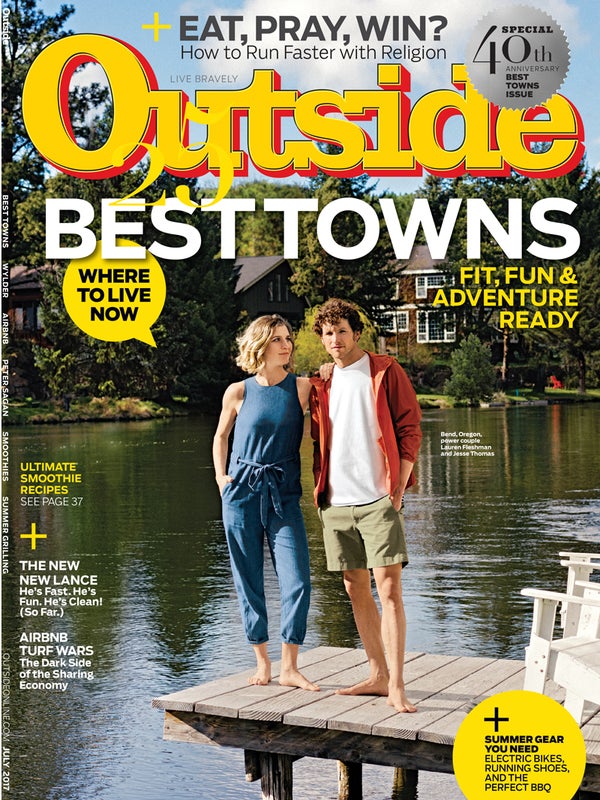 Outside Magazine, July 2017
---
Dispatches
Ramble On: Inspired by iconic American long trails, a new generation of pioneers are creating paths for hikers and bikers the world over.
Rise of the Machines: With advanced gadgets and connectivity, the backyard barbecue has entered the 21st century.
Sunrise to Sunset: The North Shore's newest food fad was started by three brothers from Kauai.
Bodywork
The God Dimension: Athletes are turning to meditation and mindfulness for a performance boost, but neuroscience shows that it's the true believers who are finding that higher gear—through prayer.
Behind the Bike: Despite the chronic doping scandals, pro cycling has a lot to teach us about fitness.
Essentials
Know When to Fold 'Em: A celebrated origami boat gets a crucial upgrade.
Down and Dirty: Tear across and trail, whatever your style with these trail running shoes.
Destinations
Big Ideas from the Best Towns in the U.S.A
Features
Did Airbnb Kill the Mountain Town?: Living the dream has never been easy in the West's most beloved adventure hamlets.
Uphill. Downhill. I Like That: Clever, goofy, charismatic, and fast, two-time world champion Peter Sagan may never win the Tour de France (he's not a climber), but he just might be the star who saves bike racing.
Into the Wyld: The women of Wylder Goods had a big dream: to create the world's first outdoor-gear retailer for women, bust into an industry overrun by bros, and save the planet. All in four not-so-easy steps.