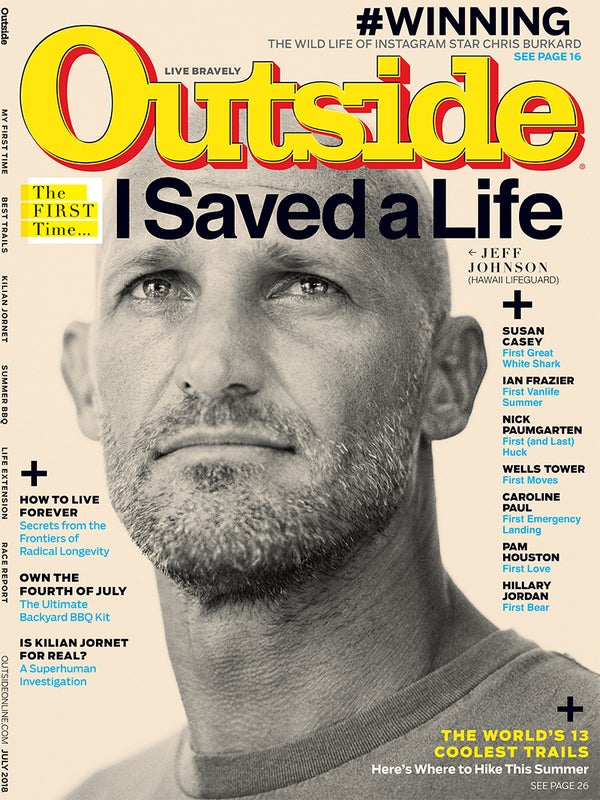 Outside Magazine, July 2018
---
Features
"I Am Patient Zero": Can Liz Parrish live forever? The biotech entrepreneur has endured experimental gene modification in her effort to spin the clock in reverse. McKenzie Funk reports from the front lines of radical longevity. —McKenzie Funk
A First Time for Everything: You never forget that initial experience: whether it's with a bear, a great white shark, an epic wipeout, or another teenage mouth. Susan Casey, Ian Frazier, Pam Houston, and more on the moment when their worlds changed.
Up the Creek (And Over the Dams, and Across the Ponds and Down This Other River, and, OK, Maybe a Few Miles in a U-Haul): Back when he was still cool, the traitor Benedict Arnold laid down one of the greatest expeditions in American history—a 290-mile slog up Maine's Kennebec River to take Quebec City from the British. W. Hodding Carter sets off to find out how hard it could be. —W. Hodding Carter
Is Kilian Jornet for Real?: The Spanish ultrarunner had already blown minds by effortlessly notching victories and superhuman feats of endurance in the mountains. Then he went for a run. To the top of Everest. Twice. In one week. —Nick Heil
Dispatches
Big Idea
Reclaiming the Tour de France: Cycling's greatest race is safe to watch again, now that doping is (somewhat) on the wane. —Marc Peruzzi
The Outsider
Chris Burkard: The king of adventure photography has a winning formula—tiny human plus big landscape equals Instagram gold.
Exposure
Portfolio: Chris Burkard's wildest shots.
Travel
Best Trails: From Oregon's Wild Rogue Loop to the Great Trail across Canada, these 13 unspoiled tracks​​​​​​​ beckon with solitude and epic views.
Base Camp: Tierra Chiloé Adventure and Spa Hotel
Gear
Grilling Accessories: The extras you need to up your cookout game.
Grills: Heat masters that char anything.
Coolers: The frosty explosion continues.
Women's Surfing: Wave-ready essentials that play hard and stay put.
Online Bike Sales: Direct-to-consumer cycles just got great.
Media
Surf Documentaries: New films explore the death of Andy Iron​​​​​​​s and the life of Lisa Andersen.
Style
Summer Footwear: Walk on water—or dock or sand or sidewalk.
Fitness
Race Report: The only rule of competition is that it has to be fun. So sign up for something new, try an ExplOreo, and remember: failure is your friend.