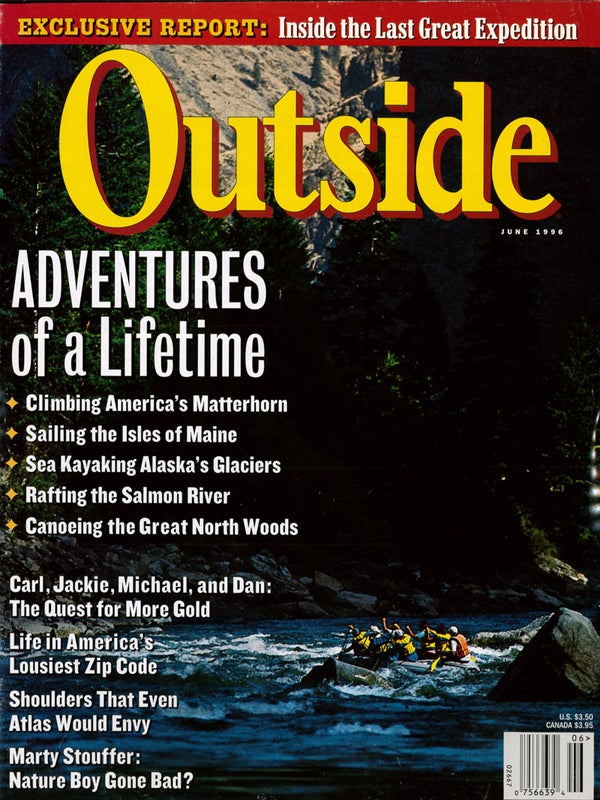 Outside Magazine, Jun 1996
---
Features
Balloonatics
With multimillion-dollar coffers and an equally large store of confidence, Virgin tycoon Richard Branson and record-hungry Steve Fossett are among those trying to pull off one of the world's last great feats: to defy both the odds and gravity long enough to soar 25,000 miles around the globe.
By Daniel Coyle
The Classics
They're some of our country's most cherished landscapes–and not without good reason. A grand tour of the best of the best, dramatic settings for five once-in-every-lifetime adventures.
If I Can Take It There, I Can Take It Anywhere
Dreaming of a place with 24 hours of darkness, minus-90-degree windchill, and absolutely nothing to do? Look no further than Barrow, Alaska, perhaps the worst little town in the U.S.A., where the defiant locals have taken tedium to proud new heights.
By Jack Hitt
Route 666
If you think Barrow's bad … well, the road to tourist hell is paved with less than the best of intentions.
By Jack Barth
Olympic Preview: They're Back …
For both living legends and legends-in-the-making, the quest for gold starts with this month's U.S. track and field trials. A look at four all-time greats, athletes who need no introduction but do still need to qualify.
By Jere Longman
Stalking Tall
When a pestilence of large, burrowing varmints began wreaking havoc on Jefferson Parish, Louisiana, Sheriff Harry Lee decided it was time to squat down and fight–unleashing a laser-scoped jihad against a rodent that doesn't know when to quit.
By John Tayman
Departments
Dispatches
World champion mountain-bike downhiller Leigh Donovan says she's fighting to bring respect to her sport. So why is she the target of so much scorn? Wildlife filmmaker Marty Stouffer, widely accused of staging scenes and mistreating animals, loses a $300,000 lawsuit. Flatwater kayaking legend Greg Barton tries to master a new sport. Action-flick director Jan De Bont matches wits with natural disasters for his latest thriller, Twister. A right-wing Louisiana mogul, once Mozambique's biggest foe, proclaims himself its new eco-savior. Red meat for the health-conscious? A ranching couple in Oregon says yes–and has the profits to prove it. Plus: California voters defeat a proposal to allow cougar hunting, Iditarod musher Rick Swenson becomes an Alaskan martyr, a pinniped lothario faces death with no parole, aquatic hard-cores take on the world's first underwater marathon, and more.
Out There
Once it was a carefree hacienda with ocean at its front and mountains at its back. Now it's … not. On his return to the best place on earth, our man comes to grips with the discomfiting idea that he may have fouled his own nest.
By Randy Wayne White
The Wild File
Why do all the world's big continental "points" aim south? Since stars twinkle, why don't planets? How do you extract the poison from a poison-dart frog? Why is it that an animal's eyes seem to glow when struck by light?
Destinations
North-of-the-border wilderness lodges: from British Columbia to Newfoundland, six of Canada's best backwoodsy home bases for hiking, canoeing, whale watching, sea kayaking, fly-fishing, or just kicking your feet up on the porch for afternoon tea. A province-by-province guide to blending in with the locals. Four Web sites not to miss before you head north. Plus: Backcountry rambling in the Texas hill country, trekking to the twelfth-century monasteries of India's newly opened Nubra Valley, pedaling for charity in the Colorado Rockies, and more.
Bodywork
Strategies for bolstering your long-neglected shoulders: The games of summer have at least one thing in common–they place heavy strain on your top two joints. A sport-specific guide to keeping those ball-and-sockets healthy. Strengthening your shoulders in the weight room. A finicky gulper's guide to the best-tasting sports drinks. Cross-training prescriptions for rock climbers, runners, swimmers, kayakers, and cyclists.
By Cory Johnson
Review
The best kayaks for whitewater first-timers: seven stable yet maneuverable boats that'll help you grow from Class I novitiate to smooth-stroking river rat. Kayaking accessories for the beginner: from clothing and life vests to paddles and spray skirts, what you need before taking to the rapids. Plus:Après-spin refueling with Pedalini Pasta and Fat Tire Ale; The Atlas, by William T. Vollman; Travels with a Hungry Bear, by Mark Kramer; and more.