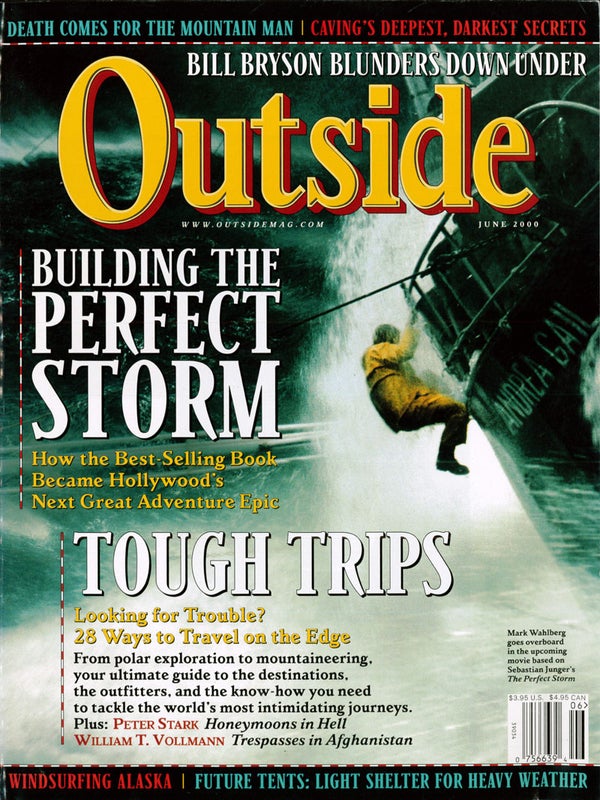 Outside Magazine, Jun 2000
---
F E A T U R E S
THE TOUGH TRIPS GUIDE
Go On, We Dare You
It's time you became the hero of your own high-adventure story. Time you put your courage to the test and proved you've got what it takes to frolic in the world's most fearsome places. We'll provide the inspiring examples, training tips, and MO. All you've got to do is fling that shivering frame of yours one…step…beyond.
Mountaineering: Battle the "broom of God" and other unyielding forces on these multipitch ascents.
Wildwater Paddling: Attain the thank-God-I'm-still-alive version of enlightenment on the world's greatest froth.
Trekking: Abandon national park trails for hikes where, in places, there is no trail.
Ski Mountaineering: Turn deftly—at this level, one slip will send your Gore-Tex-clad butt down 1,000 vertical feet.
Expedition Biking: Washouts, typhoon-style headwinds, breathless altitudes, yak hazards…care to take a spin?
Polar Exploration: Stroll the North Pole in minus-40 chill, with nary a sled dog to eat. Or ski south—all the way south.
Eye of the Storm
Sebastian Junger's contemporary classic of meteorological horror and maritime disaster has been conjured up as a $120 million special-effects epic starring George Clooney. Hollywood may have finally gotten the new adventure genre right.
By Hal Espen
The (Seriously, Truly, Very) Fatal Shore
Two friends hazard a journey across Australia, a perplexing pilgrimage that only raises questions: Is the weather always this aggressive? If I take a dip in the surf, will I die? And what's Kmart doing in the middle of the outback?
By Bill Bryson
A Natural Death
He was the conscience of the northern New England mountains, a revered conservator of Yankee wilderness values. Then one morn-ing this past winter, Guy Waterman said good-bye to his wife, hit the trail for the last time, and deliberately froze himself to death on the gale-swept slopes of Mount Lafayette.
By Rob Buchanan
Could This Be Love?
Two hardbodies prepping for the Olympics stand to update triathlon's freaks-in-Speedos rap. But these friends train knowing that only one can make it onto a Wheaties box.
By John Brant
D E P A R T M E N T S
Dispatches
Cavers are protecting their fragile underground turf with a strict code of secrecy.

Deep-sea submersibles haul more than scientists and filmmakers into the murky abyss. All aboard, tourists!
Climbing newlyweds Tiffany and Jason Campbell find marital bliss by redpointing 5.13s.
A new generation of water filters gives viruses a beating. The secret weapon? Ultraviolet light.
A powerful new tool for saving the environment: the sitcom.
Four

extreme golf tournaments

where the hazards rule the game.

PLUS: A British ex-naval officer attempts to cross the Atlantic alone in a kayak; Iridium phones—an expedition favorite—get disconnected.

The Wild File
What's the most remote spot in the Lower 48? Do spiders ever get caught in each other's webs? Why do you feel most sore two days after a hard workout?
By Stephanie Gregory

The Hard Way
Three accidental pilgrims wend their way toward the holiest lake in Tibet, where Dalai Lamas once viewed their own reincarnations. Is Lhamo Latso one of the "Power-Places" of the spiritual world or just another windswept lens of high blue water? Karma will decide.
By Mark Jenkins

Destinations
On a wing and a prayer: Alaska's diciest stretch of water is a glacier-chilled inlet sporting a ten-foot bore tide and currents that can sweep you to Siberia. But the Turnagain Arm is also one of the best boardsailing spots in America. Care to put in?

PLUS: The best dry-land recreation alternatives around Anchorage.


Bodywork
Prep now, survive later: Extreme environments—broiling heat, bitter cold, dizzying altitude, and crushing deep water—wreak havoc on our physiology. Tips for thriving in the harshest conditions, whether you're skinning up your backyard mountain or running a marathon in Death Valley.

Review
21st-century tents: Need a shelter for all seasons or one that skips the winter? New convertible models keep you from having to choose. We tried out the top performers from Eureka!, Moss, Kelty, The North Face, Noall, Mountain Hardwear, and Sierra Designs.


| | | |
| --- | --- | --- |
| | | A shave kit for the gentleman on safari (or per diem). |

PLUS: The Adventurist: My Life in Dangerous Places, by Robert Young Pelton; The Snakebite Survivors' Club: Travels Among Serpents, by Jeremy Seal; Teewinot: A Year in the Grand Tetons, by Jack Turner; and The Water in Between, by Kevin Patterson.