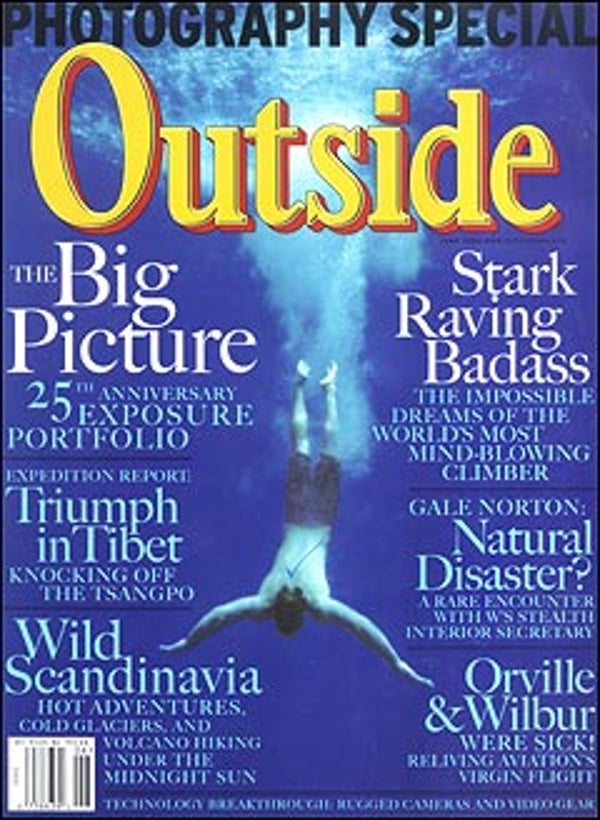 Outside Magazine, Jun 2002
---
F E A T U R E S
CLIMBING LESSONS FROM THE SCHOOL OF TOMAZ HUMAR
He's summited 26,504-foot Annapurna I, alone, in a whiteout. He's survived a night on the west face of 25,770-foot Nuptse, alone, after his climbing partner was blown off the mountain and his tent burned down. And he has scaled the south face of 26,810-foot Dhaulagiri, alone, living through avalanches and self-administered dental surgery. Is Tomaz Humar the best alpinist in the world, or just the luckiest?
By Peter Maass
25th ANNIVERSARY EXPOSURE SPECIAL
SHOOTING THE WORKS
A celebration of truth, beauty, nature, strength, mystery, and—oh yeah—gnarly amplitude, as seen through the eyes of some of our favorite photographers.
WHAT'S GALE NORTON TRYING TO HIDE?
Greens call her James Watt in a skirt, but flattery is getting them nowhere. With the country distracted by events overseas, George W. Bush's quiet but aggressive Interior Secretary has craftily bypassed Congress, rolled back enviro regulations, and ushered in a huge new push for oil, natural gas, and mine development on public lands. Next up: ANWR. Welcome to Beltway hardball, Norton-style.
By Weston Kosova
LIVING IN DOG YEARS
Let us now praise Radish, who saw the world as a heaping banquet table, ate his way from end to end, romped and farted with gusto, and then one day said, "I'm full."
By Bill Vaughn
ONE HUNDRED YEARS OF ALTITUDE
Rick Young thinks he alone knows the secret to Orville and Wilbur Wright's first motorized flight in 1903. Now, if he can only fly his replica without getting killed.
By Carl Hoffman
D E P A R T M E N T S
DISPATCHES
Dropping 40 miles of the world's gnarliest Class V+ whitewater, kayaker Scott Lindgren and his Outside expedition notch a HISTORIC FIRST DESCENT of Tibet's Upper Tsangpo River. PLUS: Why are top politicos holing up in the CANADIAN BACKCOUNTRY? Also, a 28-year-old upstart dominates ULTRARUNNING'S OLD-SCHOOL VETERANS ; keeping Outside's EAR TO THE GROUND in Hollywood; Colin Fletcher's THE (NEW) COMPLETE WALKER ; BOOKS by Elizabeth Gilbert, Tim Moore, and Thomas Laird. And this month's RADAR .
DESTINATIONS
WILD SCANDINAVIA
Come June, when the sunlight finally returns to ICELAND , this rugged Nordic outpost is transformed into a round-the-clock adventure playground for multisport enthusiasts. PLUS: Sea kayak SWEDEN , cycle DENMARK , trek NORWAY , and gallop FINLAND this summer.
THE WILD FILE
What's the highest unclimbed peak in the world? How much food would a man-size hummingbird need to survive? And more.
By Brad Wetzler
OUT THERE
Stalking an elusive songbird last seen in 1938, a naturalist confronts the myths and monsters of the Brazilian wilds—and succumbs to the thrill of a tantalizingly futile chase.
By Scott Weidensaul
BODYWORK
The second installment of THE SHAPE OF YOUR LIFE , our five-month fitness plan, uses functional training to fortify your core strength. PLUS: CAN SUPPLEMENTS HURT YOU?
REVIEW
From classic SLR to modern digital and video, the latest HIGH-TECH CAMERAS can capture all your outdoor exploits—and bring 'em back home. PLUS: Professional-grade photo accessories; Aquafly's FUTURISTIC FLY BOX ; Kelty's expand-and-retract backpack; a jacket for rough-weather paddlers; PROFESSIONAL-GRADE PHOTO ACCESSORIES ; and more.