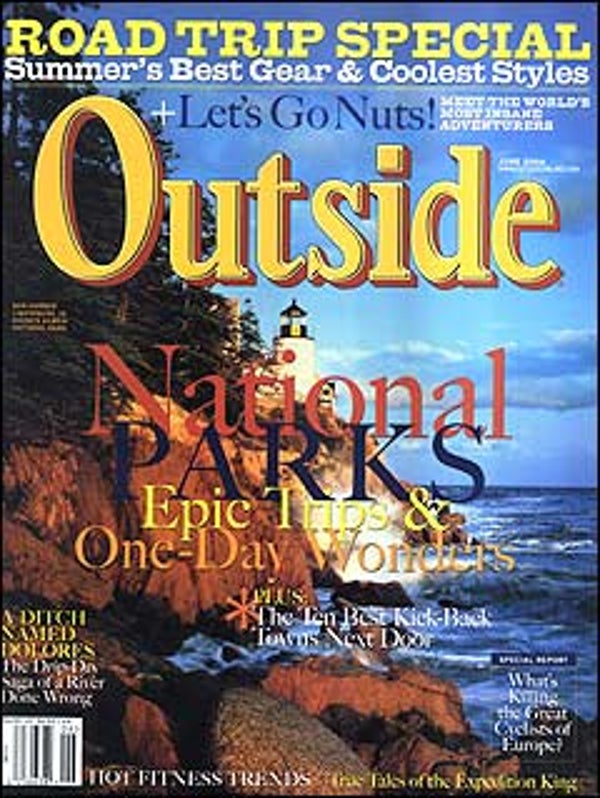 Outside Magazine, Jun 2004
---
F E A T U R E S
LET US NOW PRAISE CRAZY MOFOS
They've crossed the line from extreme to, um, extremely extreme. Meet the monk who jogged seven years straight, the Frenchman who walked across the Atlantic, the American who "vacationed" in Iraq, and a mob of other courageous kooks.
WITHOUT A BARREL
Wearing nothing but his street clothes, Kirk Jones flung himself over Niagara Falls. Why? He's still trying to come up with an answer.
By Jake Halpern
TECHNICOLOR DARKNESS
South Africa is a promised land of pristine crags and soaring quartzite faces. But even on the high walls, the history of apartheid lingers like a bad dream, and the continent's best climbers are still struggling to make their world colorblind.
By Greg Child
DRY RUN ON THE RIVER OF SORROWS
Colorado's Dolores River isn't dead, but it is dammed up, drought-stricken, and burdened by water-war politics. Why bother paddling, wading, and hiking it from one end to the other? To see the difference a decade makes.
By Mark Sundeen
2004 NATIONAL PARKS SPECIAL
THIS STASH IS YOUR STASH
PERFECT TRIPS
America's grandest public playgrounds await your arrival, and we've mapped an array of custom-tailored, full-throttle adventures with nary an RV in sight. Get ready to paddle Yellowstone, trek Denali, sail Acadia, and lots more.
By Annette McGivney
TRIPPY TOWNS
Looking to chill out after your wilderness epic? Check out our hit list of nearby lodging, food, and fun.
By Jason Daley
PLUS: What to do if you've got only a day; the guide's guide to park pleasures; and one parkophile's picks for the most spectacular spots.
D E P A R T M E N T S
DISPATCHES
Pre–Tour de France excitement has been shadowed by the RECENT DEATHS of eight elite cyclists—including the great Marco Pantani. Anti-dopers blame drugs. Can they put the brakes on a problem that continues to tarnish the sport? Plus: Adventure stud WILL GADD becomes the first to paraglide over the Andes; the uncensored BOY SCOUT handbook; and more.
THE WILD FILE
Will the earth's core ever go cold? How do parrots mimic so well? What's the tallest iceberg ever seen? How much of the USA is paved?
By Brad Wetzler
THE HARD WAY
Irish explorer Tim Severin follows the routes of Sinbad, Odysseus, and Robinson Crusoe. Meet the modern-day time traveler.
By Mark Jenkins
REVIEW
Outfit your ride for the ULTIMATE ROAD TRIP with satellite radios, GPS units, MP3 players, and other auto swag. OUTSIDE STYLE: Sweet shades, cool sandals, and choice all-day beachwear. PLUS: the SEASON'S BEST SUNSCREENS .
BODYWORK
Can't commit to another stale workout? Plug in to a new FITNESS TREND . From high-speed gyms to low carbs, we pick the plans that are worth your time, money, and motivation.