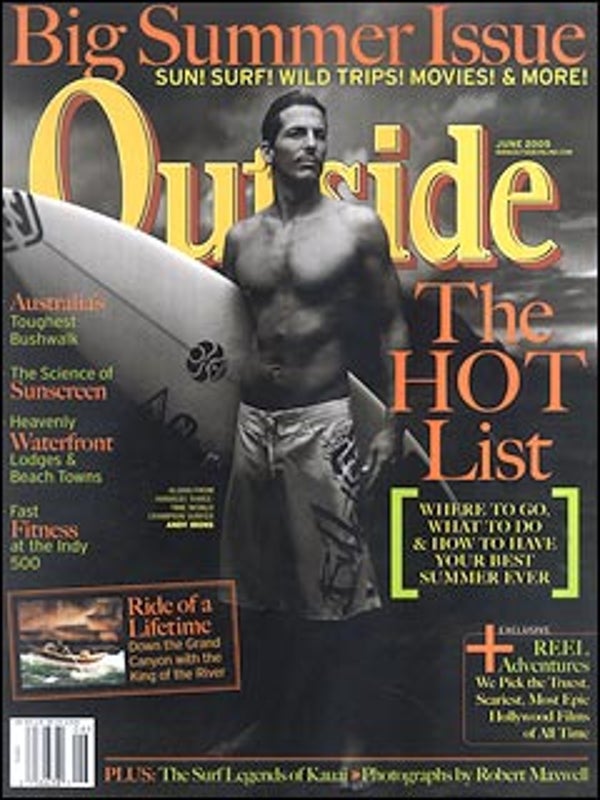 Outside Magazine, Jun 2005
---
F E A T U R E S
THE SPIRIT OF SUMMER 2005
FEEL THE HEAT
So much to do, only three sun-drenched months to do it. Let us help. We start by pinpointing the best surf towns and sweetest waterfront resorts, then lay out the coolest mountain-bike ride, tastiest barbecue recipe, and 50 more ways to make the season sizzle.
PLUS: Bill Vaughn's ode to the rope swing; Randy Wayne White's favorite beach; Katie Arnold on island life; and more.
AIN'T IT JUST GRAND?
Running the most famous stretch of the Colorado River is a thrill under any circumstances, but few have experienced it in a classic Grand Canyon dory with legendary oarsman Martin Litton shouting the commands. All aboard for the ride of a lifetime.
By Kevin Fedarko
HEAVY WATER
Portraits from Surfing's Invincible Underground
Hawaii's idyllic Hanalei Bay, on the island of Kauai, is home to many of the most talented wave riders on the planet, including three-time world champ Andy Irons and Laird Hamilton's dad.
Photographs by Robert Maxwell
Text by Mark Anders
THE OUTSIDE MOVIE CANON
JOURNEY TO THE EDGE OF YOUR SEAT
There's nothing like a great adventure, especially when it comes with a cold soda, cool A/C, and popcorn. Join our armchair expedition through Hollywood's most exciting tales, from sea to summit and back. PLUS: This summer's hot releases; an inspired conversation with director James Cameron; and more.
D E P A R T M E N T S
DISPATCHES
» WORLD'S HARDEST BOULDER PROBLEM? Chris Sharma's superhuman climbing feat across the roof of an Arkansas cave.
» SWIM, BIKE, RUN…DRIVE? Indy racer Tony Kanaan trains for triathlons so he can drive like an iron man. And he's not alone.
» QUEST FOR SLUSH: Lonnie Dupre and Eric Larsen plan to defy conventional wisdom and thin ice by trekking across the North Pole in the summertime.
» In BOOKS : what will it take to break our wired children out of their virtual prisons?
» Whoever said you can't SWIM IN THE HUDSON hasn't seen the blueprint for Beacon, New York's floating river pool.
» For road-trippers seeking stylish comfort, A NEW BREED OF RV rules the range like the pup tent and Motel 6 never could.
» Avalanche science gets a boost from a dedicated skier who allows herself to be BURIED ALIVE .
» While researching the shark tale The Devil's Teeth, Susan Casey lost a yacht and went unsanctioned to California's protected FARALLON ISLANDS . We catch up with her on the eve of publication.
» THE WILD FILE ponders a fly's homing instinct, how your skeleton forms, which critter can pack away the most grub, and more.
BODYWORK
Wrinkles may work for Redford and Eastwood, but you, punk? You should wise up and get your smear on with six of the latest, most protective high-tech SUNSCREENS. Here's all you need to know about safely maximizing your time in the 'shine.
PLUS: Herbally amped coffee, good news for lefties, and more.
STYLE
Post Top Gun aviators, Lenny Kravitz inspired wraps, and other SWEET SHADES from Smith, Oakley, Bollé, Kaenon, and Spy so chic, you'll wear them at night.
THE HARD WAY
With the big boom in adventure travel, TASMANIA could become the next must-go island wonderland. So why are the tallest hardwood trees on earth being clear-cut there? Our man hits the trail to find the answer.
By Mark Jenkins