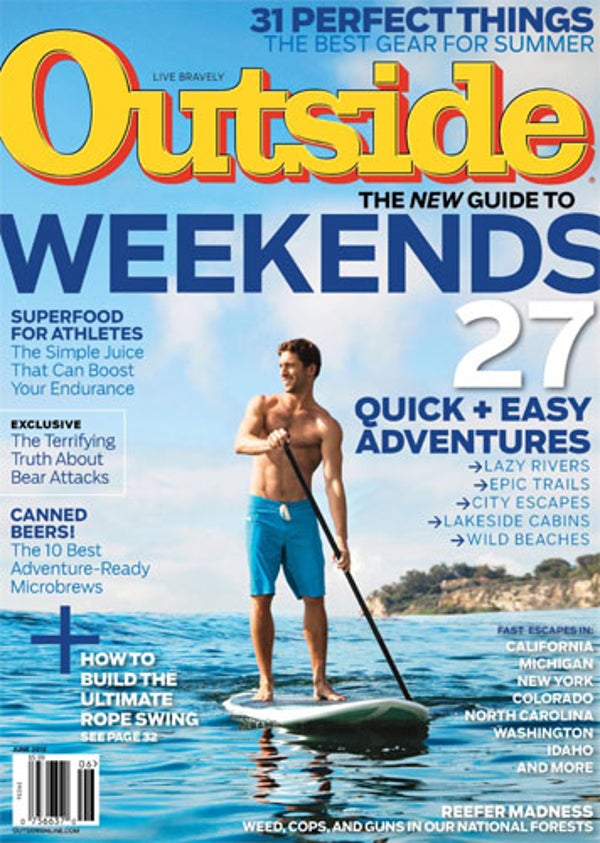 Outside Magazine, Jun 2012
---
QUOOSIERS
Expecto absurdum! The brooms don't fly, and the snitch is a tennis ball in a sock, but don't be fooled—the Quidditch World Cup would make Harry Potter proud (or, more likely, cringe). Eric Hansen takes 13 Muggles to the pitch in New York City, and, at the cost of a few emergency room visits, finds glory.
HEAD IN THE CLOUD
Facebook updates from the trail. Tweets from the summit. iPad movies on the beach. Novelist Walter Kirn does it all, and he's here to tell you that, despite what you may think, technology can enhance our wilderness experiences.
LIFE IN THE SLOW LANE
An hour and a half north of San Francisco, the small town of Healdsburg offers world-class dining, a top-tier bar scene, and endless cycling opportunities. Six athlete-foodies give the lowdown on California wine country's lesser-known gem. By Michael Roberts
DAMN RIGHT YOUR DAD SURFED IT
Before Don Waters's estranged father died, he sent his son an unpublished memoir filled with tales of a youth spent riding waves. Let's call it a road map to discovering the man he never knew.
WEED WHACKERS
It's Northern California's biggest cash crop—even if it is mostly illegal. Damon Tabor goes on a night raid in the marijuana capital of the U.S. to expose a deadly new trend: massive pot farms on public lands.
departments
DISPATCHES
Breaking the Rules of Summer: Warmer days mean lazy beach outings, fireflies, and homemade lemonade. Or not. How about renegade bike races, deep-fried Twinkies, and craft beer from a can? Yeah, that's more like it. Plus: Summer's hottest films, and surfing's comeback queen.
DESTINATIONS
There are 13 weekends between Memorial Day and Labor Day. To ensure you don't waste a single one, here are 11 trips, from sea kayaking in Georgia to mountain biking in Washington. Plus: The best outdoor music festivals.
THE ESSENTIALS
Tools of Summer: Gear caches for SUP rippers, light-and-fast hikers, canoe campers, and backyard gourmands. Our activity-specific picks will help you make the most of the season.
BODYWORK
In the Lead: America's top runners are chugging gallons of (gag) beet juice.
Workouts: Increase your mobility and unlock your potential.
Pulse: Happiness is a long run, the sociology of bike culture, and another reason to pop ibuprofen.
Fuel: A protein-rich, vegan burger even carnivores will love.
columns
PERSONAL RECORD
How does Marc Peruzzi teach his kids to think for themselves? With a family outing of illegal bridge-jumping, of course. And that's just the start of it.
NATURAL INTELLIGENCE
A couple of half-eaten hikers turn up in Wyoming. Have grizzly bears developed a taste for human flesh? Jeff Hull investigates the real reason attacks are on the rise.