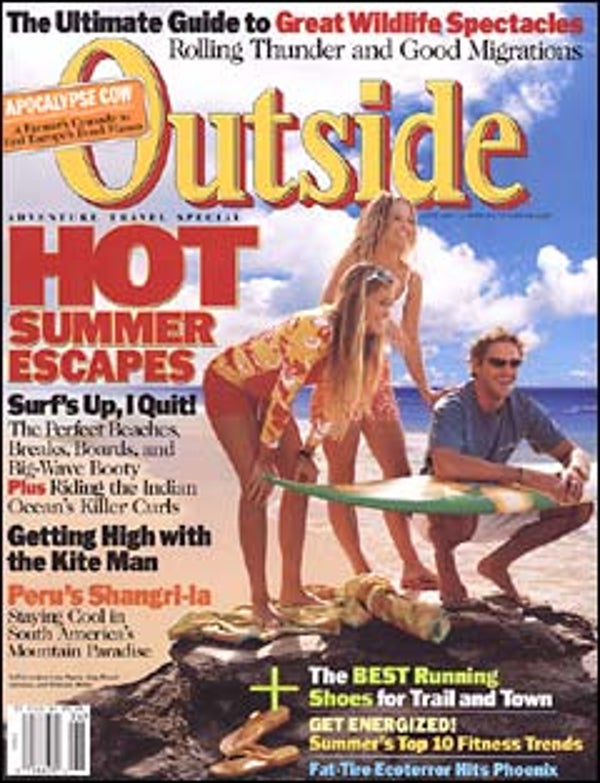 Outside Magazine, June 2001
---
F E A T U R E S
Summer Surfing Special
Welcome to Swellsville
It's time to release your inner kahuna. Our celebration of the fine art of carving waves offers the lowdown on the world's best breaks, the right boards, the best surfing schools, proper surf etiquette, the latest endless-summer threads, and more. So hang ten, friends.
Life Isn't Fair
In the beginning, there were waves. Then came surfers, surfing competitions, surfing endorsements, and now this: ten whiny pros bobbing around Indonesia, jostling for bunk space, free beer, huge waves, and the biggest surfing cash prize ever. By Rob Story
Have Gun, Will Travel
Shoot the curl in the most exotic havens, from Barbados to the Maldives to wildest Africa.
Miss Manners Gets a Sick Pit
A guide to courteous wave-riding behavior. By Steve Hawk
Going for Your Ph.Dude
Six surf camps that will get you in the zone.
Two Girls for Every Boy
Killer threads and bodies: a celebration of surfwear.
… And Carry a Big Stick
Tri-fin gun? Postmodern fish? Board selection, demystified.
Return of the Prodigal Surfer
Our man recommits to the surfer's way. By Bob Shacochis
The Roquefort Files
French sheep farmer Josée; Bovée; demolished a McDonald's piece by piece and carted it away. He led hundreds of peasants in a midnight raid on genetically engineered crops. He held three agriculture ministers hostage. And in a Europe aboil with hoof-and-mouth hysteria and the terror of mad cow, this radical rogue is beginning to sound like the voice of reason. By Florence Williams
Down Time
It's hard to be first at anything these days. Case in point: five comrades on holiday attempting to ski a virgin vertical face on Huascaráe;n, Peru's tallest mountain. A study of überathlete group dynamics in extremis. By Rob Buchanan
The Flight of the Millibar Messenger
Like Bell and Edison before him, Richard Synergy vows to change the course of scientific invention. His name (Who? Never heard of him!) will go down in history. His technology of choice? The kite. By Michael Cannell
D E P A R T M E N T S
Dispatches
Battling stormy seas in the violent Southern Ocean, the champions of the globe's two toughest sailing races shatter round-the-world records.
Piles of puke plague the world indoor rowing championships.
Is LASIK surgery bad news for high-altitude climbers?
An investigation into 11 eco-arsons in residential Phoenix turns up a group of rabble-rousing mountain bikers.
Plus: Super-fast scuba fins built with Italian flair; a versatile headlamp that shines for 21 hours; and a new mountain-bike video that keeps your thumb stuck on rewind.
The Wild File
Why do some beaches squeak when you walk on them? How does a spider string its first thread in a web? Do kestrels really have ultraviolet vision? Can the smell of smoke wake you up the way noise or bright light can? By Stephanie Gregory.
The Hard Way
Hiking 30 miles and 20,000 vertical feet of ice-covered trails, scaling 5.9 big-wall cracks at breakneck pace, and refueling on bagels and sardines, the author attacks the speed record on the Grand Canyon's Zoroaster Temple. By Mark Jenkins
Destinations
And a Cast of Thousands: All across the globe, legions of exotic animals are on the move—and now you can join them. Launch an adventure to some of the world's greatest migrations and you can hike to 10,000 feet where monarch butterflies choke the forests of central Mexico, swim with Japanese sea turtles that paddle 7,000 miles for sex, surround yourself with penguins on a remote Argentine beach, or run with the caribou on the lush Alaskan tundra.
Bodywork
The New New Thing: Keeping track of the latest innovations in the fickle world of outdoor fitness can be a head-spinning task. Forget about it—we've done the work for you and compiled this year's top ten trends for adventurous athletes. Number one with a bullet: Boot-camp fitness whips you into shape.
Plus: An altitude tent boosts endurance while you sleep; Madonna's Pilates workout goes mainstream; and power monitors measure your effort without breaking the bank.
Review
If the Shoe Fits: Summer sun means its time to run. Whether you're a blissed-out trail runner, a hard-core marathoner, or an after-work pavement pounder, we've tested the best new shoes to get you moving again.
Trail sneaks from Adidas, Nike, Mountain Athletics, and Salomon.
Road runners from Brooks, New Balance, Reebok, and Saucony.
Featherweight racers from Asics and Mizuno.
Books:
A Voyage for Madmen, by Peter Nichols, and Wild Nights, by Anne Matthews. Plus: Why Moths Hate Thomas Edison, by Hampton Sides—a collection of Outside Wild File columns–and seven more new titles from our contributors.