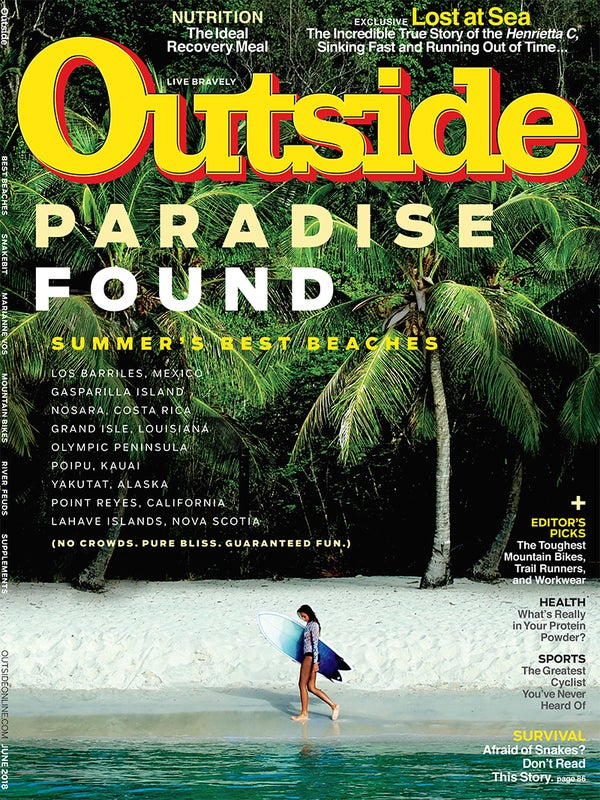 Outside Magazine, June 2018
---
Features
The Sea Is Come Up: When a damaged crab boat and its father-and-son crew sailed into a violent storm in the Chesapeake Bay, the isolated Virginia community of Tangier Island swung into action. Could they get there in time? —Earl Swift
Style: Go wherever the road may take you with these essen­tials for spontaneous adventure.
Like a Boss: Marianne Vos is one of the greatest racers to ever pedal a bike. But it took physical burnout for the Dutch hero to find her voice as an activist. Now she's back in the peloton while demanding that pro cycling confront its gender inequality. —Kim Cross
This Sand Is Your Sand: Or is it? On the banks of California's Russian River, a cold war has erupted among neighbors and boaters over private beach access. Chris Colin launches his own vessel in a battle of hidden cameras, ex-hippies, inner tubes, and civil diso​bedience.
Rattled: Kyle Dickman is an experienced out­doorsman who has taken on wildland fires and Class V whitewater with the belief that things usually work out fine. But after nearly dying from a rattlesnake bite on a family hike with his infant son, the new father saw menace everywhere he looked.
Dispatches
Big Idea
The Endangered Species Act's Midlife Crisis: Born in 1973, the landmark law is desperate for help. Are we willing to give it? —Peter S. Alagona
The Outsider
Kate Brandt: The nation's former chief sustainability officer is on a quest to make Google green.
Exposure
Portfolio: Ilona Szwarc captures the quiet confidence of Texas's junior-rodeo cowgirls.
Travel
Beaches: For your perfect summer, we present North America's most idyllic spots for sandy ­adventures, from empty Baja to—yes—­Arkansas.
Media
Oceanside Reading: The season's hottest page-turners.
Gear
Mountain Bikes: Rock-solid rides for every trail.
Trail Running Shoes: Mud, scree, or hardpack—these kicks love the dirt.
Workwear: Rough-and-ready layers.
Fitness
Nutrition: What's in your supplements? The FDA only spot-checks our daily pills, so independent labs are stepping in.
Fuel: A delicious high-protein recovery "crepe."
Habits: How Olympic runner Abbey D'Agostino came back from a devastating injury.
Laird's Laws: Add the surfer's go-to stretching and breathing routine to your travel itinerary.