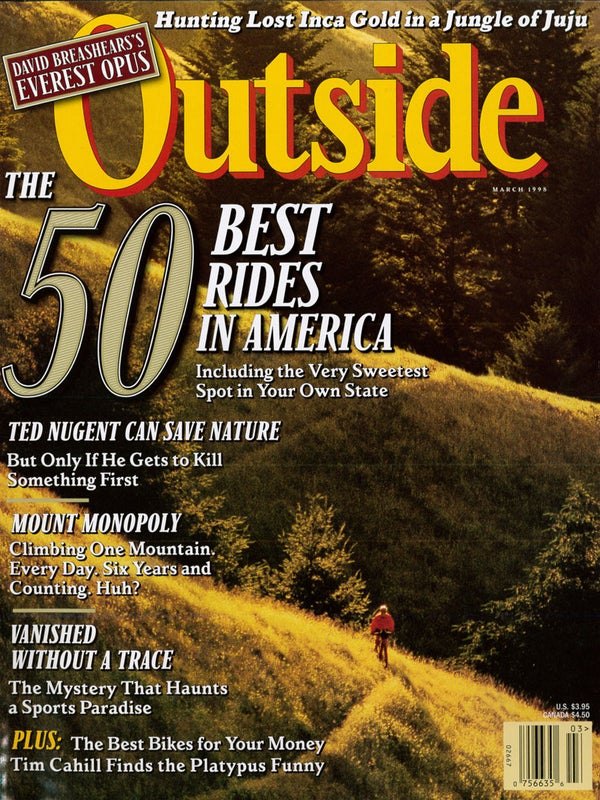 Outside Magazine, Mar 1998
Stories
When a promising young runner went missing in Wyoming's Wind River Range, everything changed for the community of athletes she left behind.
Ted Nugent, '70s rock relic, loves the wild outdoors. Loves to seek out the earth's creatures, large and small, and shoot them. Loves that he could be the conservation movement's most valuable ally. Which is to say, he loves irony.
---
COVER
Spring Cycling Special:
The 50 Best Rides in America
What rocks, what rolls, and other sound advice for a well-tuned biking season. The most exhilarating stretches of open road or plunging trail, for whatever state you're in.
ALSO THIS MONTH:
Better Environmentalism Through Killing
When self-styled populist hero and seventies metalhead Ted Nugent looks at the world, he sees a place whose conservation woes could largely be solved by shooting things. When the world looks at Ted Nugent, it sees either a nattering buffoon who reached the height of his influence with "Cat Scratch Fever," or a guy whose opinions, at times, make a surprising amount of sense.
By Daniel Coyle

The Mountain Is Ready for Its Close-Up
The new IMAX extravaganza he shot on Everest confirms that David Breashears risks his life to capture mountains on film like no one else on earth. But there is much about this climbing-rat-made-good that the movie doesn't reveal.
By Mark Levine

Darwin, Darwin, He's Our Man!
They start by riding into town on an airplane, or in the bilgewater of a ship, or on some unwitting human's best intentions. Then, before an ecosystem knows what's hit it, the nasty invasive species have taken over for good, crowding out the natives and quite often eating them. From green crabs to melaleuca trees to feral pigs, meet the oh-so-photogenic stars of nature's Most Unwanted list.
By Wade Graham

Up. Down. Up. Down. Up. Down. Up. Down.
And Then, By Golly, Up Again.
Some people dream of climbing a mountain every day. But probably only one person dreams of climbing the same mountain every day — and does it. Day in, day out, good weather or bad, the same trees, the same rocks, that same damn squirrel again. Monotony? What monotony?
By David Rakoff

Long Gone
It started out as a blissfully ordinary summer Thursday in the sports-happy little mountain town of Lander, Wyoming. But then Amy Bechtel didn't come home, and nothing has been quite the same ever since.
By Bryan Di Salvatore and Deirdre McNamer
DEPARTMENTS

Dispatches: News from the Field
Some men dream of peace on earth. Others, of fame and love. And then there's the trio of visionaries whose idea of a better world centers on, well, a really comfortable tent.

In the fastest event you won't catch on cable, the Kahuna of ice surfing defends his crown.
Why greens are battling greens over the grizzly bear's return to Idaho.
One man's quixotic quest to bring the nation's kayakers to their feet.
A seafood study to make even
Letterman proud.

PLUS: Colorado's pigeons slip into spandex, a surprisingly sane Hawaiian tries to row around the world, collectors go into a frenzy over jars of Exxon Valdez oil, the unhappy ending to a couple's marathon-a-week odyssey, and more.

Out There: The Platypus Prophecy
The trouble with middle age is that you begin looking for meaning in the strangest damn places. Such as belly-side-down in the Aussie underbrush, searching for a platypus.
By Tim Cahill

Field Notes: Fool's Gold
A whiskey-loving, gun-waving old millionaire suggested he hack his way into a murky and cursed Ecuadoran jungle, to look for a fabled cache of Inca treasure. Crazier still, he went.
By Melik Kaylan

The Wild File
How can the Pacific be higher than the Atlantic? How do chameleons do their thing? Can a paper clip really sub for a compass in a pinch?

Bodywork: Fitness Revolution
The case for two-wheeling as the core of your fitness plan.

How to settle into the perfect pedaling position.
Tour de France rookie Tyler Hamilton's tips for getting into cycling shape.
And, as the motivational carrot to the training stick, a roundup of the season's best group rides.

Review: Bicycles Built for One
With the current bounty of specialty bicycles, you're going to need some help sifting out the mount that's right for you.

Shorts, shades, tools, and other cycling geegaws.
What to haul all of the above in for an off-road tour.

PLUS: Terra Incognita: Travels in Antarctica, by Sara Wheeler; Red-Tails in Love: A Wildlife Drama in Central Park, by Marie Winn; and more.
Illustration by Michael Custode; photographs by Michael Llewellyn, Liittschwager/Middleton, Ted Wood, Joe Michl, and Clay Ellis
Copyright 1998, Outside magazine