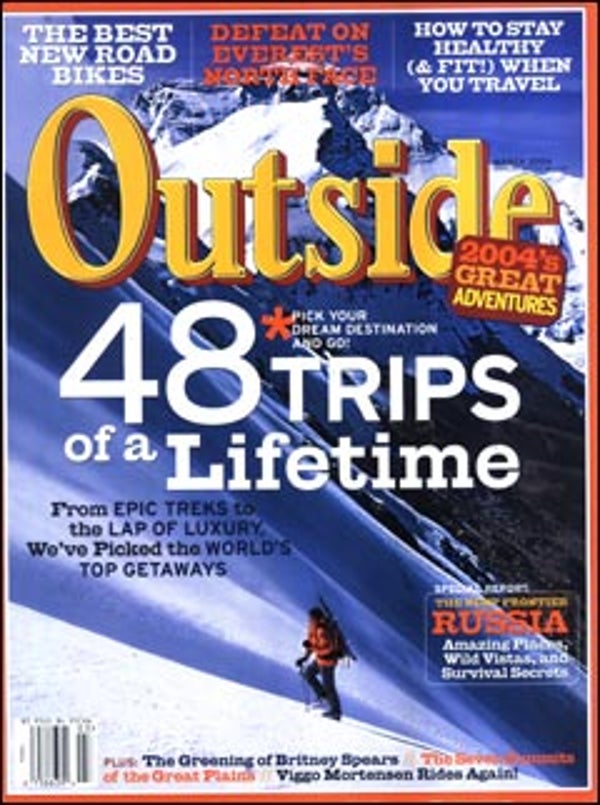 Outside Magazine, Mar 2004
---
F E A T U R E S
TRIPS OF A LIFETIME
Chase your travel dreams with 48 handpicked adventures guaranteed to satisfy every type of wandering soul
WORLDWIDE WILD
Trek to the heart of Patagonia; cycle Italy's undiscovered southern hills; dive New Zealand's sparkling Hauraki Gulf; and dozens more epic journeys, from California to Kenya. PLUS: The Trip of the Year winners—we select the world's ten best adventures.
WAKING THE BEAR
For the daring traveler, Russia offers a fantasyland of empty mountains, crashing whitewater, and untrammeled backcountry.
By Howard Whelan
CAN YOU HEAR ME NOW?
Affordable satellite phones make far-flung expeditions safer. But if you never hang up, you lose the solace of the wilderness.
By Ted Kerasote
ALL THAT GLITTERS IS GREEN
Eco-hipster Danny Seo has a plan: Get Hollywood stars to go enviro and the rest of America will follow. But will Britney Spears look phat in those hemp jeans?
By Jay Stowe
FACING THE FALL LINE
An exclusive look at Stephen Koch's bold attempt to snowboard Mount Everest's steepest, most dangerous route.
Photographs by Jimmy Chin
text by Rob Buchanan
CLIMB EVERY MOLEHILL
On a four-day alpine blitz, a posse of old high school buddies endure endless highways, weak java, and mind-numbing fatigue to scale the highest "mountains" in seven heartland states. (Hey, it's not as easy as it sounds!)
By Rob Story
D E P A R T M E N T S
DISPATCHES
Disney's new epic HIDALGO recounts Frank T. Hopkins's wild 1890 horse race across the Arabian Desert. Get me rewrite! Hopkins may have been hoaxing. PLUS: KITESURFING'S QUEEN MAI takes off; two Brits attempt a controversial ascent of Patagonia's CERRO TORRE ; and more.
THE WILD FILE
Which creature makes the shortest migration? What's the Specter of the Brocken? Do whales shiver? Why does water expand when it's chilled?
By Brad Wetzler
THE HARD WAY
So you think your commute's a nightmare? In the Gold Coast nation of GHANA , transportation ranges from primitive to dangerous. Can a bright-yellow $75 bicycle revolutionize the African road?
By Mark Jenkins
REVIEW
That buzz you hear on the blacktop is the return of ROAD BIKES , led by Lance's latest Trek from the Tour de France and six other top-notch, drool-worthy rigs built for speed, stage wins, and glory.
BODYWORK
Good to go: Whether you're flying to Sydney or Siam, our essential travel strategies for surviving airports and jet lag, while staying focused on nutrition and wellness, will get you there feeling healthy and FIT FOR TRAVEL . PLUS: Gear from Victorinox and Nike—you'll book a trip just to use 'em. PLUS: THE PULSE —Bulletins from the fitness frontier.