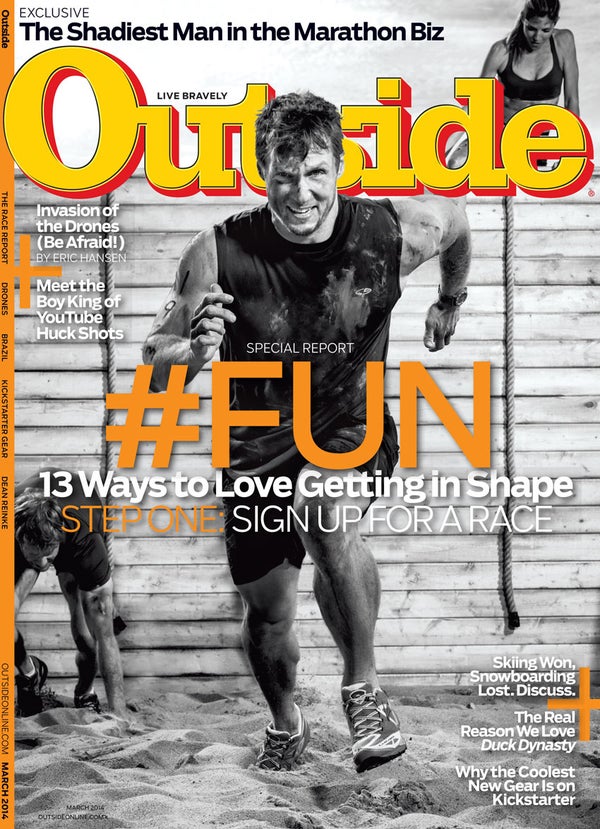 Outside Magazine, Mar 2014
Thirteen ways to love getting in shape
---
2014 Race Report: Ready, Set, Go Nuts!
You don't need a Ph.D. in fancy gear. You don't even have to pay an entry fee. To join the boom in weekend racing, just head to the start line and let the competition begin. Plus: Meals and fitness plans to help you finish first.
A Boy and His Drone
They're monitoring ice flow in the Arctic, mapping the Matterhorn—and maybe one day delivering our pizzas. But are we ready for buzzing aerial robots to invade our everyday adventures? Eric Hansen investigates.
Blood in the Sand
I ruined Belize. That's what David Ewing Duncan believed after writing on of the first travel stories to lure tourists to the country's untrammeled coast. But when he finally returned, he discovered that paradise was not entirely lost.
Viral Nova
With 1.7 million subscribers to his YouTube channel, Utah entrepreneur Devin Graham has discovered the formula for Internet gold: Rig up a rope swing, corral some sponsors, roll cameras, and share, share, share. By Grayson Schaffer
Take the Money and Run
He's either the biggest con man in race-organizing history or a businessman who's been viciously maligned. Either way, Dean Reinke has pissed off city councils, the Better Business Bureau, and countless would-be competitors. By Gordy Megroz
DISPATCHES
First Look: A crop of pro athletes have found second careers dishing out locally sourced, nutrition-packed meals. Order up!
Tech: Google wants Street View to include your favorite trails.
Primer: That new duck-down parka that costs a mint? Blame it on the Chinese.
Drink: Microbrewing's biggest trend is hangover-free American sake.
Injury: Kodak courage has led to some epic (and deadly) wipeouts.
Media: Why reaiity TV's hicksploitation boom is here to stay. Also: How athletes get in the zone.
Big Idea: How snowboarding lost its mojo.
DESTINATIONS
Brazil: With the World Cup and the Olympics coming to town, there's no spot hotter than Rio. Happily for us, Brazil is also an adventure hub. Our team of local experts offers the insider's guide to doing it right.
ESSENTIALS
Crowdfunded Gear: Kickstarter and its ilk are launching everything from weatherproof tablets to a power-generating bicycle desk.
Socks: That's right—socks. Here's to that most underappreciated piece of gear.
Field Tested: The sharpest knives in the drawer.
Spectrum: The best skate skis, snowshoes, and winter runners.
STYLE
Watches: Classic looks, expedition-ready features.
plus
EXPOSURE
BETWEEN THE LINES
PARTING SHOT