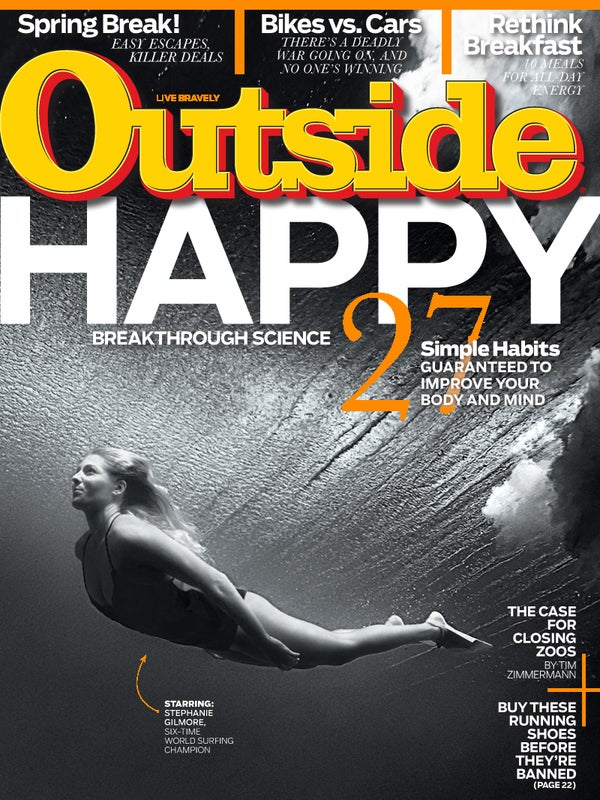 Outside Magazine, March 2015
---
The Happiness Project
Put down that smartphone. These simple strategies will boost your mood, get you outdoors, and help you spend more time doing what you love. PLUS: How world champion surfer Stephanie Gilmore keeps her outlook sunny.
A Liar Standing Next to a Hole in the Ground
How well does Mark Twain's definition of a gold miner fit crusty Arizona prospector Flint Carter? Will Grant wanted to find out, so he rode into the mountains with the old man in search of treasure.
Pod Almighty
It may look like some sort of space egg, but the CVAC fitness system is a super-rapid, alternating-barometric-pressure chamber that its devotees believe will revolutionize athletic performance. By Brian Alexander
Broken Spokes
In the bloody road war between drivers and cyclists, personal-injury lawyer Megan Hottman wants to negotiate a truce by forcing everyone to take their share of the blame when accidents happen. By Andrew Tilin
DISPATCHES
First Look: The 27-year-old musher who's crushing the Iditarod.
Tech: A running shoe with a springboard inside.
Media: A new story collection from Tom McGuane, and Ron Howard's In the Heart of the Sea.
Covet: A hand-painted wooden paddle that looks as good as it feels.
Epic: Ben Lecomte wants to swim the Pacific Ocean. Yes, that is crazy.
Big Idea: It's time for zoos to close their doors.
DESTINATIONS
Spring Break: This year, go beyond Daytona Beach to surf Puerto Rico, fish the Bahamas, or explore an Ecuadorean rainforest. (Don't worry, skiers—there's neck-deep powder here for you, too.)
Travel Advisory: African tourism suffers an Ebola panic attack.
BODYWORK SPECIAL
Performance Nutrition: In a new three-part series, we map out your day in food, with expert advice and tasty recipes to fuel the time-crunched, health-conscious athlete. First up: breakfast.
ESSENTIALS
Wanted: The Copenhagen Wheel, a smart electric-assist add-on to power almost any bike.
Cameras and Drones: Huge 4K resolution—now in small packages.
Jeans: Tough, good-looking denim that moves with you.
Light Jackets: Ultra-packable shells for weather emergencies.
STYLE
Watches: Rugged timepieces for every pursuit.
Plus
Exposure
Parting Shot