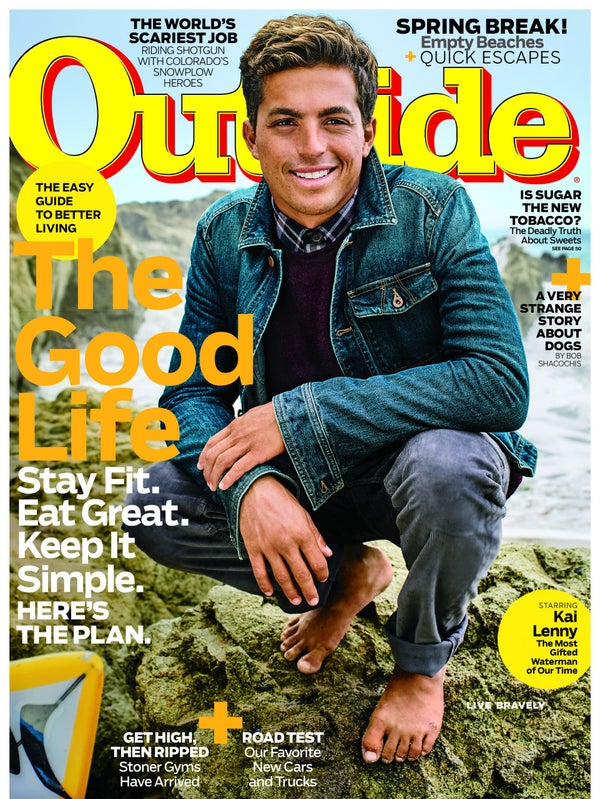 Outside Magazine, March 2017
---
Features
Less Is More: Streamlining your life and having more fun is easy: just do less.
Kai Lenny Walks on Water: The 24-year-old from Hawaii is a multiple-time World Champion of stand-up paddling, a dominant wind and kitesurfer, and one of the most fearless big-wave riders on the planet.
Keep Your Hands on the Wheel and Don't Look Down: The most perilous road in America gets 300 inches of snow a year, features 70 named avalanche paths, and has almost no guardrails. Who would be crazy enough to keep Colorado's infamous Highway 550 clear in winter?
The Kikkan Effect: This pink-haired powerhouse is changing the world of cross-country skiing.
Dispatches
First Look: The performance fabric of the future is wool—and American sheep ranchers are reaping the benefits.
Big idea: For the sake of our public lands, it's time to pay to play.
Icon: Wingsuiter, BASE jumper, and action figure Jeb Corliss has redefined human flight.
Gear: Crowdfunded T-shirts, hiking boots and more.
Destinations
Warm-Weather Escapes: Midwinter survival requires a short hop to sunnier climes, whether you're kayaking Cuba's wild side or counting frigate birds on a lonely Barbados beach.
Base Camp: Merging heli-skiing, salmon fishing, and high style in Iceland's rugged north.
Essentials
Cars and Trucks: From Jeep's rugged Trailhawk to BMW's hybrid 330e, the best adventure rides of 2017 will surprise you with their ingenuity and oomph. Plus: rooftop tents, hydrogen power, and how to win at #vanlife.
Bodywork
In the Lead: Two new books take aim at sugar.
Fuel: Your body on sucrose, glucose, and fructose.
Performance Enhancer: How backcountry skier Aaron Rice skinned up 2.5 million vertical feet.
Fitness: The world's first cannabis gym is opening in San Francisco.
Plus
Exposure
Between the Lines
Parting Shot