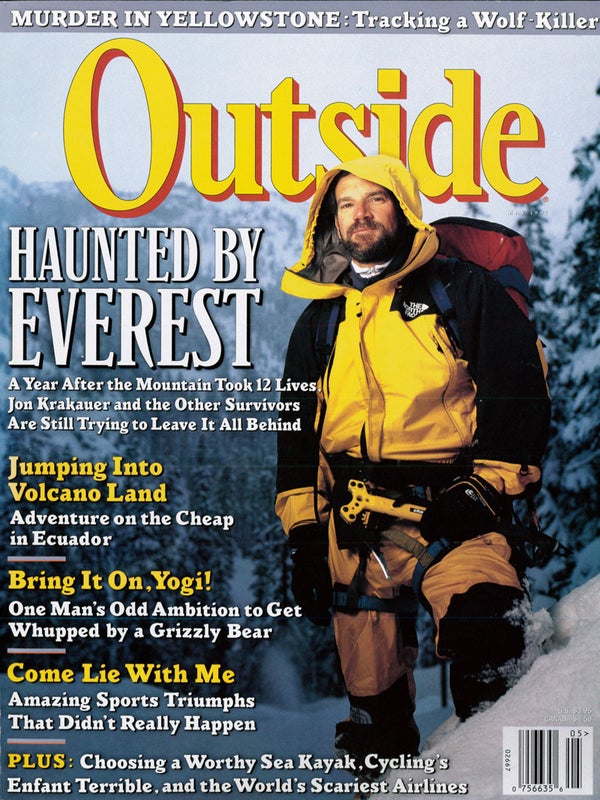 Outside Magazine, May 1997
Stories
Is the past doomed to be repeated?
After a lifetime of wanting, Jon Krakauer made it to the world's highest point. What he and the other survivors would discover in the months to come, however, is that it's even more difficult to get back down.
---
Features
Everest: A Year Later: False Summit
Last May, Jon Krakauer did what 12 others on the mountain could not: He escaped with his life. A year has passed, but as this conversation with Krakauer reveals, the aftereffects of that episode are still being felt — both by those who were on Everest, and by the families who waited and watched from afar.
By Mark Bryant
Everest: A Year Later: Lessons in Futility
As a new climbing season begins on Everest, have those buying their way to the world's highest summit learned anything at all from last year's tragedy? A veteran alpinist arrives at an unsettling conclusion.
By Greg Child
Toward Thee I Lurch, Thou All-Destroying but Uninterested Grizzly Bear
Troy Hurtubise likes to dress up in homemade armor and invite friends to attack him with axes, two-by-fours, 300-pound logs, and even pickup trucks. Why? It's all a warm-up for the encounter he dreams of: an attack by Ursus arctos horribilis.
By Stephen Smith
Truth Be Told, They Lied
The Englishwoman who strolled around the world! (Well, not quite.) The first explorers to reach the North Pole! (Uh, probably not.) The hoaxes, exaggerations, and outright frauds that abound in the annals of outdoor adventure! (Ah, that's it.)
By Philip Weiss
Diabolique
Jeannie Longo is without a doubt the world's most successful female cyclist. She is also its most despised, which, if you look at her behavior, is pretty understandable. Understandable, that is to everyone but Longo.
By Dana Thomas
The Killing of Wolf Number Ten
As soon as a bullet tore through the prize alpha male of the Yellowstone wolf reintroduction project, the hunt for the perpetrator began.
By Thomas McNamee
So What Did You Do Today?
Anything you can do they can do — and rest assured they probably already have done — much, much better. A slightly disturbing gallery of outdoor over-achievers.
By Paul Kvinta
Departments
Dispatches
So just why did Park Service cops launch a commando-style raid on a sleepy little California island? That depends on whom you ask, and the resident sheep aren't talking. The Brits have a nasty — but perhaps tasty — run-in with the FAA's chicken cannon. A dark-horse salvage diver plumbs Castro's waters for sunken treasure, and Fidel is keeping close watch. Who's fouling Big Bend National Park's air? A new report points a finger toward our neighbors south of the border. Beach volleyballs Next Big Thing: José Loiola, the boy from Brazil with a 42-inch vertical leap and a million bucks in his pocket. Singable proof of pop culture's sudden anti-outdoorsiness backlash.
Plus: Around-the-world sailors start asking questions in the wake of tragedy at the Vendée Globe, stargazers stare one another down in Texas, the world's first all-natural cemetery opens for business, a 23-year old heart patient wins four U.S. National swimming titles, and more.
Destinations
In Ecuador's fantastic Avenue of the Volcanoes, you can scamper up lava vents, follow the footsteps of Incas through glacial streamsand lakes, and ride the whitewater through rainforests. All for less sucre than you'd expect to spend. A better way to see southeast Alaska — by minesweeper. Looking for backwoods lodging? Try a fire tower. Avoiding the world's most dangerous airlines.
Plus: A gathering of hang gliders on the Carolina shore, sail-skiing across Greenland, and as always, much more.
Field Notes
Returning to the dark little stretch of Oklahoma river that had captivated him as a boy, he found that it had become something less than paradise. But it's hard to sully sweet memories.
By John Jerome
Out There
On the scene at Big Bear Lake, California, trying to decipher how a bizarre collection of pseudo-sports somehow gets transformed into the sexed-up, grunge-sound-tracked, made-for-ESPN extravaganza known as th X Games.
By Randy Wayne White
Bodywork
It's nearly summer — do you know how your legs are? To help shape those stems, take your pick of these four-week endurance-building regimens that focus on running, in-line skating, and cycling. Riding a bike can be a literal pain in the neck. Here's what to do to avoid it. The essentials every athlete wants to see when he cracks the medicine cabinet. Champion rock climber Robyn Erbesfield's tips for strengthening your hands.
Review
The booming popularity of sea kayaking means there's a veritable flotilla of sleek crafts on the market. If you're intent on testing the seas, be sure the boat you're captaining is the correct one. Sea kayaking accessories — from paddles to pocketknives — are potential heirlooms, so shop with an eye toward the future. Billabong's zipperless, all-but-leakproof 2001 wetsuit.
Plus: The very breathable new Activent jacket from Sierra Designs; miniature two-way radios from Motorola; River: One Man's Journey Down the Colorado, Source to Sea, by Colin Fletcher; Questions of Heaven: The Chinese Journeys of an American Buddhist, by Gretel Ehrlich; and more.