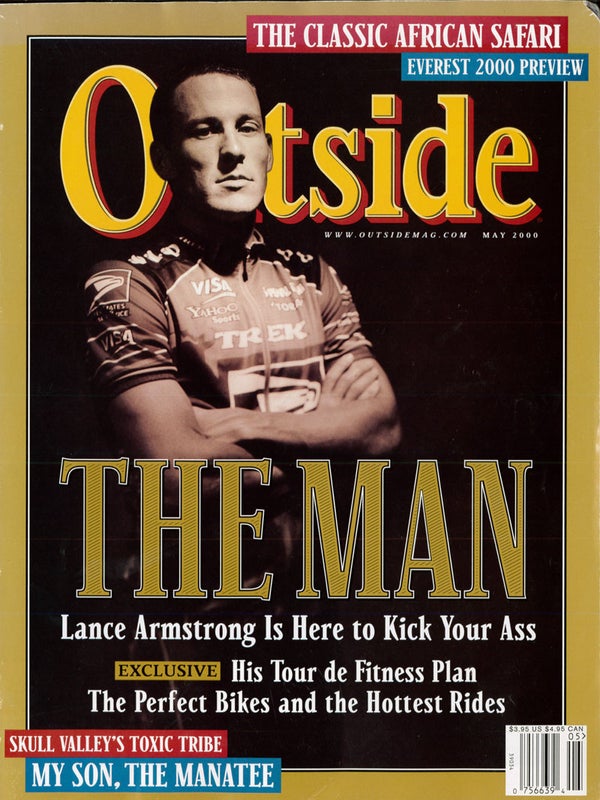 Outside Magazine, May 2000
---
F E A T U R E S
My Son, the Manatee
When you adopt a member of a subtropical endangered species, you do what any good parent would: Get yourself down to Florida, and make sure Junior's all right. That's what one devoted dad did—and he soon found his blimpish new boy in some deep, propeller-washed trouble.
By W. Hodding Carter

THE GREAT AMERICAN CYCLING GUIDE
Of Lance We Sing
Ride and shine with the Tour de France champ, who kicks off our ode to all things bike with breakthrough fitness advice and plenty of inspiration. Plus, from singletrack to BMX, from bog to road and back, we've found the country's best rides—as well as the great bikes you need and the dream bikes you want.
Steady Burn:
Here's how certified American hero Lance Armstrong and his coach devised the secret fitness regimen whose results stunned the cycling world. It's a plan that can put you on the winner's podium, too.
By Garrett Lai
Here on Planet Granite:
In New Hampshire's stony White Mountains, babyheads can get you bawling.
By Marc Peruzzi
Blacktop Beauty:
Ride the green hills of Madison, Wisconsin, where roadies find smooth splendor.
By Peter Egan
Gravity's Rainbow:
Screaming downhill in Sun Valley, Idaho (only the timid use brakes).
By Steve Stuebner
Slog Heaven:
Seattle-area cyclocross is a weird, rainy-day hybrid of steeplechasing and mud wrestling.
By Patrick O'Grady
Get a Grip:
Our clear-cut guide to the complexities of choosing the right knobby tires.
By Marc Peruzzi
Do the Javelina:
Out in the Sonoran Desert, an endo means a face plant into prickly pear.
By Roseann Hanson
Ramp It Up:
Southern Cal, the birthplace of BMX, is still the best place for little bikes and big air.
By Mike Steere
In the Valley of the Shadow
On a barren Utah reservation surrounded by Cold War detritus, falling bombs, and toxic trash, Skull Valley's Goshute Indians are about to strike it rich. All they have to do is store the country's commercial nuclear waste in their front yard.
By Kevin Fedarko
Dead Head
Lloyd Pye, cryptohistorian, discusses the Starchild skull—proof, he says, that humans and aliens have mated for eons.
By Bill Donahue
Bum's Rush
Meet the staff of Mountainfreak magazine, the blissed-out voice of an underpaid underground of year-round skiers and insouciant world travelers—and let your freak flag fly.
By Bryan Di Salvatore
D E P A R T M E N T S
Dispatches
Once considered blasphemous, tow-in surfing has become de rigueur among big-wave aficionados. And this spring, a jet ski­assisted cadre plans to conquer the biggest break ever surfed.

PLUS: Our illustrated Everest 2000 preview; wind-chill science gets blasted by new research.

The Wild File
What's the world's deepest cave? How do birds detect worms underground? Does poor eyesight disprove Darwin? Why do kayaks fishtail when you stop paddling?
By Jim Collins

The Hard Way
The Matterhorn has lured thousands to its lofty summit, but many have failed to return. Why, then, would two guys attempt an ascent in conditions so dismal that even seasoned guides beat a swift retreat? Because every climb is a gut call, and their guts were saying go.
By Mark Jenkins

Field Notes
In a fenced-off, concrete canal at the base of a hydroelectric dam, one angler discovers abundant runs of whitefish, fence post­size Atlantic salmon, and a rare seam where nature and industry exist in equilibrium. Greetings from Sault Sainte Marie, Michigan.
By Steven Rinella

Destinations
Safari so good: By day, spy on lions at 50 yards, creep up on impalas and wildebeests, and dodge hippos in a canoe. By night, picnic by candlelight. In Zambia's wildlife refuges, African game viewing is the way it used to be: in wild country, in small groups, often on foot, and always up close and personal.

| | | |
| --- | --- | --- |
| | | Much more than "the Polar Bear Capital of the World," Churchill, Manitoba is a gateway to a vast tundra, and, for those brave enough to dip into icy waters, a place to have a tête-à-tête with Beluga whales. |

PLUS: Budget flights to Hawaii's Big Island; spring skiing—and deals aplenty—at Mount Bachelor.

Bodywork
Right on Parcourse: Before you trudge back to the gym to get in shape for summer, read this. We take you through a baseline fitness assessment and help you get a jump (and a run, and a pull-up) on summer. The best part: It all takes place outdoors, at your long-forgotten neighborhood Parcourse.

Books
In the Heart of the Sea, by Nathaniel Philbrick; Patrick O'Brian, by Dean King; My Quest for the Yeti, by Reinhold Messner; and Anil's Ghost, by Michael Ondaatje.