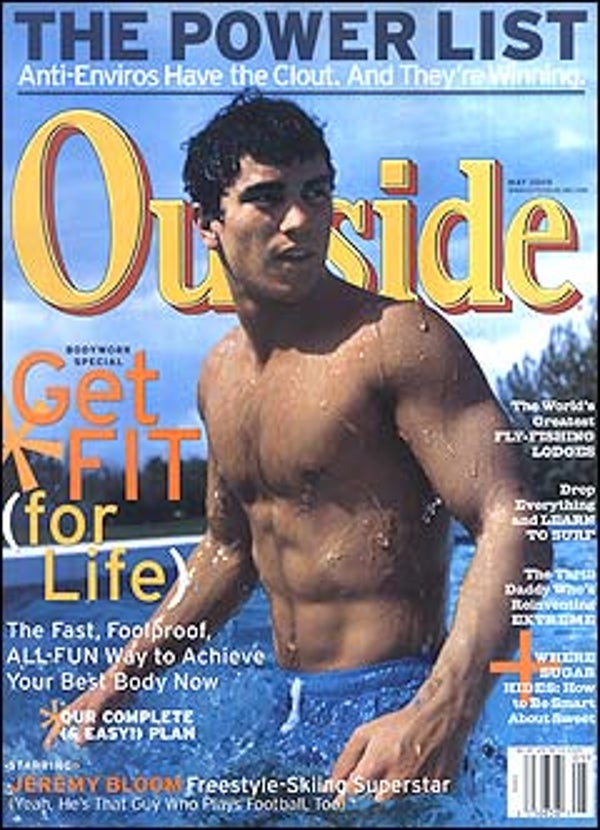 Outside Magazine, May 2005
---
F E A T U R E S
FITNESS SPECIAL/COVER STORY
PLAY'S THE THING
The power of fun is the strongest weapon in your fitness arsenal—and you need more of it. With help from our favorite athletes and coaches, we've built a game-laden plan that turns staying in shape into kid stuff.
By Ted Spiker
PLUS: IN PRAISE OF THE HUMAN BODY
It's an object of desire! It's a work of art! It's the most amazing machine in the universe! Is it James Bond's car? No, it's your own wonderful, all-natural self.
By Jack Handey
THRILL DADDY DREAMS OF POWDER DAWN
Andrew McLean skis down roller-coaster-steep chutes and invents gear that drives the backcountry boom. What's his next act? Let's just say you'd better hold on tight.
By Bruce Barcott
EARTH SHAKERS: THE COUNTER-ENVIRO POWER LIST
Is mainstream environmentalism dead? Not yet—but a powerful array of politicians, lobbyists, thinkers, and headline grabbers are transforming the landscape of green politics.
RIDING WITH THE GHOST DOLPHIN
A surf-mad pilgrim heads to Mexico to learn from a tequila-powered master who parties all night and rips all day. One man's quest to shred with el fantasma del delfí;n.
By Peter Heller
D E P A R T M E N T S
DISPATCHES
» SECRET SUGAR: Sneaky calories are hiding in more of your diet than you think. Here's where to find 'em—plus some sweet alternatives.
» The girls of the Villa Villa Cola posse are the stars of SKATEBOARDING'S FEMME REVOLUTION
» WI-FI WORLD: To help you shirk work but stay productive this summer, we've picked the best wireless-Web hot spots, from San Francisco to New York
» Trout live in beautiful places, which bodes well for six plush North American FISHING LODGES . PLUS: Where else in the world to wet your fly.
» Credit cards aren't the only things in your wallet that can bail you out of a jam. Stainless-steel COMBS, CUFFLINKS, AND CORKSCREWS now fit the profile, too.
» BATTLE-READY THREADS that track a platoon's or climbing expedition's vital signs and beam the info back to base. PLUS: A hibernation serum that could buy you time when help is far, far away.
» Philip Caputo and John S. Burnett explore the queasy lives of UNITED NATIONS AID WORKERS in Acts of Faith and Where Soldiers Fear to Tread; audio books for your MP3 player make long trips easy; and more
» Once considered the poor man's tequila, pure MEZCAL is finding its way onto the top shelf
» THE WILD FILE goes flying with squirrels, finds the highest living mountain plant, hunts for the North Pole without a compass, and more
REVIEW
STORM-CHASING GEAR: From portable Doppler and tough digicams to windbreakers and quick-dry runners, we've got just what you need for your next run down Tornado Alley—or wherever epic weather finds you
THE HARD WAY
In the aftermath of a GRIM CLIMBING FALL , our indefatigable recon agent discovers the blessings of recovery: good friends, a loving family, strong drugs, and a healthy dose of humility
By Mark Jenkins