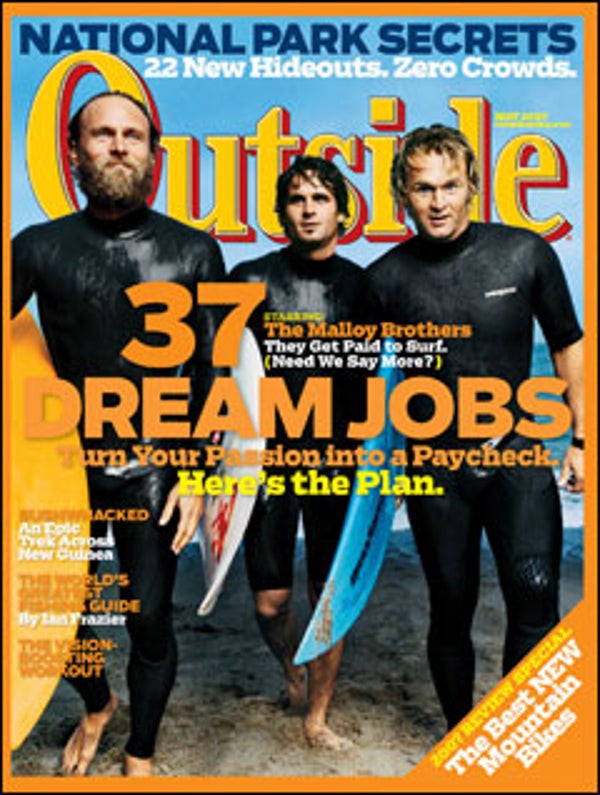 Outside Magazine, May 2007
Stories
OK, maybe a little work, but when you're having this much fun, it's hard to tell the difference. No matter where you are or where you've been, you can still tack in a new direction and do something you love—and make a living. Just ask these folks.
We spoke to 25-year-old, seven-time Olympic medalist Amanda Beard about her progression from 14-year-old podium-placer to her out-of-retirement run for a fourth Olympic Games. Here, read Curtis's complete interview with Beard.
---
F E A T U R E S
BEST JOBS 2007
NINE REASONS TO BUY THE MALLOY BROTHERS A BEER
In which STEVEN KOTLER reveals the highly successful habits of a trio of shaggy California brothers who get this surf, make movies,and design gear for a living.
NO WORK AND ALL PLAY…
Life's short, sure, but it can also be sweet so don't let an unrewarding job sour your portion. Live long and prosper by pursuing what you love, just like the wild bunch of folks we've gathered here. PLUS: inspiration, ideas, and a wee dram of fun to kick-start your quest for the job of your dreams.
CHASING GHOSTS

In 1942, Papua New Guinea saw an American battalion claw through its meanest jungles as prelude to a hellish fight with the Japanese. To tell their little-known story, JAMES CAMPBELL went to the country's back of beyond to retrace the journey. He did not come out unscathed.
"YO, FRANK!"
Bust out the striper flies and grab a rod. It's time for some soulful piscine extraction, in the unlikeliest of waters, with one Frank Crescitelli, a man of simple pleasures not the least of which is plying the hook like old Santiago. BY IAN FRAZIER
LOVE TRIANGLES
Is Bosnia and Herzegovina home to the first great archaeological discovery of the new millennium? Semir Osmanagic thinks so. That's why, with chuckles rising from the halls of academe, he's busy unearthing what he claims are four of the world's most ancient pyramids. JOSHUA FOER investigates.
T H E O Z O N E
» FIRST LOOK: Amanda Beard jumps back in the pool with dreams of a fourth, and perhaps fifth, Olympic Games.
DISPATCHES
» THE BIG IDEA: A chagrined adventure writer apologizes for helping legitimize kooky, contrived outdoor records.
(PODCAST LINK CURRENTLY UNAVAILABLE)
» THE DRAWING BOARD: The pilotless helicopter that could soon be rescuing climbers from Everest.
» PLUS: Safe cycling in NYC, campfire gourmets, and mixing skiing with golf.
MEDIA
» BOOKS: Richard Preston goes high into California's ancient redwood forests, and Barbara Kingsolver dives into the local-foods movement.
» PLUS: Maverick cyclist Graeme Obree hits theaters in The Flying Scotsman.
DESTINATIONS
» THE NATIONAL PARKS: Our guide to finding the best secret stashes in 11 of America's favorite playgrounds.
BODYWORK
» THE OWNER'S MANUAL: The eyes have it. Keep your vision sharp with these 23 tips and exercises.
REVIEW
» COVET: Untangle your tunes with a wireless player and earbuds.
» MOUNTAIN BIKES: From an all-terrain racer to a bare-bones hardtail, we serve up a sweet new machine for every rider.
» FRESH LOOT: Gregory's air-conditioned daypack, Shimano's custom-fit road shoes, a down T-shirt, and more.
» STYLE: Shorts and shoes for summer.
CODE GREEN
Still refusing to use high-efficiency compact fluorescent lightbulbs? Get over it. This is one of the easiest things you can do to help save the planet. Plus engineers have finally eliminated the lights' annoying skim-milk glow.