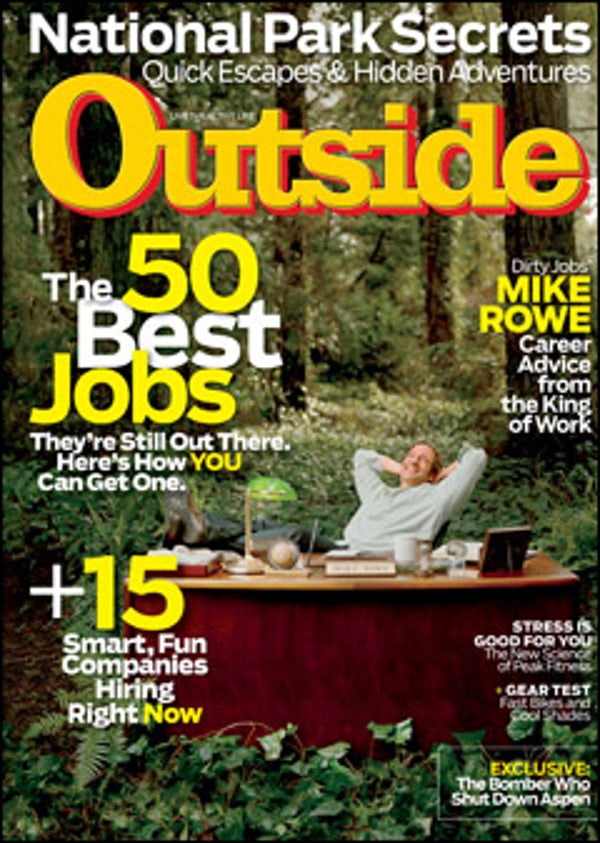 Outside Magazine, May 2009
Stories
For almost 70 years, former ski patroller and local legend Jim Blanning rode Aspen's evolution from broken mining outpost to chic mountain playground. But when his hometown spit him out, he came back with a vengeance. And bombs.
---
Cycling Special
YOU NEED A NEW BIKE
(LINK CURRENTLY UNAVAILABLE)
Our list of the 44 best bikes of 2009 comes complete with video reviews, repair tutorials, component rankings, and everything else you need to get out on the road or trail this spring.
The Guide
NO RISK, NO REWARD
Chaos is the key to evolution, and the current job climate could be the perfect opportunity to shake up your destiny in a good way. A slew of fulfilling careers and model workplaces await the adventurous. Presenting our second annual Best Places to Work. PLUS: Testimonials, market analysis, hot jobs, and more.
MAN AT WORK

Peel away the layers of grime and offal and you'll find a working-class hero: Mike Rowe, host of Dirty Jobs, the show where cubicles go to die. Keep peeling and you may be surprised to find a former opera singer causing a paradigm shift—namely, bringing honor and respect back to the blue collar.
By John Bradley
LAST RESORT
This past New Year's Eve, as Aspen prepared to celebrate, a halfhearted bomber turned Colorado's glitziest hamlet into a ghost town. The suspect? A notorious old local known for shady land deals, police chases, womanizing, and a Faustian sense of entitlement.
By Mike Kessler
HOMER WASN'T STUPID
From cycling Sicily to climbing Sardinia to trekking Corsica, the Mediterranean is an active traveler's paradise. And with timeless culture and incredible eats at the end of the trail, that sounds like the sirens calling.
WELCOME TO THE MUTANT FACTORY

Once the penniless orphan of a meteoric Patagonia Inc., Black Diamond Equipment is now an outdoor-industry titan. As clichéd as it might sound, they did it by hiring passionate people and letting them do what they love. And beating the crap out of stuff.
By Nick Heil
Departments
DISPATCHES
» First Look: Free soloists Alex Honnold and Dean Potter set out to conquer Yosemite's El Capitan unroped
» News from the Field: American distance running's new "It" girl, Kara Goucher ; a brief history of workout videos ; surviving the right way
» The Drawing Board: David de Rothschild's recycled-bottle boat, Plastiki
» Books: All that talk about books being dead? Rubbish. For proof, try these gems.
» Film: Disney returns to its nature-doc roots in hopes of churning out a few Hollywood blockbusters. We'll see.
DESTINATIONS
National Parks: Thanks to new funding from Congress and travelers keeping closer to home, our protected wilderness areas are on the cusp of a revival. So we asked some veteran park personnel to share their secret stashes in seven classic parks.
STYLE
Summer is here again. Time for a new pair of sunglasses.
THE ESSENTIALS
» Covet: A lightweight, heavy-duty fly reel
» Motorcycles: They're on the road again and off, if you prefer
» Outfitted: All the gear you need for ultralight backpacking
» Spectrum: Different runners require different shoes. Our guide to your perfect fit.
BODYWORK
The Pillars of Fitness, Part 2: Cut your workout time with better focus.
Columns
OUT OF BOUNDS
Eric Hansen went from a failed forest-fire spotter to—dream job!—our standing adventure columnist. How his unlikely, hilarious résumé proves anything is possible.
THE LAB RAT
Down, boy! The old-school squat is still one of the best exercises around.
By Nick Heil